Kindergarten Round Up is Coming
We are experiencing some technical difficulties with our online registration. We apologize for the inconvenience. You can still download the registration packet and bring it to Kindergarten Round-Up, or fill one out at the event.
Thank you.
Kindergarten and Young Five Round-Up will be on March 16 from 9 a.m. - 12 p.m. at Tecumseh North Early Learning Center (600 Adrian St., Tecumseh, MI 49286). Registration Packets will be available to pick up at Tecumseh North and South starting February 22. You can also register online, download a packet, or you can fill one out at Kindergarten Round-Up on the 16th.
To complete your registration you will need to bring the following items to the Round-Up:
Completed Registration Packet
Certified Birth Certificate
Proof of Residency (purchase or rental agreement, utility bill)
Immunization Records
Copies will be made of the birth certificate, proof of residency, and immunization records, with the originals returned to the parent/guardian.
The Round-Up is for both our Young Five and Kindergarten programs and any child is eligible to register if they will be five years of age by December 1, 2019.
---
Sign up for a Kindergarten Assessment appointment through SignUpGenius: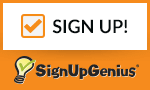 Compass
East
North
South
THS
west