The Tecumseh Board of Education consists of seven members who are elected by voters residing in the Tecumseh Public Schools District. Each serves a four-year term.
TPS Board Members
| | | |
| --- | --- | --- |
| Tony Rebottaro | President | |
| Lynne Davis | Vice President | |
| Rebecca Brooks | Secretary | |
| Tim Simpson | Treasurer | |
| Suzanne Moore | Trustee | |
| Greg Lewis | Trustee | |
| Mary Tommelein | Trustee | |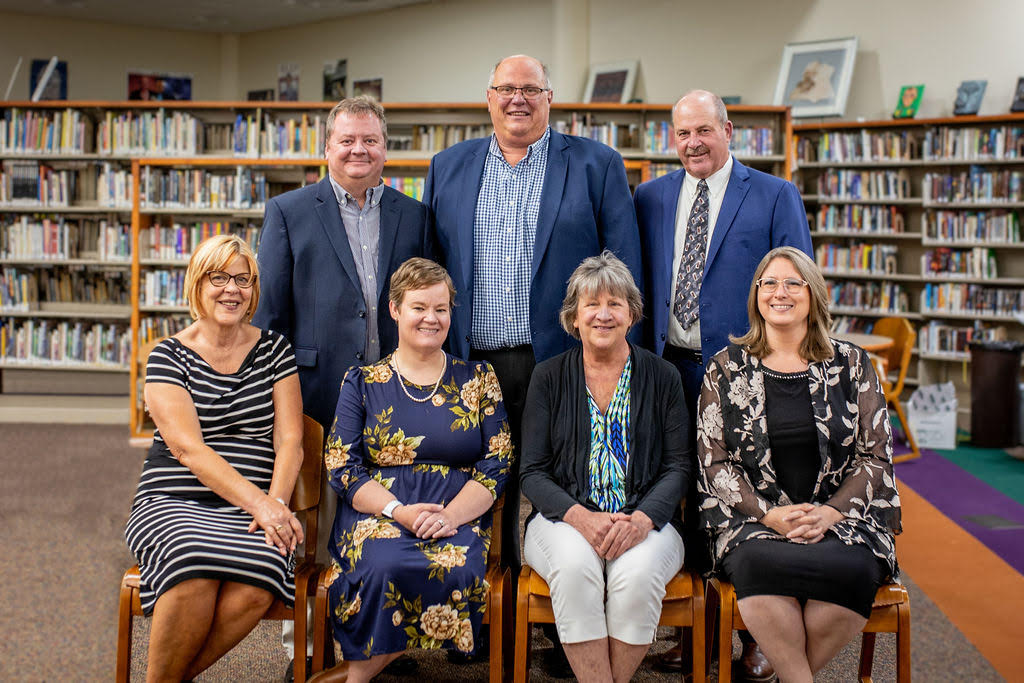 Top from left; Tim Simpson, Tony Rebottaro, Greg Lewis
Bottom from left; Mary Tommelein, Lynne Davis, Suzanne Moore, Rebecca Brooks
STUDY SESSIONS
Board Study Sessions or Retreats may be scheduled as needed. Public notices of study sessions, retreats, or other special board meetings will be posted in advance.
MEETING AGENDAS/PACKET
SPECIAL MEETING: Strategic Planning Meeting: Saturday, January 22, 2022
NEXT BOARD MEETING: Monday, January 24, 2022
PREVIOUS BOARD MEETING: Monday, January 10, 2022

The following link is for MASB Posting Requirements: Click Here
The Board of Education meets twice each month at 7 p.m. unless otherwise amended by future Board action. Additional special meetings/study sessions may be scheduled as needed.
The board encourages community attendance at its monthly meetings, as stakeholder participation is important as the district strives to maintain excellent educational programs and seeks new opportunities for our students. Your feedback is valuable to us and we encourage you to share your views on subjects related to our schools. Most questions and concerns can be addressed by contacting the classroom teacher or building administrator. Please refer to the District Communications Guide for more contact information.
Please review the citizen participation section on this page for more information about the process for submitting a request to be added to a board meeting agenda or addressing the board during the open comment period.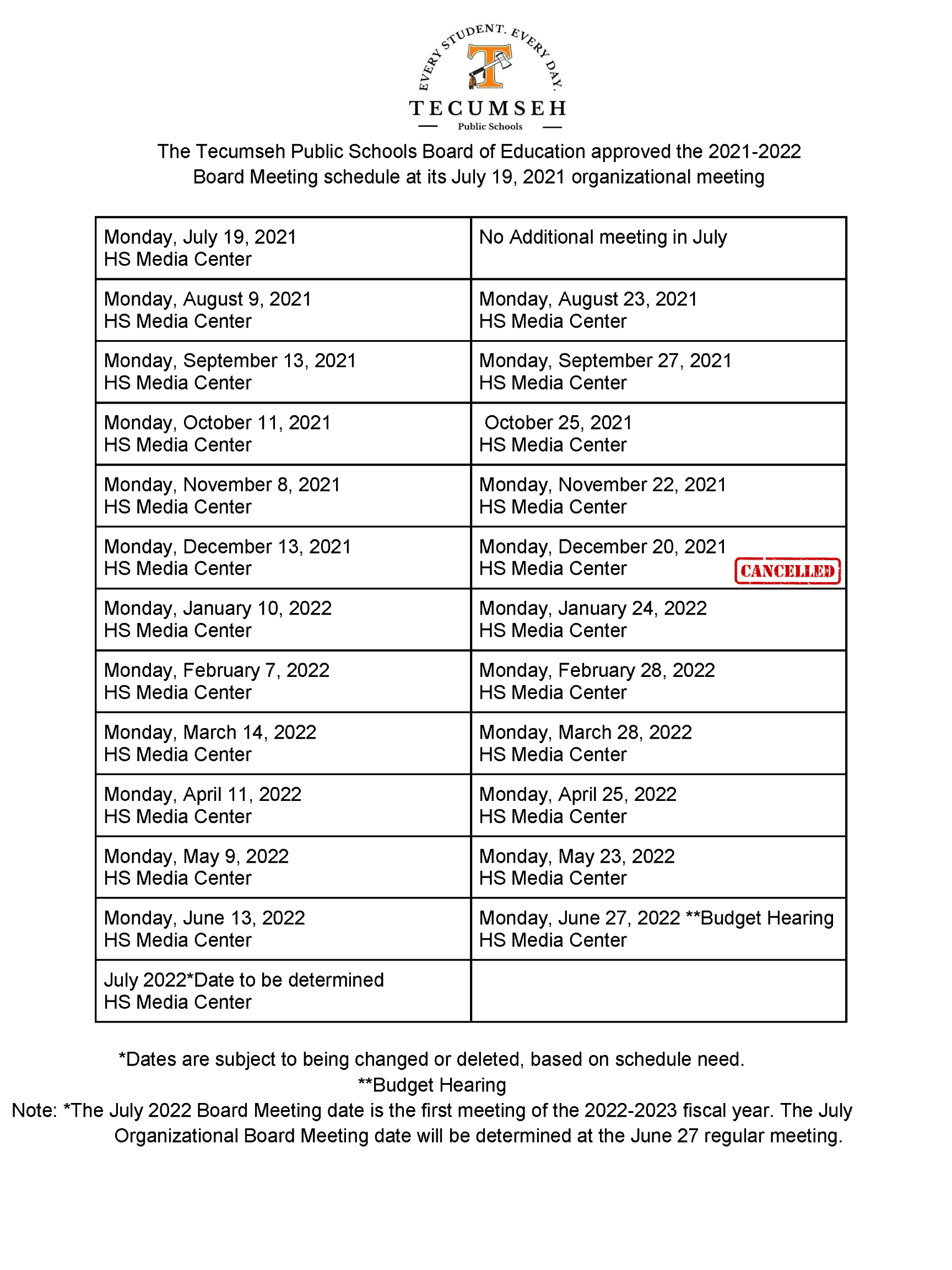 The Tecumseh Public Schools Board of Education approved the 2021-2022 Board Meeting schedule at its July 19, 2021 organizational meeting.
Note: *The July 2021 Board Meeting date is the first meeting of the 2021-22 fiscal year. The July Organizational Board Meeting date will be determined at the June 28, 2021 regular meeting.
NOTE:
Minutes of the Board of Education Meetings can be obtained at the Office of the Superintendent – Administrative Services Building, 760 Brown Street, Tecumseh, MI.

Board meeting minutes are posted on the district website once they have been approved by the Board of Education.

Any person with a disability who needs accommodations, is asked to contact Veronica Moore, Exec. Asst. to the Superintendent, three (3) days prior to the scheduled Board meeting.
Meeting Livestreams and Recordings
Please click links below to view the recordings of any live-streamed board meetings and work sessions.
2021/2022 Board of Education Livestreams and Recordings