Tomorrow is a very critical election day for Tecumseh Public Schools. We have two bond proposals on the ballot that will help shape the future of our District. For more information on the proposals, please visit
https://tpsbond.com/
Please remember to make your voice heard and vote tomorrow, November 8th! If you're voting in person, visit
https://mvic.sos.state.mi.us/
to learn more.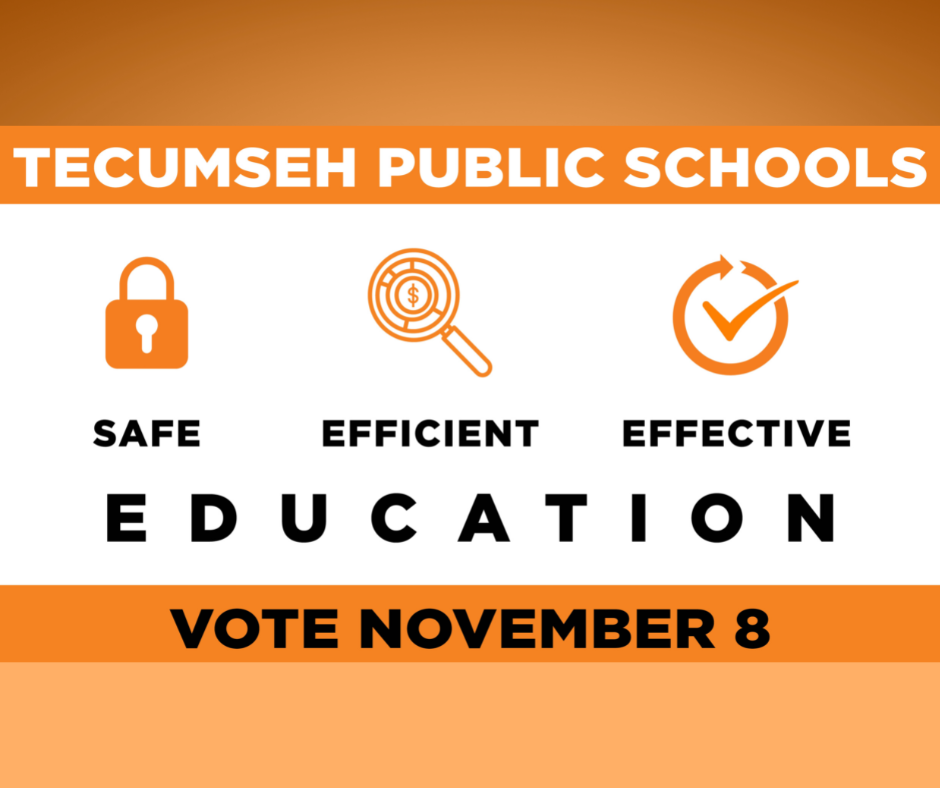 Tonight's (November 7) Board of Education meeting has been CANCELED! The only item, which was a closed session regarding student discipline, has been postponed. The next Board of Education meeting is scheduled Monday, November 28.

Parent-Teacher Conferences for Tecumseh Middle School and Tecumseh High School have been rescheduled. Conferences are now Thursday, November 17, from 5pm-8pm. If you have a prior commitment on that day, please let the staff know, and they'll work to make other arrangements.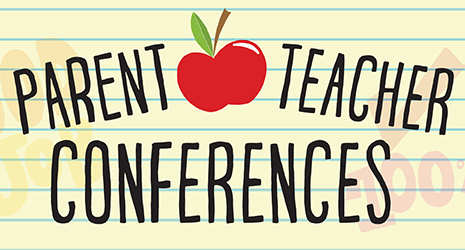 If you plan to attend tonight's playoff football game between Tecumseh Indian Football and Riverview High School at Riverview, you must purchase your tickets in advance. Riverview Community School District uses the GoFan ticketing app just like we do. However, they do NOT have credit card readers on site. This event's ticket must be presented using your mobile device via the GoFan app or the mobile site. TICKET INFORMATION:
https://gofan.co/app/events/749312?schoolId=MI3685

It was a fun October for preschoolers at Tecumseh Public Schools Preschool. The children and the staff took a short drive to Britton and visited Forever Acres Farm llc. They had a fantastic time seeing the animals, picking up pumpkins, and snacking on some treats. Another BIG shoutout goes to the Raisin Township Fire Department. They visited the preschool and Sutton Early Learning Center to talk about National Fire Prevention Month in October. They went over fire safety and even allowed our children to sit in the fire truck. If you haven't visited the Preschool's Facebook page, head over there and give them a follow!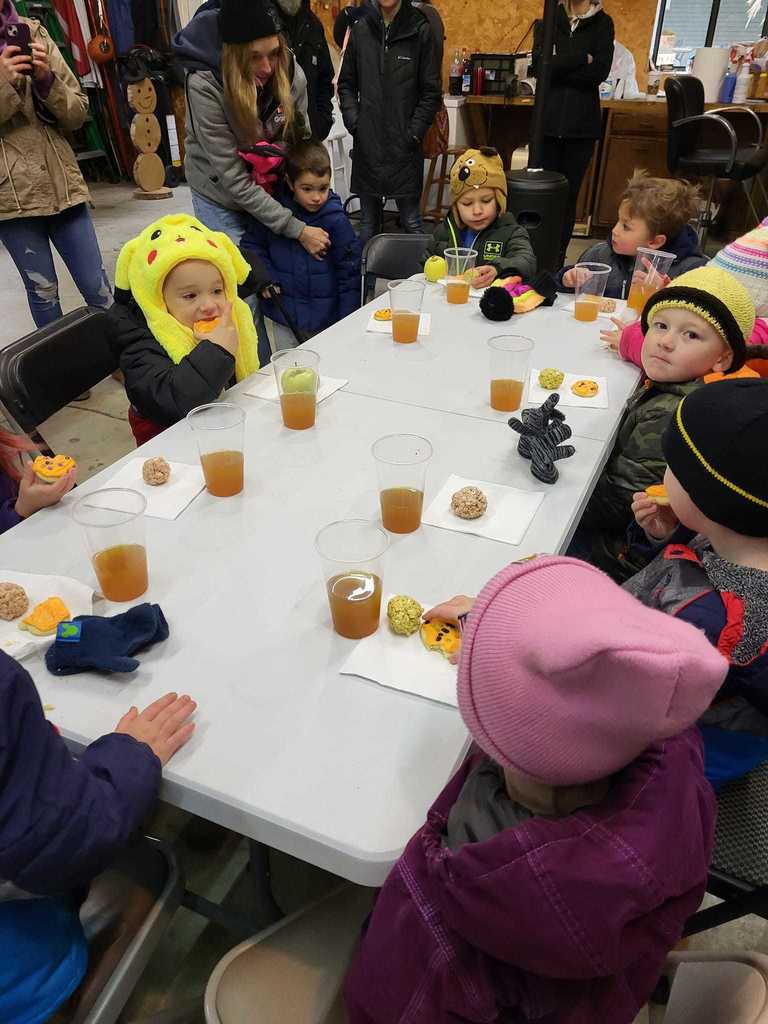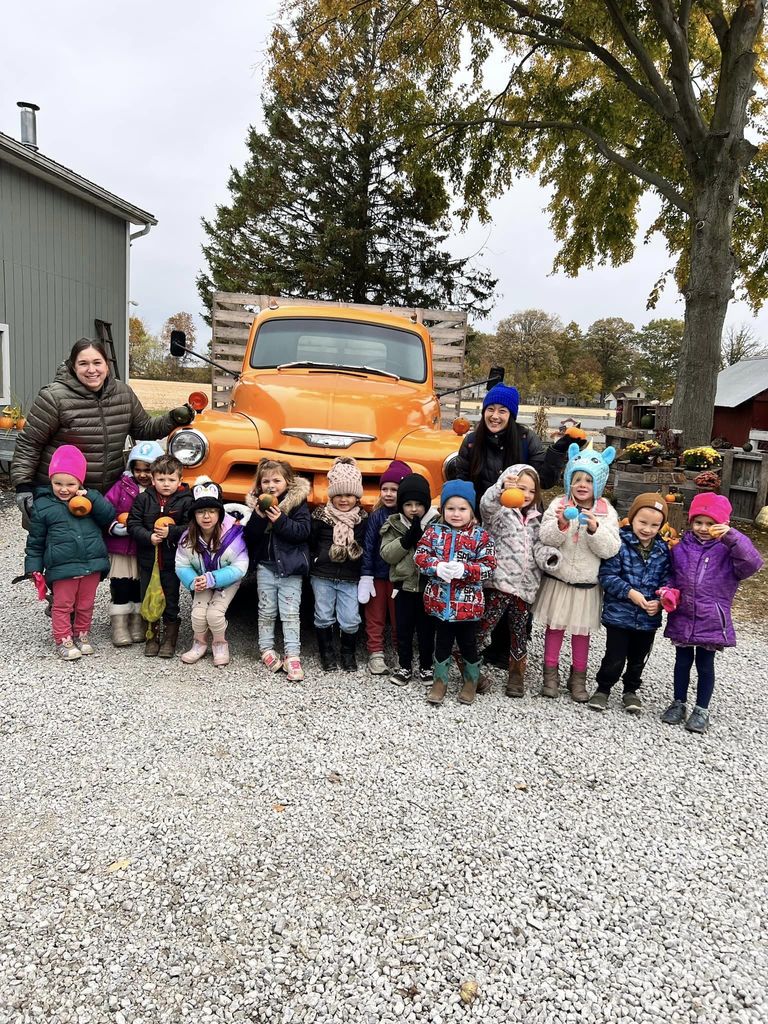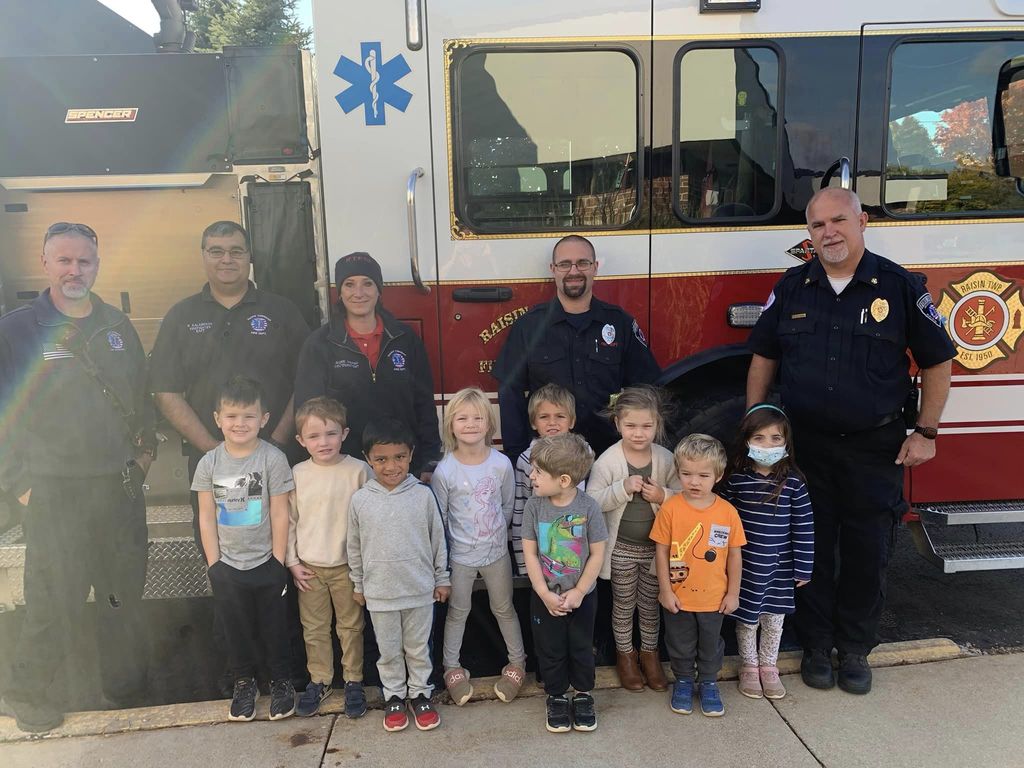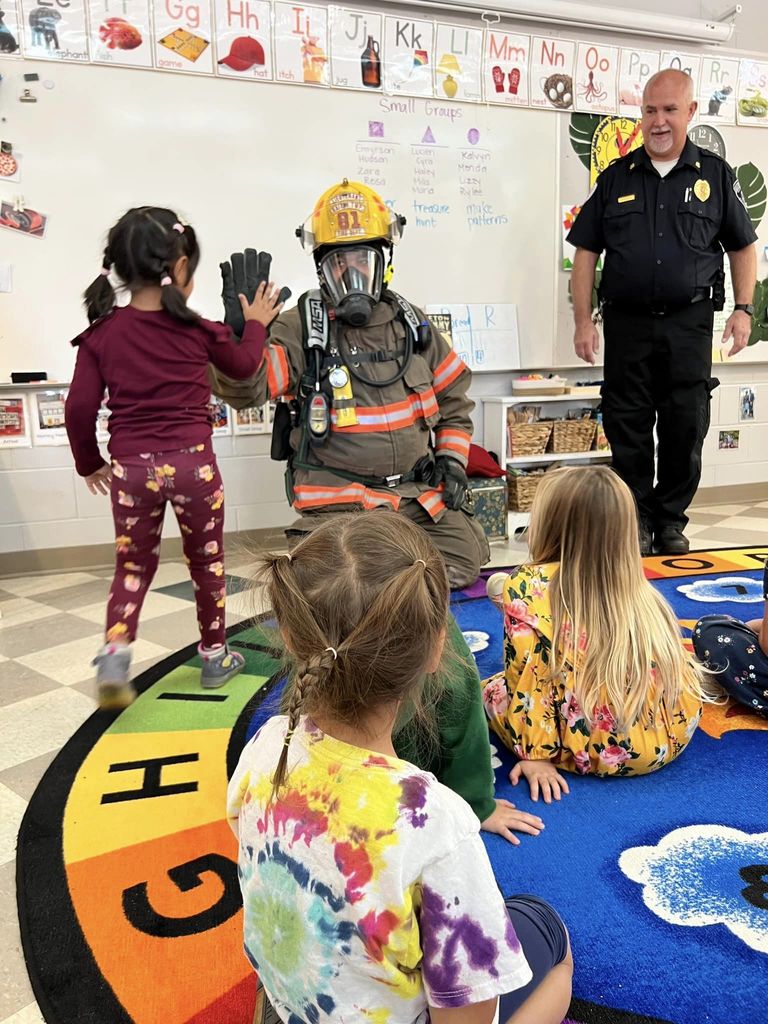 If you're interested in supporting the 'Victory for Vann' campaign, we have bracelets available for purchase at Tecumseh Middle School for $3. If you do not have a student who attends TMS but still want to purchase a bracelet, please call 517-423-1105. The fine folks in the office will get you squared away. Thank you for supporting the Burpee family. You got this, Vann!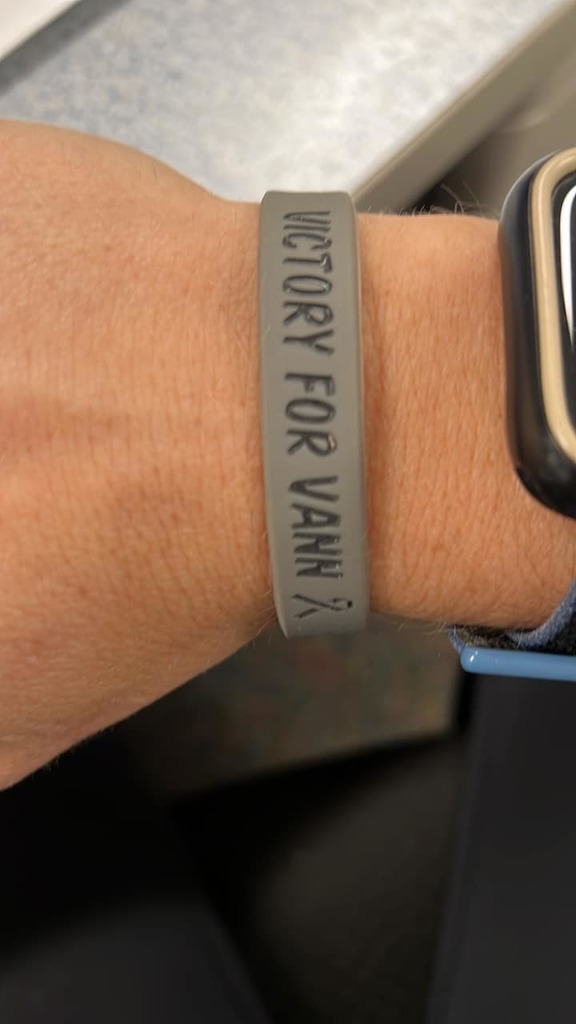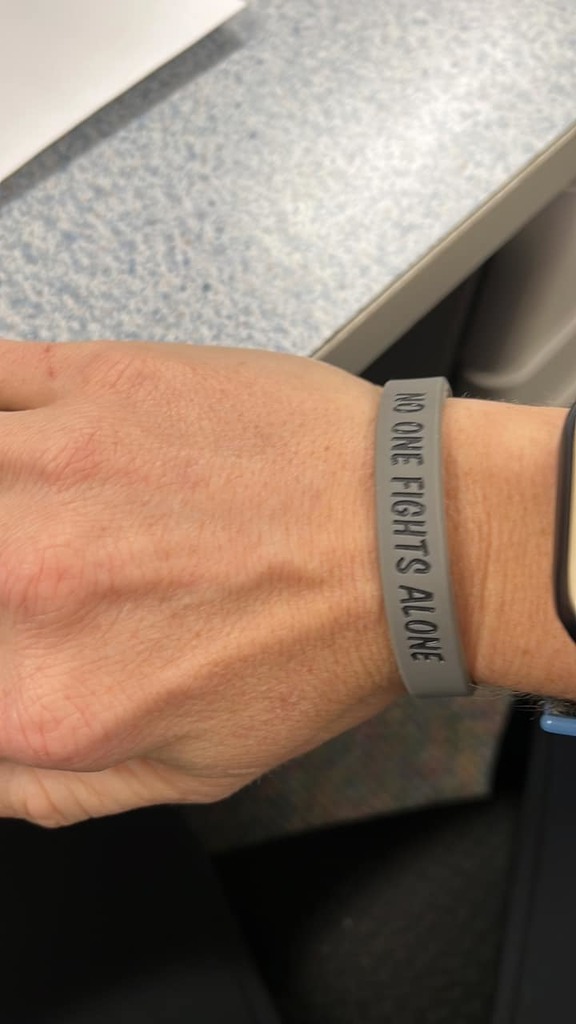 Ahead of Veterans Day on Friday, November 11, students from Tecumseh Middle School stopped by Brookside Cemetery this morning. They located the headstones of veterans and cleaned them thoroughly, along with some help from others. The students encountered veterans of several wars, including World Wars I and II. Some of the stones had mold and dirt build-up, but the students did a fantastic job of being respectful in their cleaning. The Tecumseh Middle School Builders Club, which included members and non-members, put together the cleaning, and the students were overseen today by Board of Education Trustee Mary Tommelein. Don't forget that TMS will host a Veterans Day breakfast on Thursday, November 10. The breakfast will run from 8am-9:30am. Veterans, we would love for you to join our 8th graders for breakfast. For more information on the breakfast, please contact: 👩: Jayme Funchion 📱: 517-423-1105 📧:
jfunchion@tps.k12.mi.us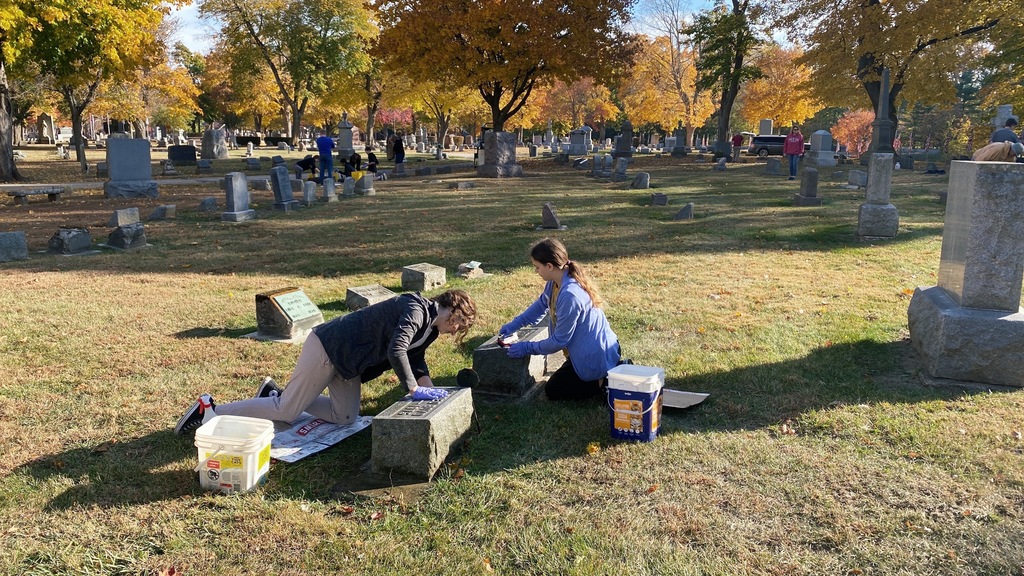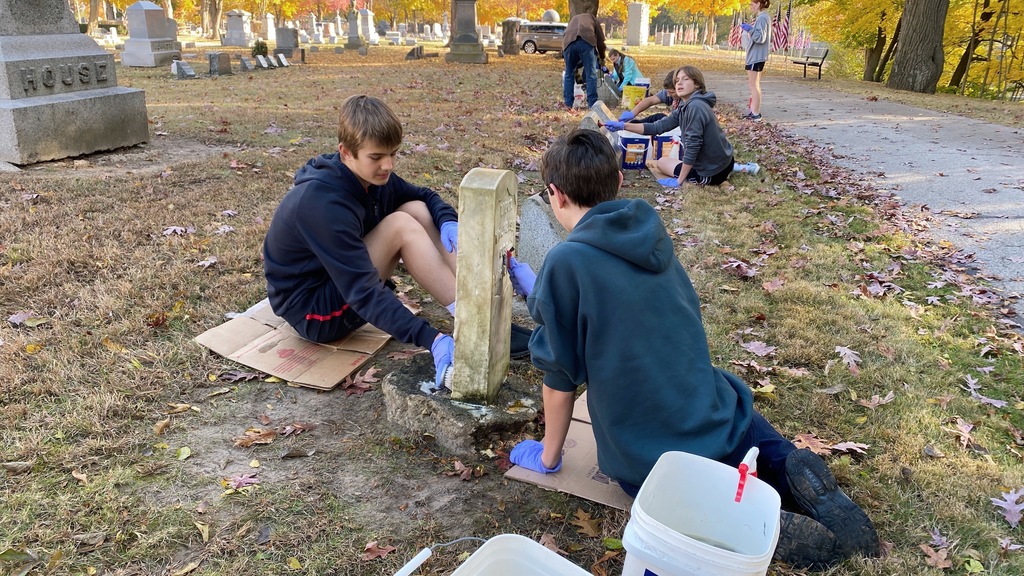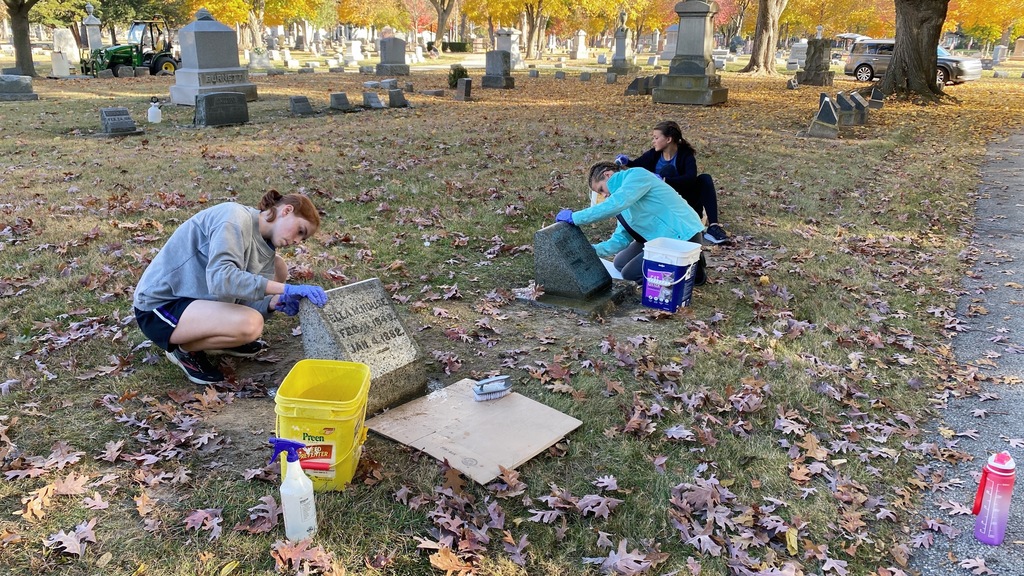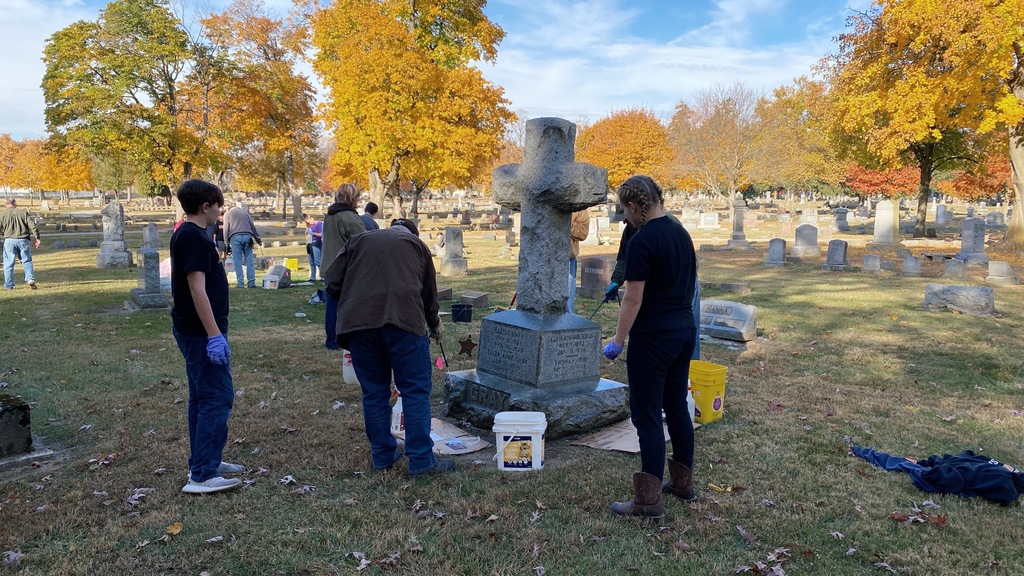 TPS family and community, we are asking for your support. Recently, Tecumseh Middle School 6th grader Vann Burpee was diagnosed with a malignant brain tumor. He has gone through biopsy surgery to figure out what the next course of action is. Unfortunately, the tumor cannot be surgically removed. As Vann and his family go through this next phase, we hope you will support the 'Victory for Vann' campaign. Starting now and for the next several weeks, we are selling shirts with 100% of proceeds going to Vann and his family. Please consider supporting the Burpee family during this challenging time. Thank you! 'Victory for Vann' shirts ⬇️
https://victoryforvann.itemorder.com/shop/home/
For more information, please reach out to ⬇️ 👩: Jayme Funchion 📧:
jfunchion@tps.k12.mi.us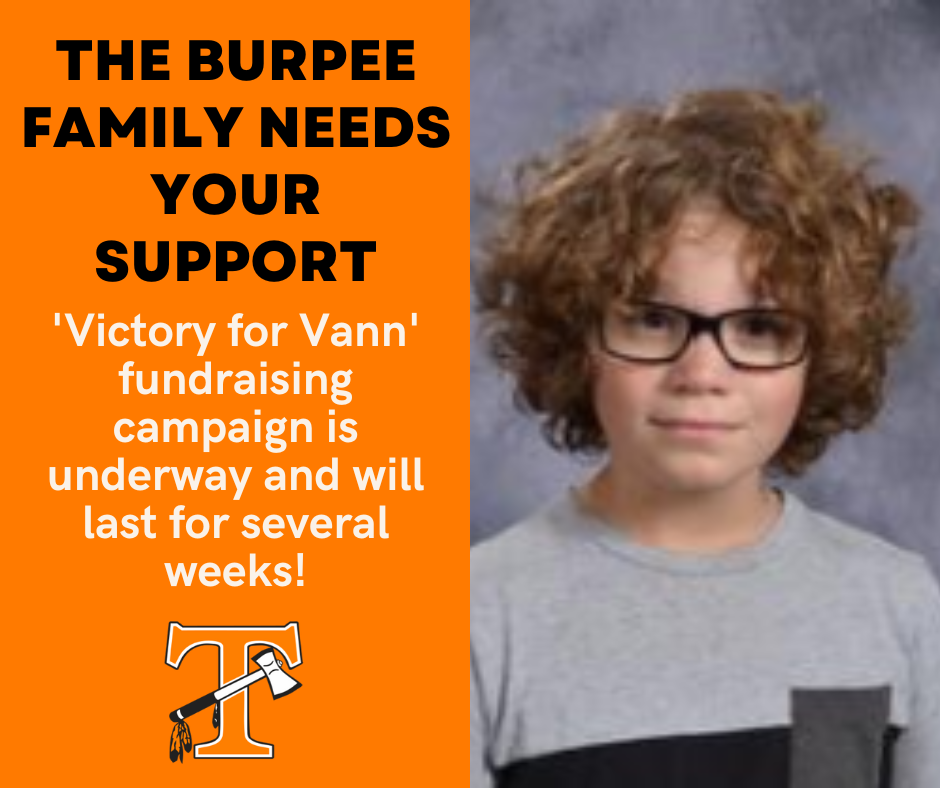 Next stop, Milan! 6th-8th grade students from Tecumseh Middle School competed in a spelling bee in preparation for the Milan Regional Spelling Bee. The students were challenged with tough words, but in the end, the top five spellers from each grade will move on and represent Tecumseh in the spelling bee. The winners will have some time to prepare. The Milan Regional Spelling Bee is set for Saturday, November 12. Good luck!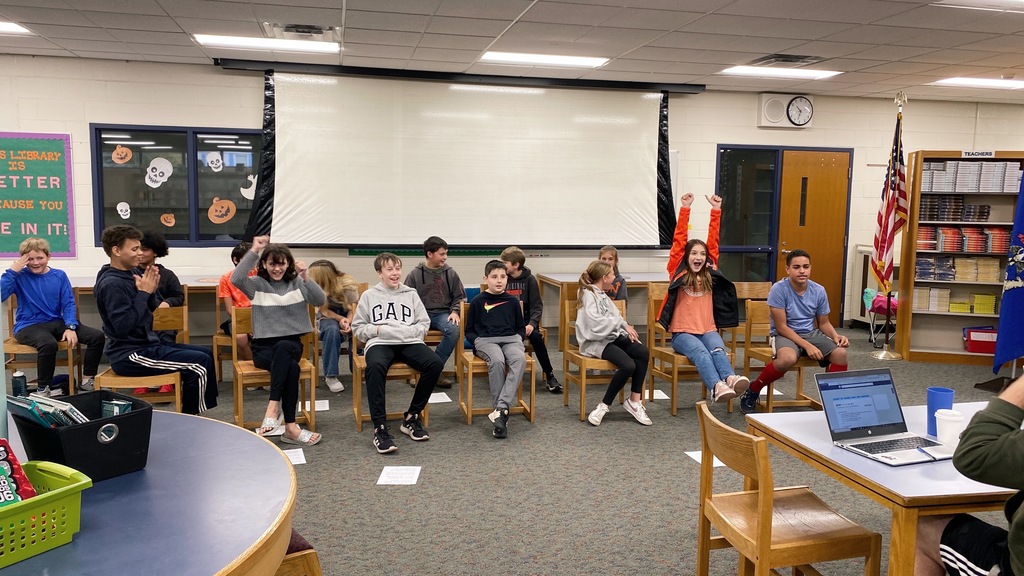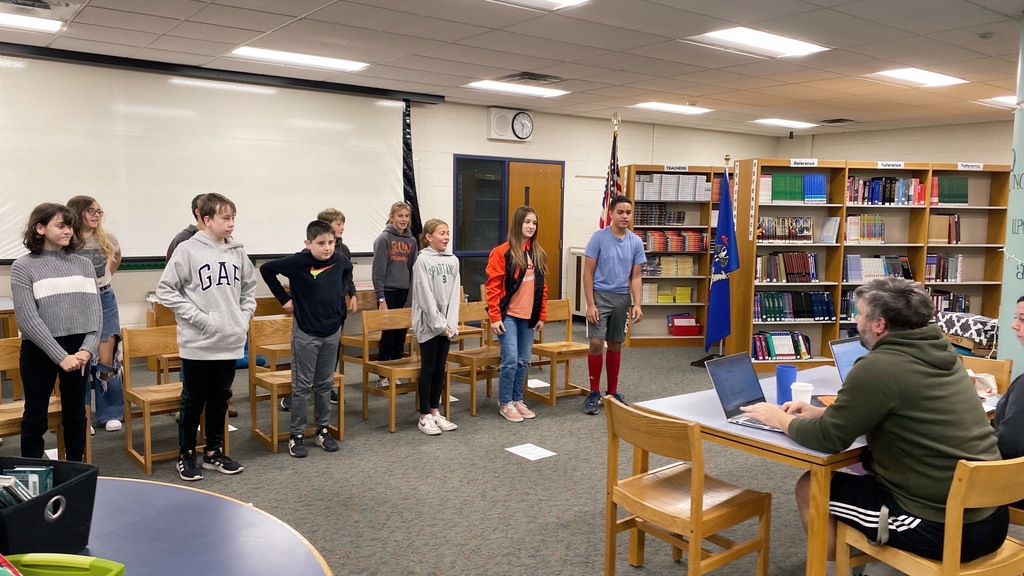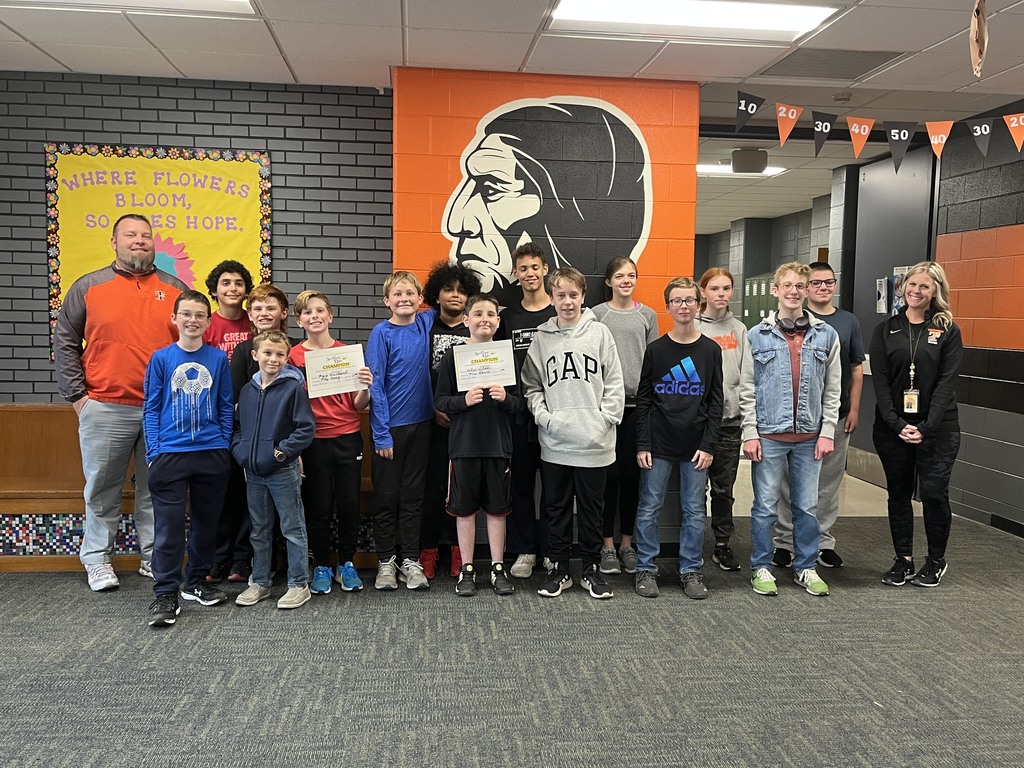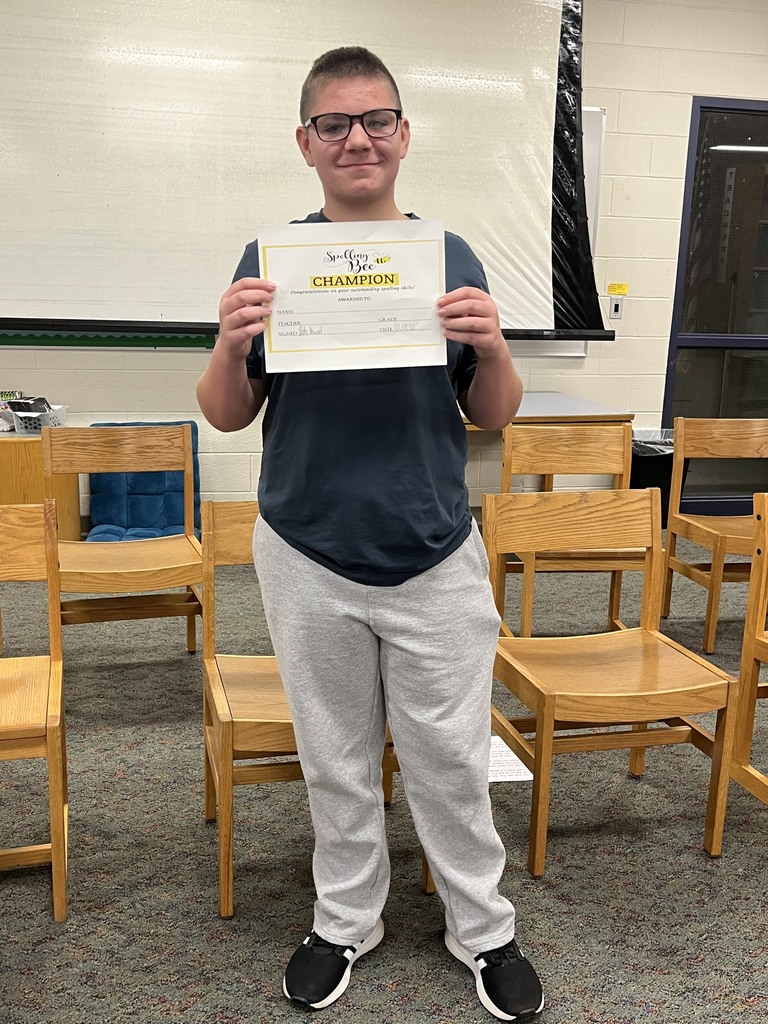 Bon appétit! Students in Ms. Weaver's class at Tecumseh Middle School made their own personal pizzas. The process was all on the students. They made their grocery list and filled out a recipe card. They built their pizzas with all of their favorite ingredients!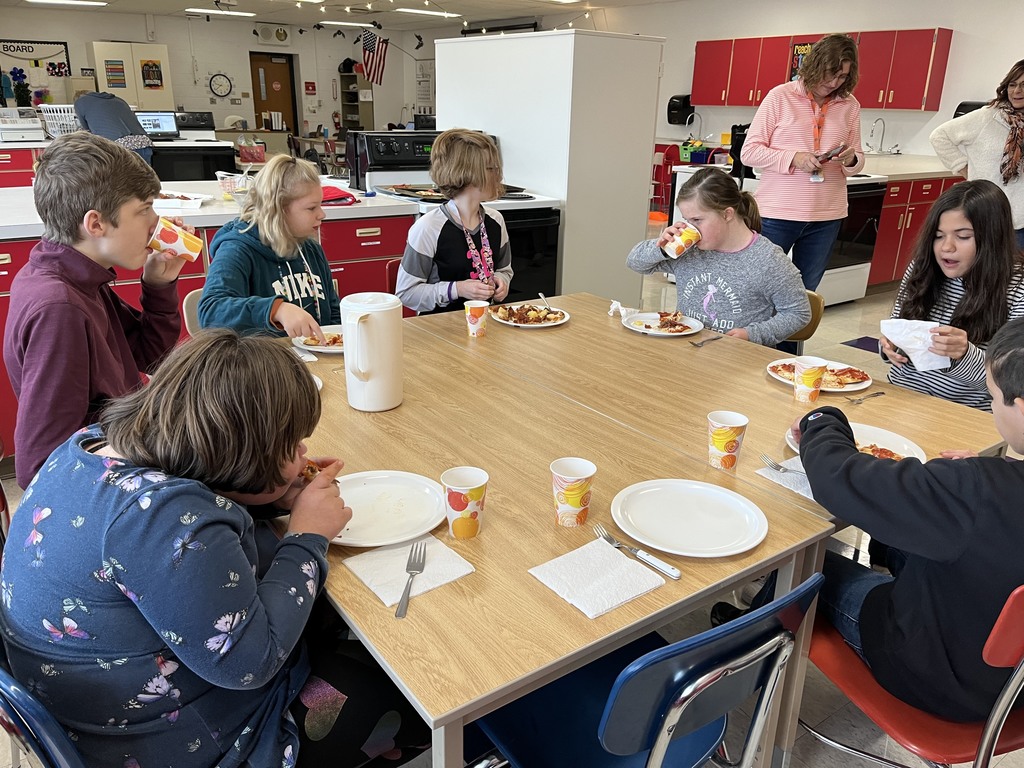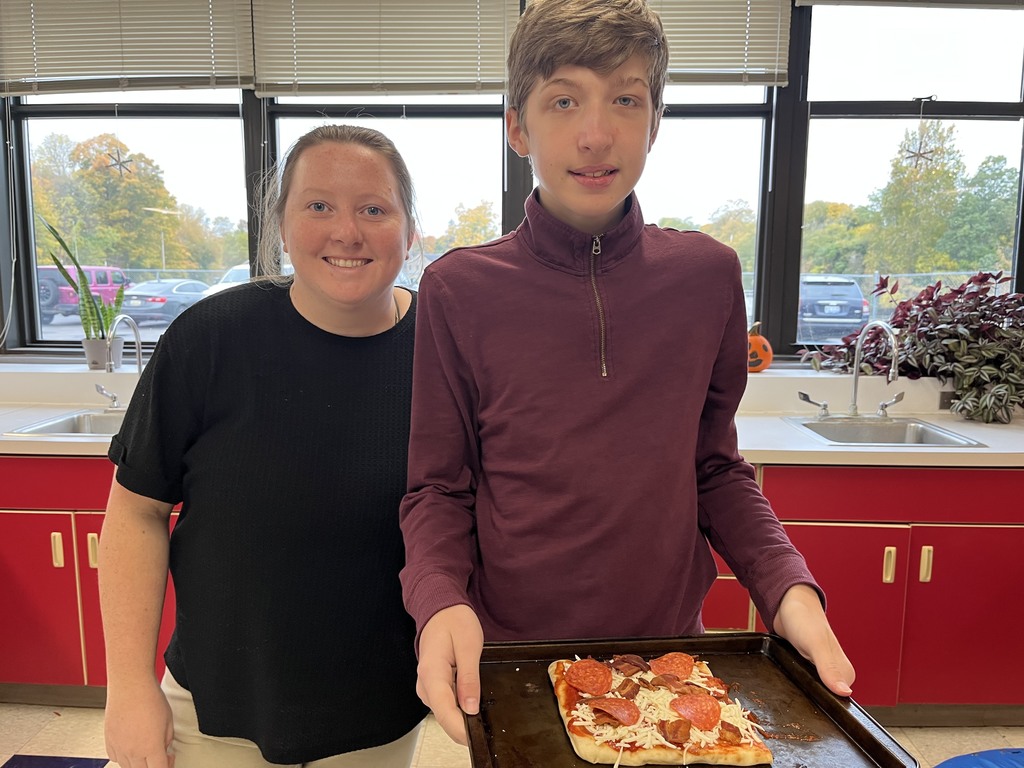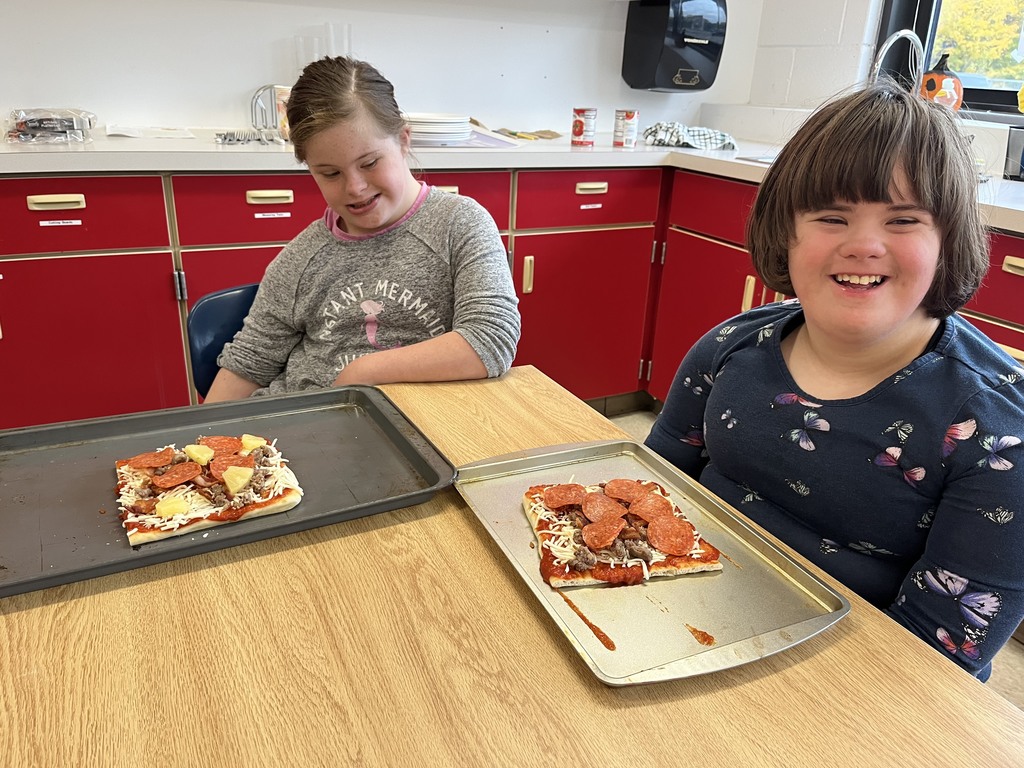 TPS will be hosting another virtual public meeting on Bond 2022. The meeting will be held on Tuesday, October 18. The meeting will begin at 7 pm and will be live via Zoom. The meeting will also be live-streamed on the TPS Facebook page. Zoom link:
https://us02web.zoom.us/s/85499325636
Bond 2022 information:
https://tpsbond.com/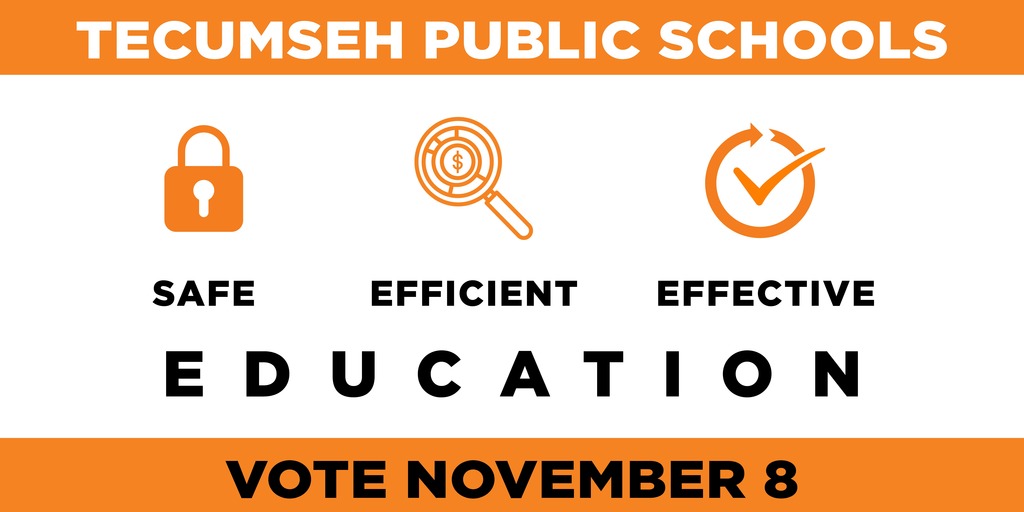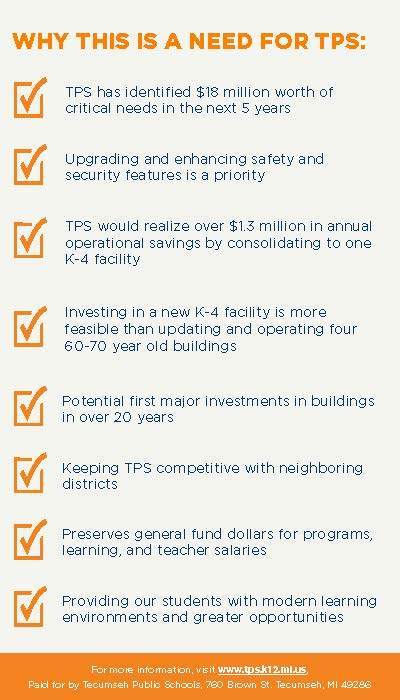 A small act of love, such as donating a pair of socks, can make a big difference in the lives of our homeless or needy neighbors. Right now, students and staff at Tecumseh Middle School and Tecumseh High School (high school drive put on by Sources of Strength) are collecting new socks for Socktober! Small gifts matter, and as the weather turns cooler, even one donation of new socks can make a world of difference for someone in need. If you want to donate, you can send the socks to school with your student or drop them off at TMS or THS. For more information: 👩: Jennifer Morgan 📍: Tecumseh High School 📧:
jmorgan@tps.k12.mi.us
👩: Jayme Funchion 📍: Tecumseh Middle School 📧:
jfunchion@tps.k12.mi.us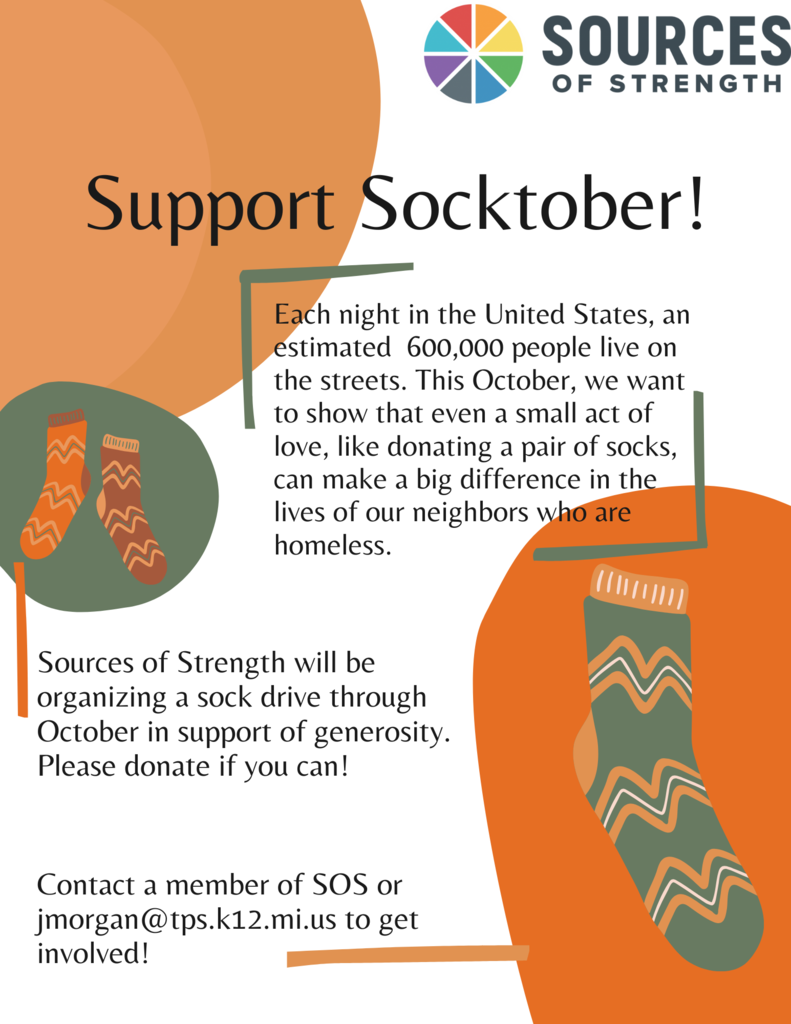 Today was a great learning experience for some of our Tecumseh High School students. 10th-grade students from Ms. Arnold's AP World and World History classes traveled to Dearborn to visit the Arab American National Museum. This field trip was a cultural extension activity related to the World History curriculum. After the museum visit, everyone headed to Shatila Bakery for some authentic Mediterranean pastries.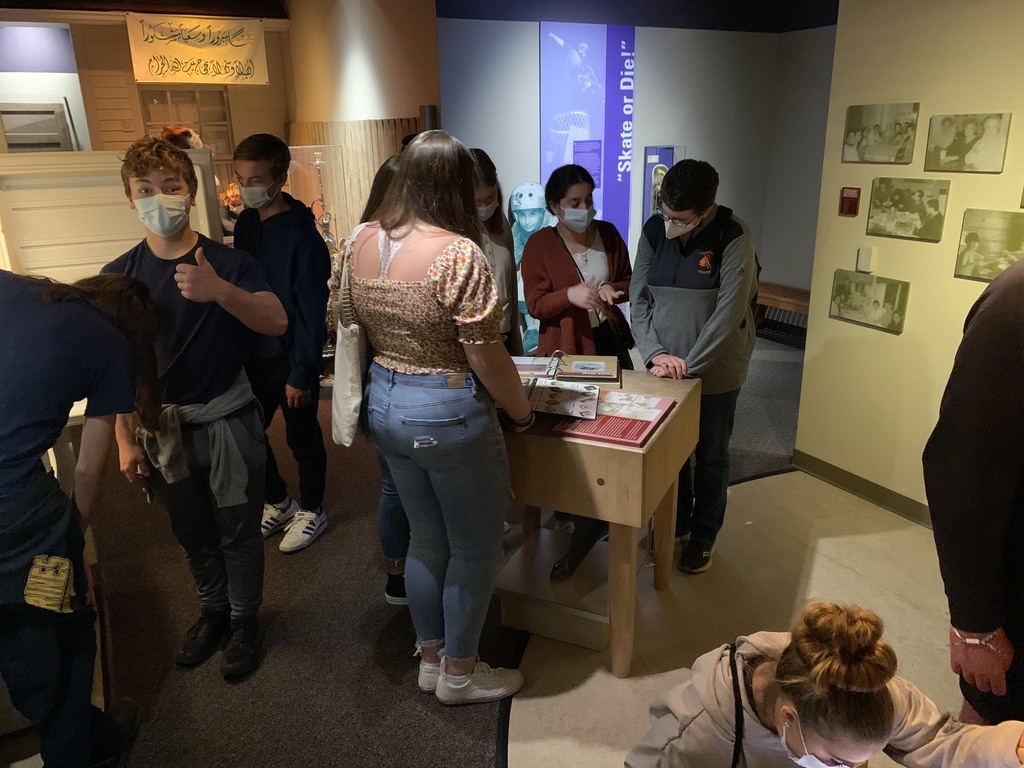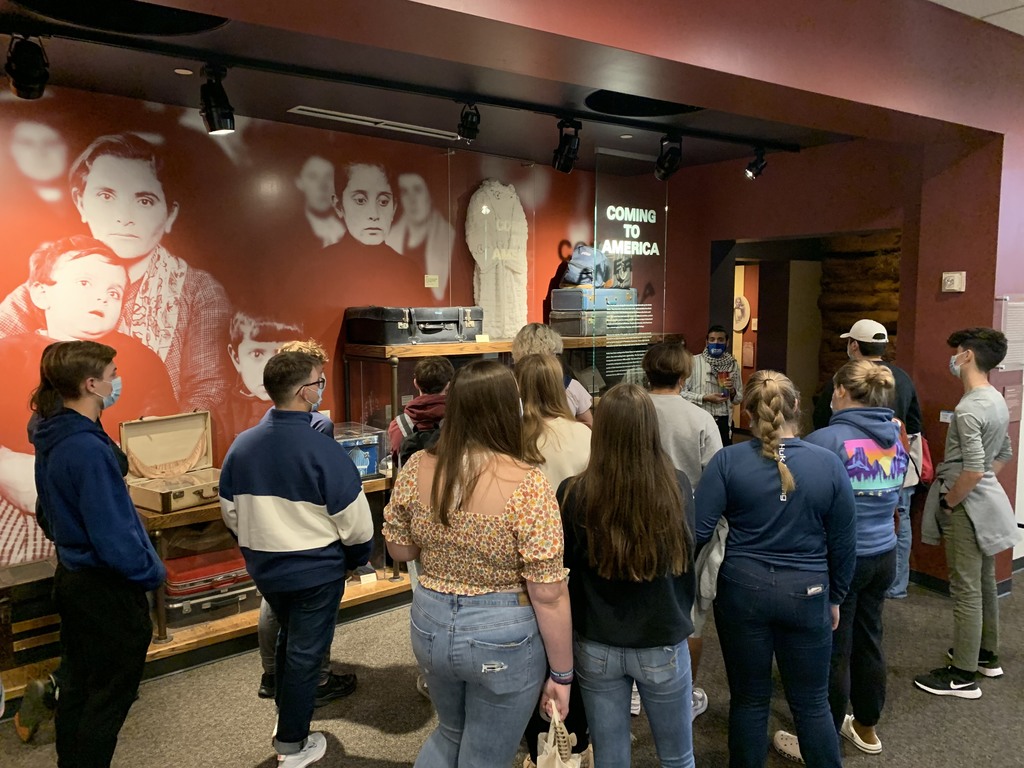 A fun time yesterday at Sutton Early Learning Center. Students and staff participated in a PBIS school-wide celebration for being Safe, Kind, and Responsible. Students can earn pride tickets for being Safe, Kind, and Responsible. Each teacher keeps a tally of the tickets as they work to reach their class goals. When the school hits its goal, there's a school-wide celebration. In this case, a dance party! PBIS stands for Positive Behavioral Interventions and Supports. It promotes positive relationships among students and staff and creates a respectful culture for all students.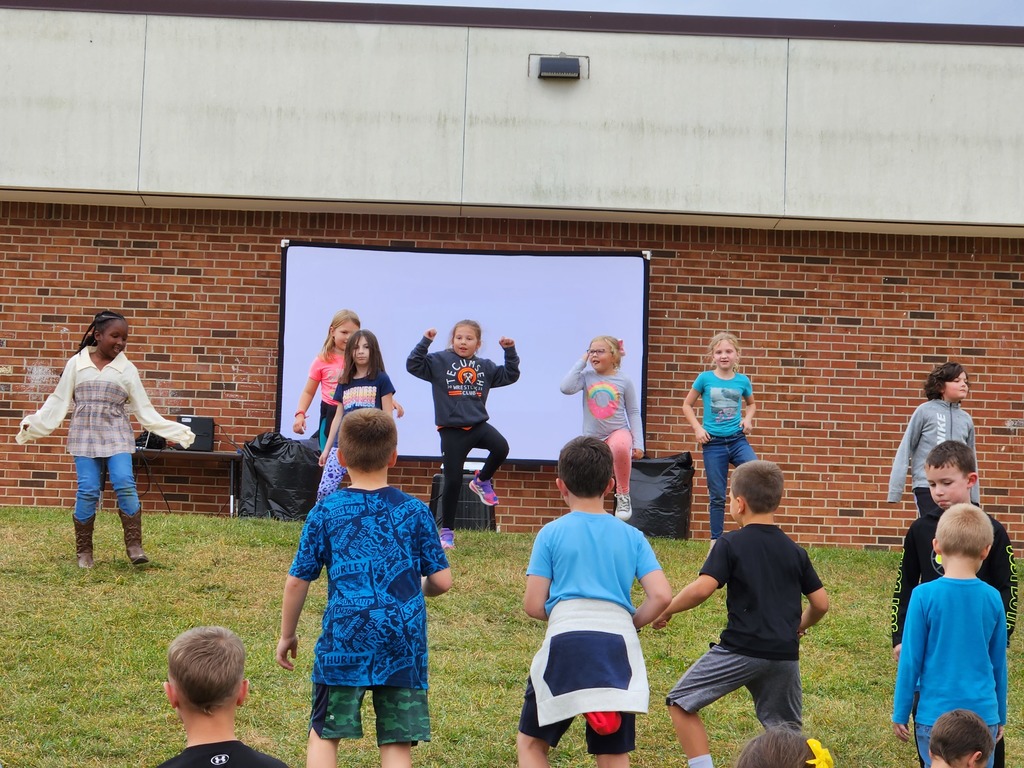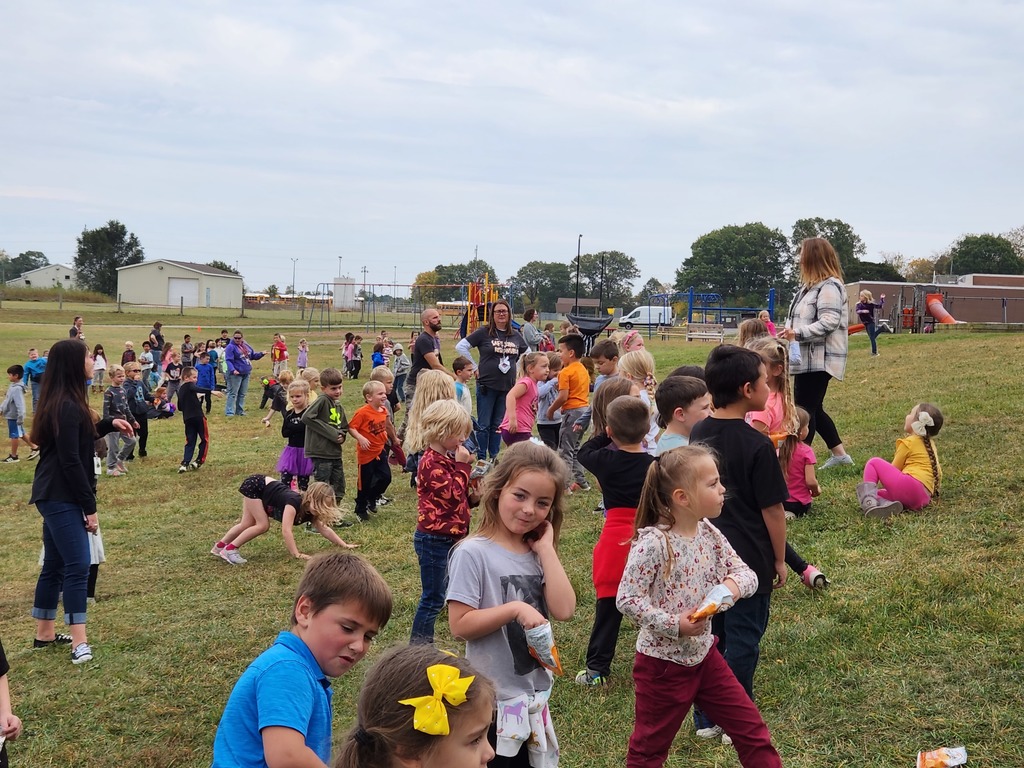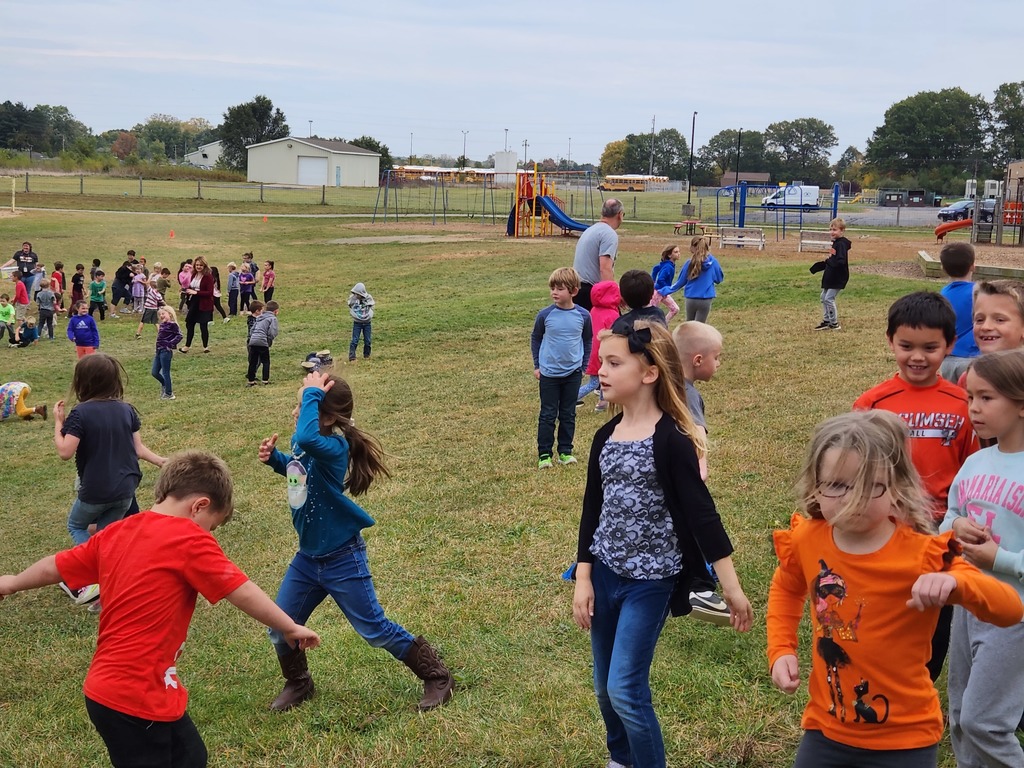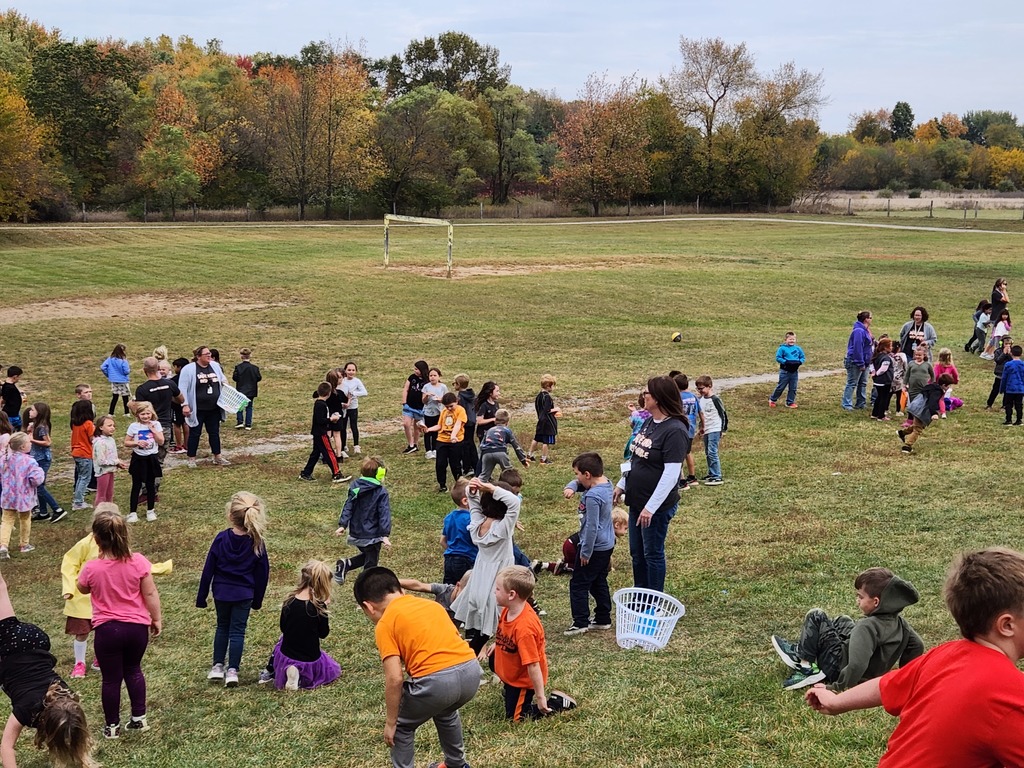 Right now, enrollment continues for preschool here at Tecumseh Public Schools. We still have several open spots. If you or someone you know is looking for a preschool for their three- or four-year-old, don't hesitate to contact the director, Shawn Behnke, at
sbehnke@tps.k12.mi.us
or call 517-424-9957 for information. We have both tuition-based programs and Great Start Readiness Programs. You can also inquire directly about GSRP for four-year-olds at lenaweefreepreschools.org to see if you qualify for a GSRP placement. Tecumseh Preschool ➡️
https://www.tps.k12.mi.us/o/preschool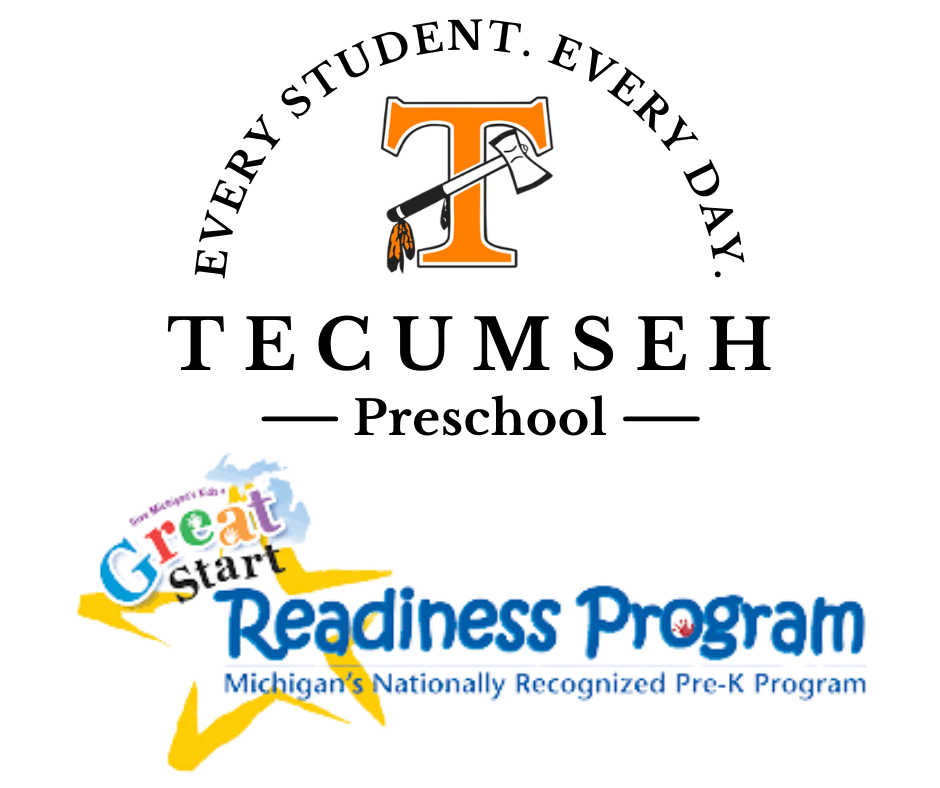 The first edition of Volume 2 of the TPS newsletter is now available! In this issue, you'll find several stories from the first month of the school year. The Rundown: • THS Students Score High on AP Exams • First "Be Kind to Your Mind" Mental Expo at TMS • Bond 2022 Information • Happening Around TPS • Fall Sports Schedules October 2022 Newsletter ⬇️
https://5il.co/1iubq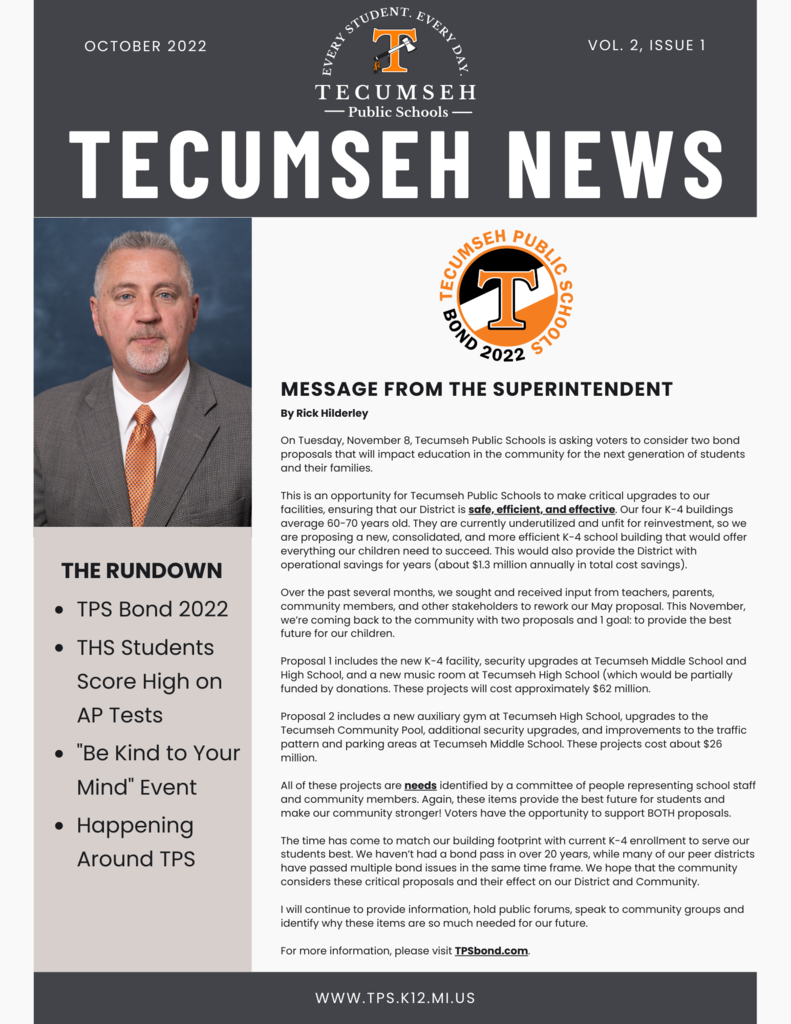 Leading up to the November 8 General Election, Tecumseh Public Schools will host two virtual public forums. During these public forums, Superintendent Rick Hilderley will go over the two bond proposals on the ballot and the 'why' behind them. You will be able to ask questions during these forums. 📅: Tuesday, October 4 ⌚: 7 pm 🌐:
https://us02web.zoom.us/s/88068972250
📅: Tuesday, October 18 ⌚: 7 pm 🌐:
https://us02web.zoom.us/s/85499325636
For more information on the bond, please visit ⬇️
https://tpsbond.com/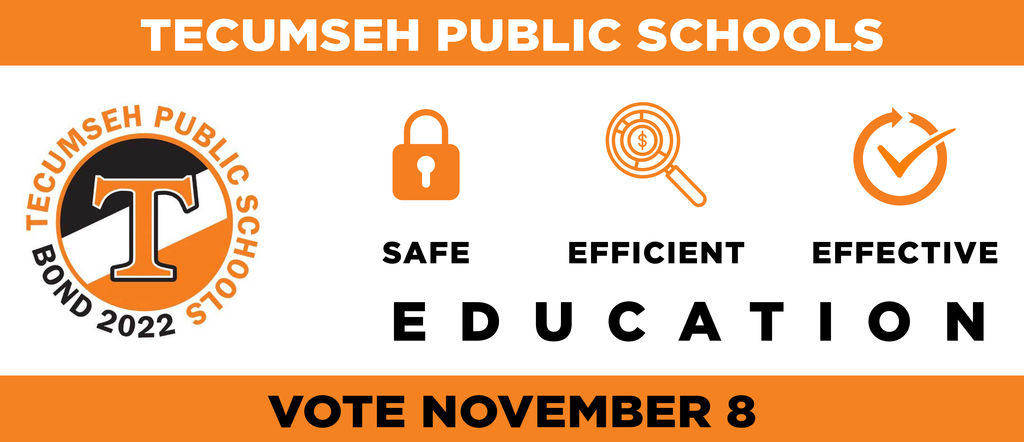 After a successful first drive-thru event, we're coming back again. If you're looking to move on from your gently used shoes, or have a new pair you're looking to part with, we'd be happy to take them off your hands. Remember, this fundraiser will help support the Tecumseh Band Boosters and go towards a good cause. Drop-off information ⬇️ 📅: Wednesday, October 12 ⌚: 4 pm- 7 pm 🏫: Tecumseh Middle School 📍: 307 N. Maumee Street, Tecumseh You can also drop off these shoes at any of our buildings during business hours.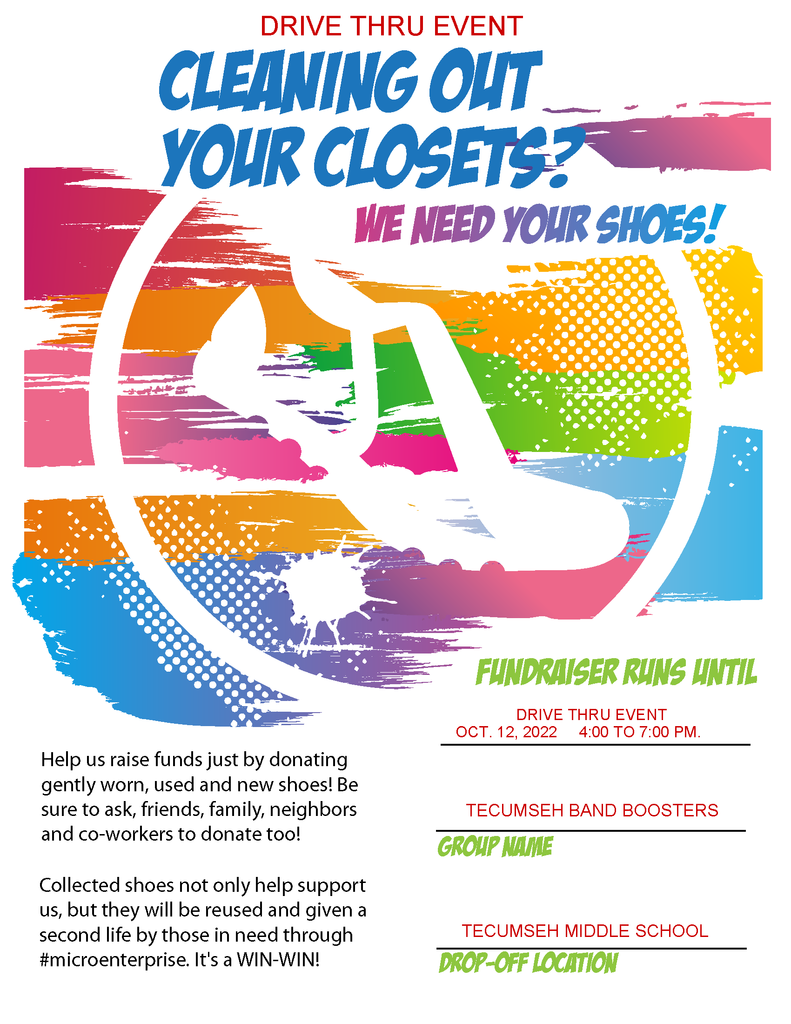 Don't forget Friday, September 30, is a half-day for ALL students!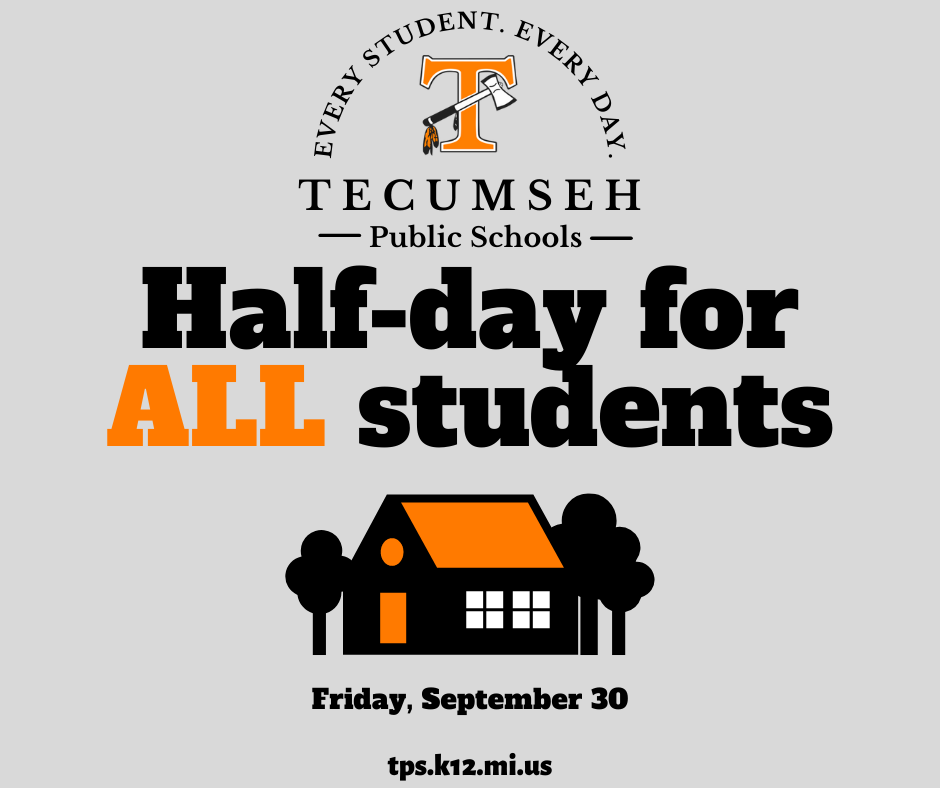 Tecumseh High School students are painting Renaissance still life paintings during art class. Still life paintings are a work of art that shows inanimate objects from the natural or man-made world.