Let's have a conversation tonight about the most recent bond proposal. We're hosting a public forum with the goal of talking to the community about what was on this recent proposal, what the community did and didn't like, and where we're going if a new bond isn't passed. This is an open mic type event. Please considering attending tonight or next week during our virtual public forum. 🏫: Tecumseh High School - Media Center 📍: 760 Brown Street 📅: Tonight, May 26 ⌚: 7pm PRESS RELEASE:
https://5il.co/1azxu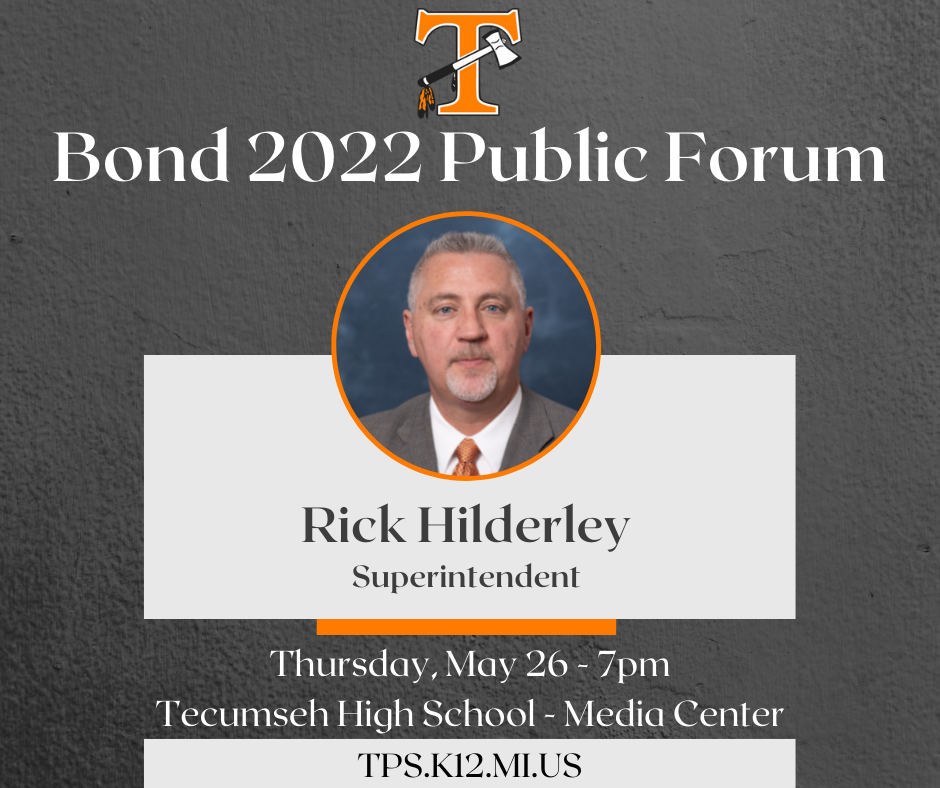 🚨 UPDATE 🚨 In light of today's events in Uvalde, TX, Tecumseh Public Schools is making some security adjustments. From now until Tuesday, June 7th, ALL visitors coming to a TPS building must show their ID and state their business to office staff. Office staff have the authority to refuse entry. These changes are during business hours. Those attending graduation will not need to show ID. Security will be on hand for the event. Thank you for understanding.

Here's what's coming up: Thursday, May 26 - Bond 2022 Open Forum Meeting Friday, May 27 - Half-day for ALL students (early dismissal) Friday, May 27 - Last day for Seniors!!! (woot woot) Monday, May 30 - NO SCHOOL (Memorial Day) Tuesday, May 31 - School Resumes Tuesday, May 31 - Bond 2022 Open Forum Meeting (virtual)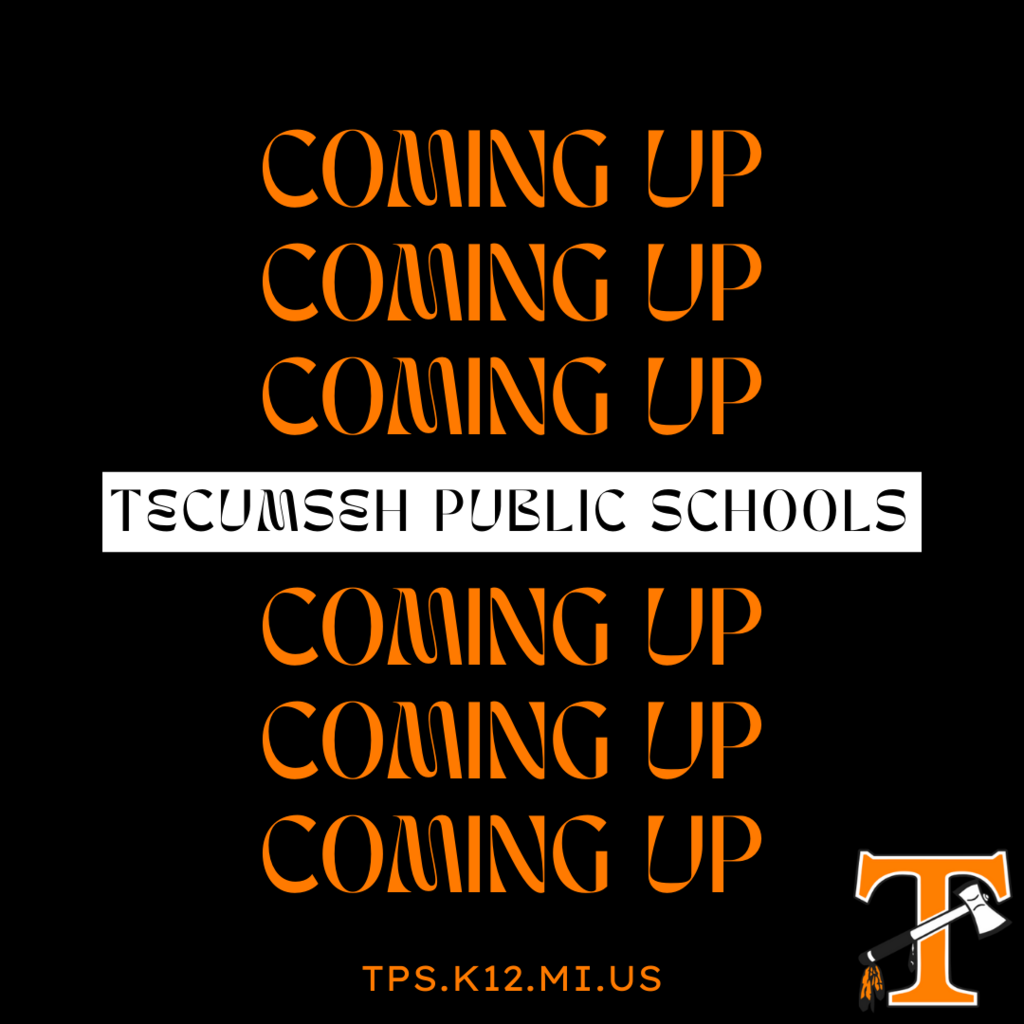 The K12 Art Show at Tecumseh High School is wrapping up tonight. The art is here at the high school, but our artists' work is showing up in some other places. TPS art teachers and students throughout the district created a variety of sunflower art and have teamed up with businesses in Downtown Tecumseh to display the work. This artwork is to show our support for former exchange student Valeriya Isakova and her family. Valeryia, her mother and brother escaped Ukraine at the beginning of the invasion of the country. After obtaining US visas, the trio are expected to arrive in Tecumseh this weekend! The sunflower is the national flower of Ukraine. Today, the flower represents unity and hope in the face of adversity. Fantastic work by our artists, instructors, and the community that has come together to rally around Valeriya and her family. 🌻🌻🌻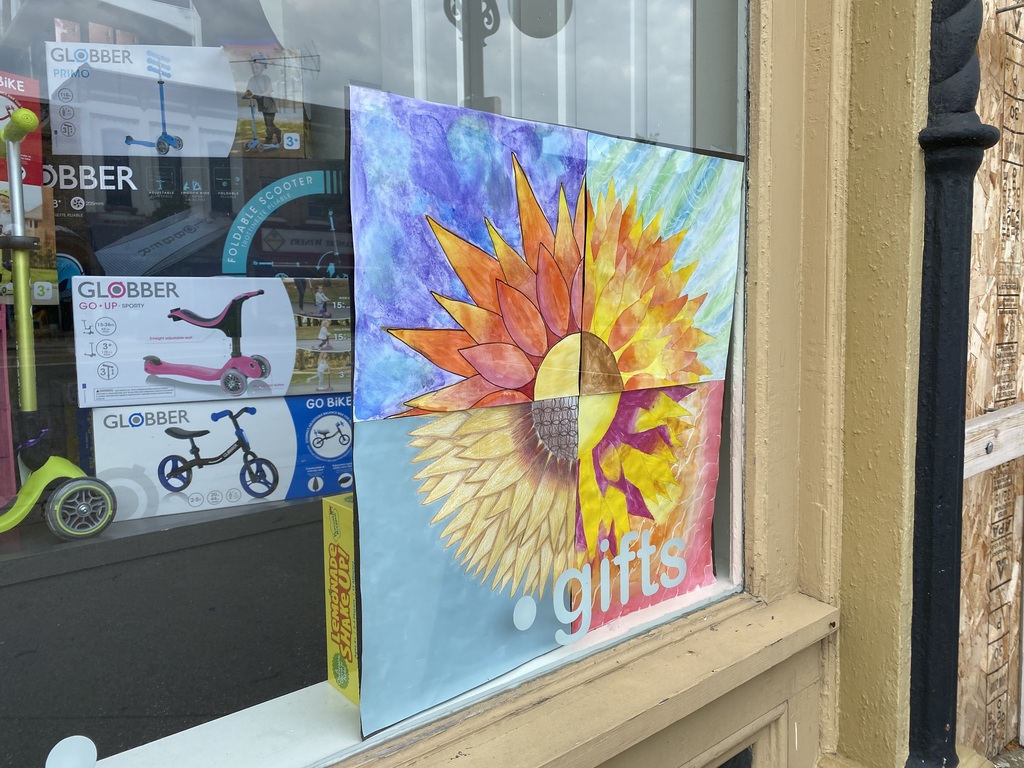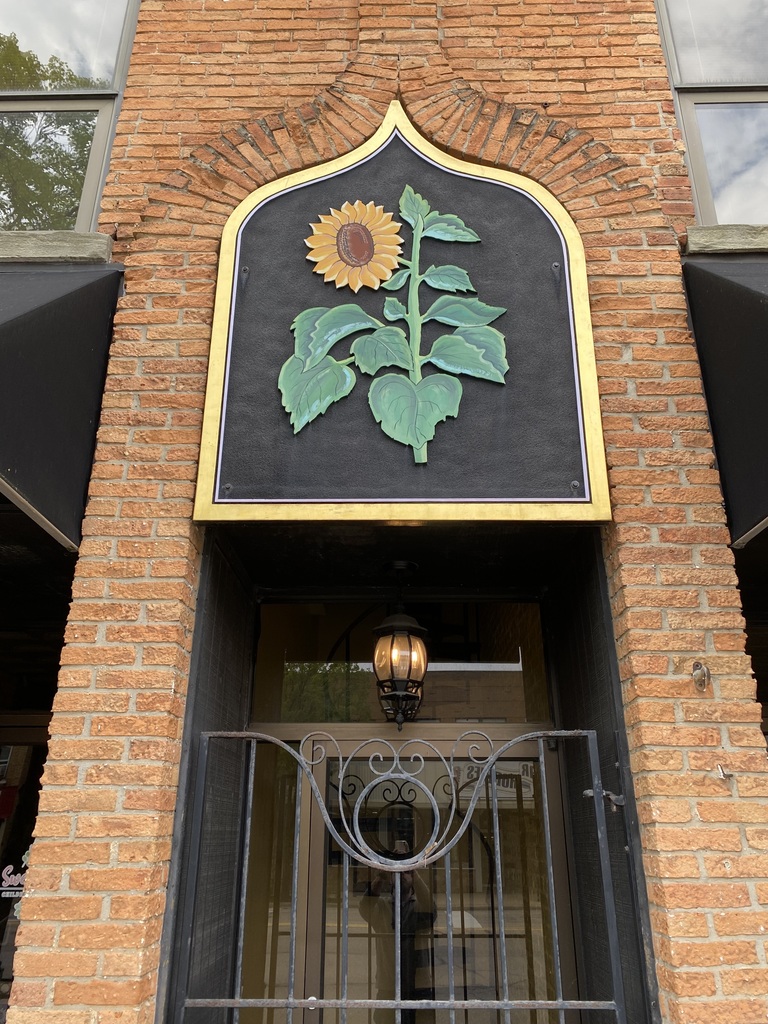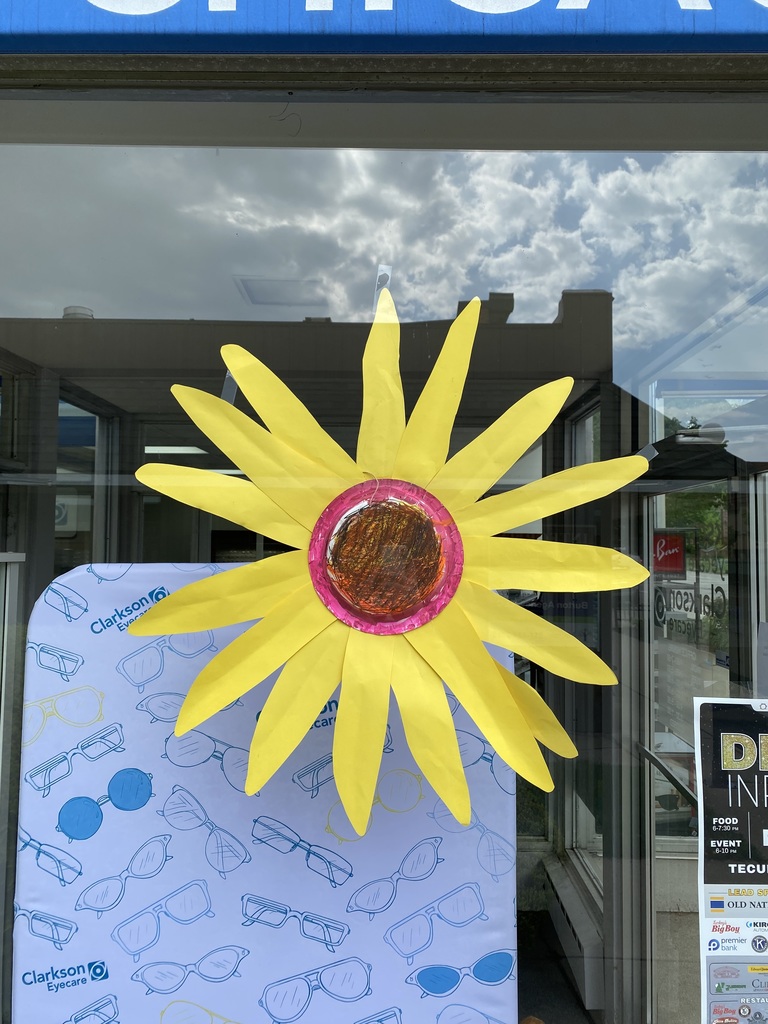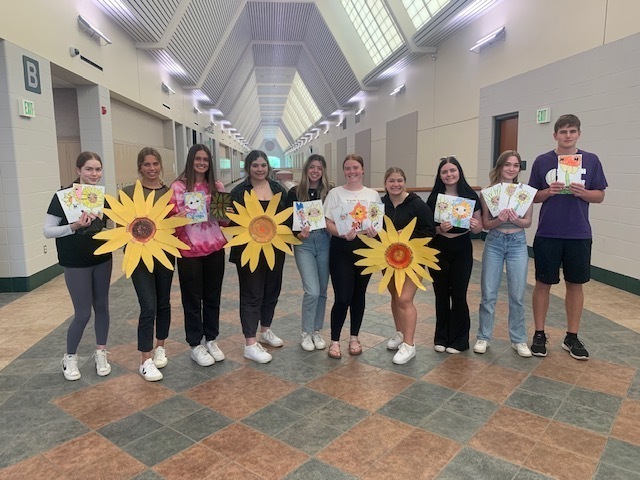 You still have today, tomorrow, and Thursday to check out the K12 Art Show at Tecumseh High School. There is a variety of art work, all coming from our youngest students to our oldest. The artists' work can be found in the Great Hall, the J-Hall and the Sculpture Garden of Tecumseh High School. 🏫: Tecumseh High School 📍: 760 Brown Street, Tecumseh, MI 49286 📅: NOW-May 19 ⌚: 5pm-7pm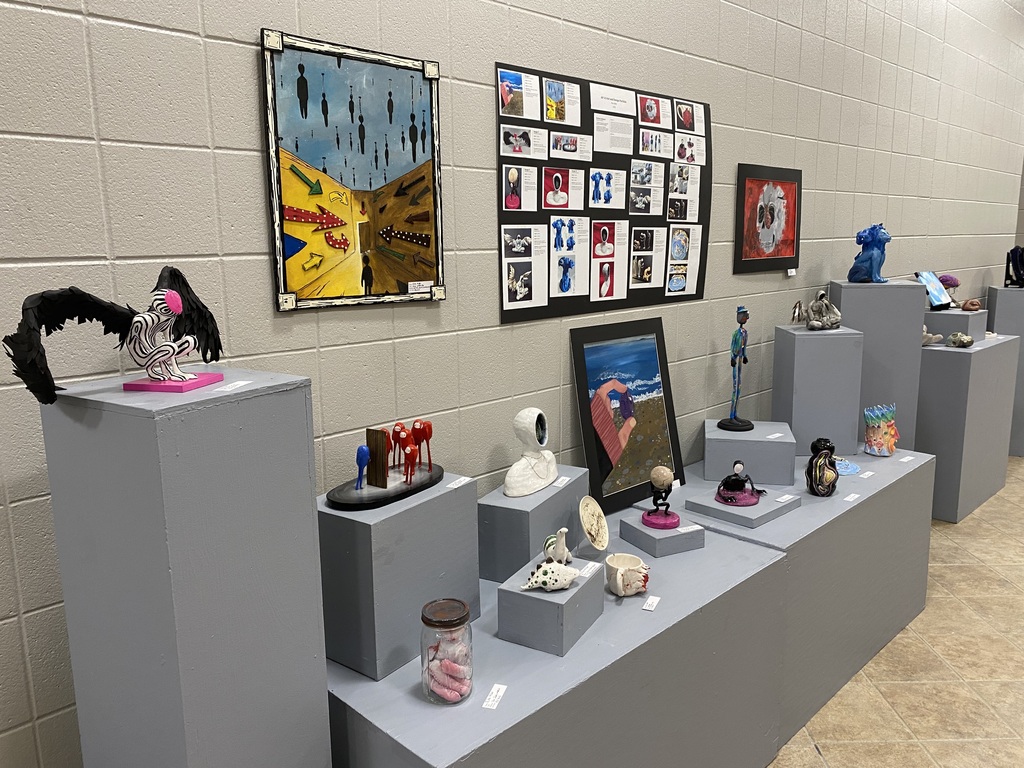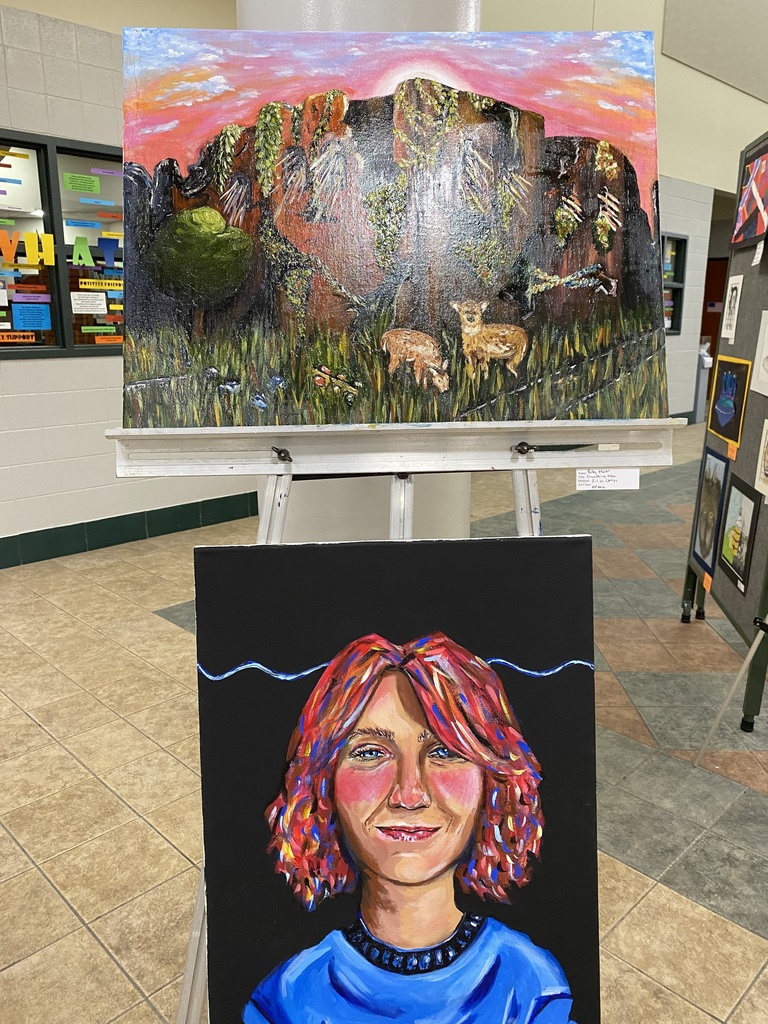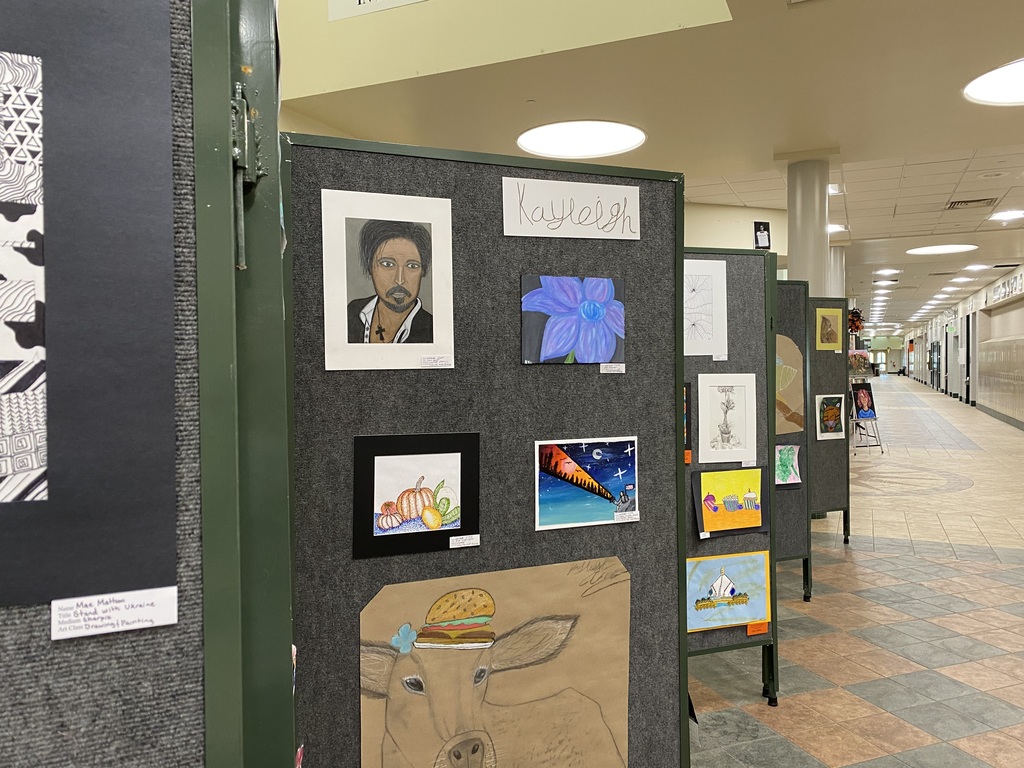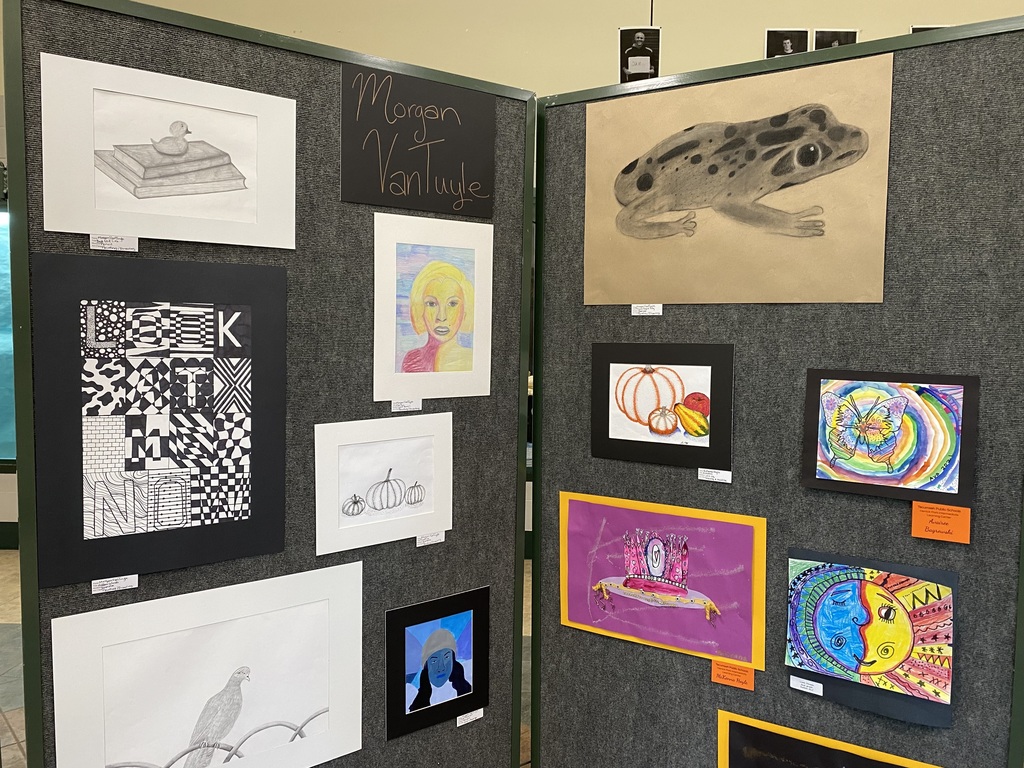 Getting ahead of the new school year, your student-athlete may need a new physical to participate in sports here at Tecumseh Public Schools. Physicals for the 2022-2023 Athletic Season are only valid if they're on or after April 15, 2022. Those are the rules per the MHSAA. At an upcoming event at Adrian College, your student-athlete can get a physical for $15. The proceeds from this event will benefit the Athletic Department here at TPS. Students can upload their physicals to their Final Forms account. Final Forms ⬇
https://tecumseh-mi.finalforms.com/
🏫: Merillat Sports and Fitness Center 📍: 176 S. Charles Street 🗺️: Adrian, MI 49221 📅: Friday, June 10 ⌚: 1pm-3:45pm (Registration)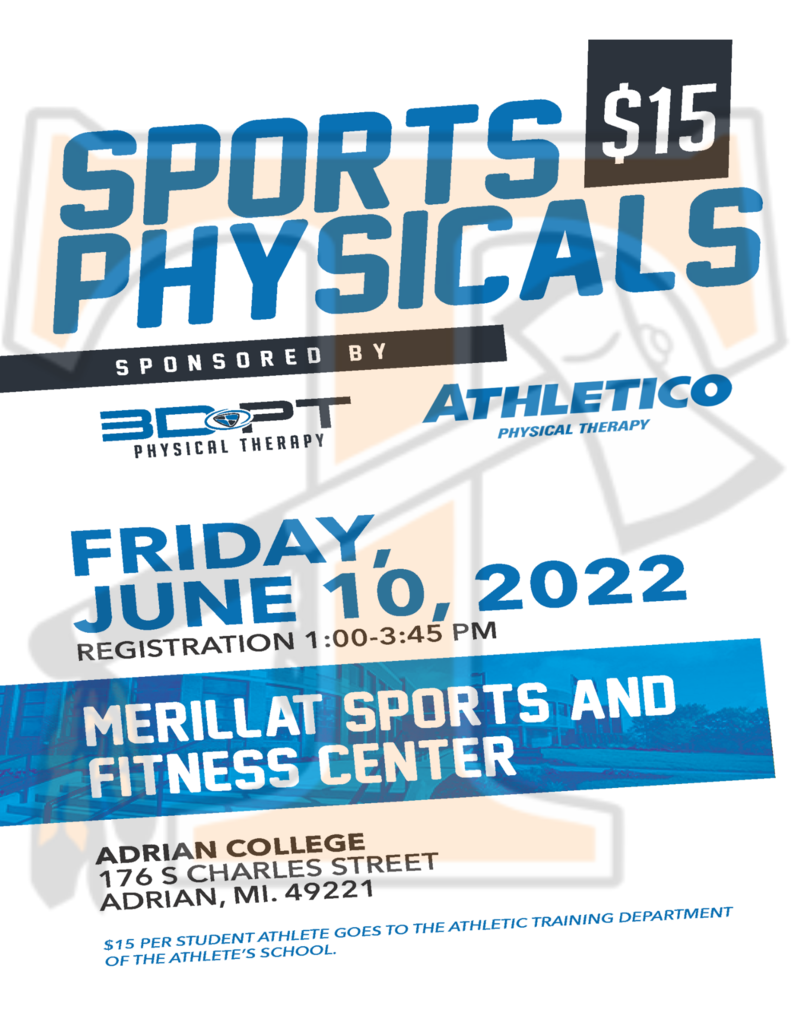 Move aside, virtual art show. We're doing this in person! We're happy to bring back our K12 Art Show to Tecumseh High School. This year, art work from our students throughout the entire district will be on display. The art can be found in the Great Hall, the J-Hall and the Sculpture Garden of Tecumseh High School. Please come by and check out the great work our artists are doing. 🏫: Tecumseh High School 📍: 760 Brown Street, Tecumseh, MI 49286 📅: May 16-19 ⌚: 5pm-7pm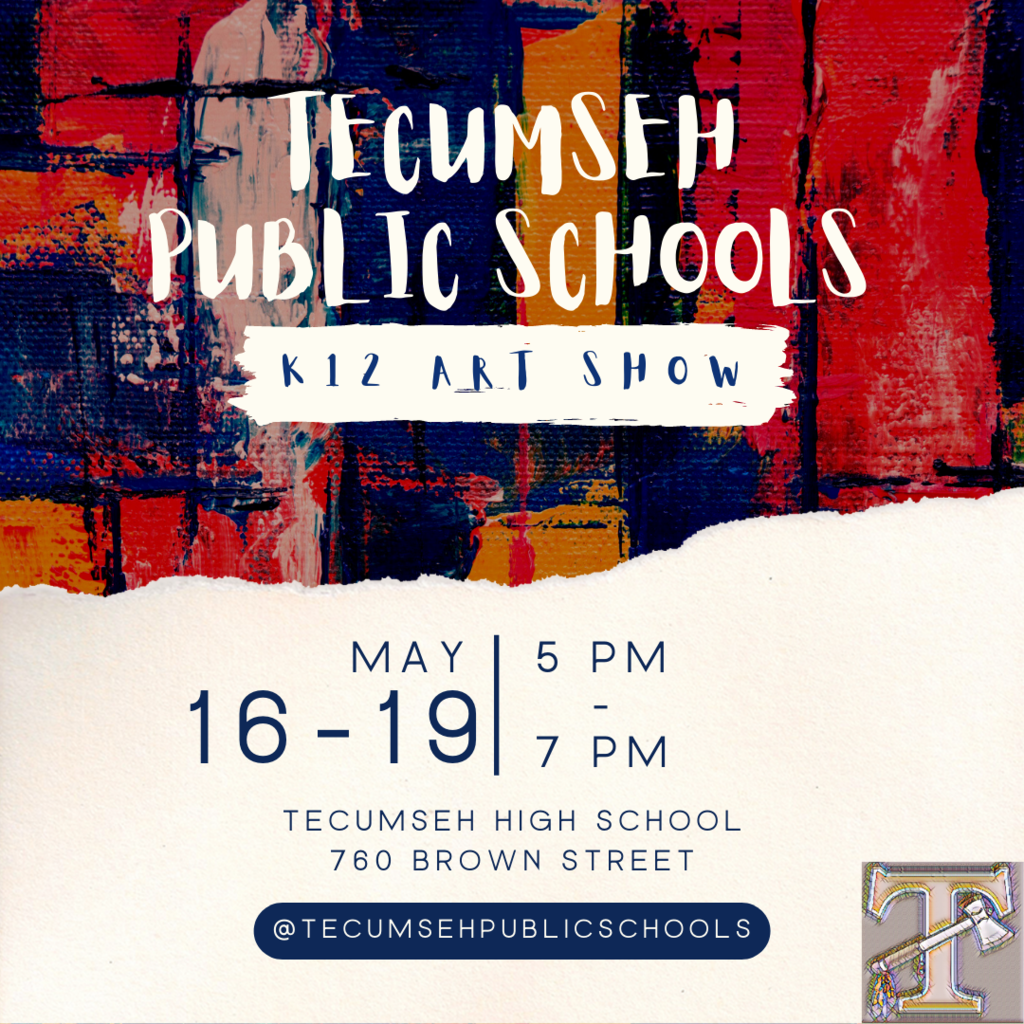 'The Tecumseh News' newsletter for May is now available! Here's what's inside this issue: • Update on the Bond 2022 Proposal • THS Receiving National, State, and County Honors • 3rd & 4th Grade Students Hold First In-Person Concert in 2+ Years • Student Stories: Ice Cream Brings Community Together For Download:
https://5il.co/19zmi
https://www.tps.k12.mi.us/page/tps-newsletter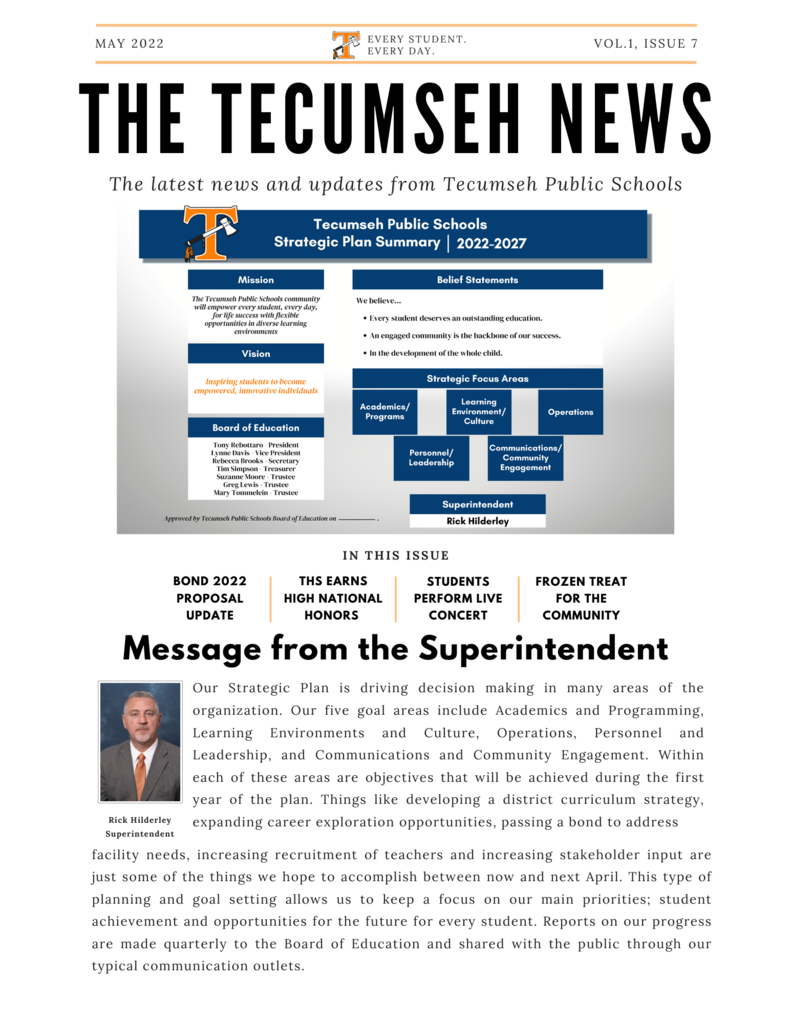 Our final informational meeting about Bond 2022 is coming up quickly. 📅: Thursday, April 28th ⌚: 6pm-7pm 🖥️: Zoom (
https://us02web.zoom.us/j/87959014285
) This meeting will happen live on Zoom and Facebook Live. You are encouraged to attend and ask any last minute questions you may have.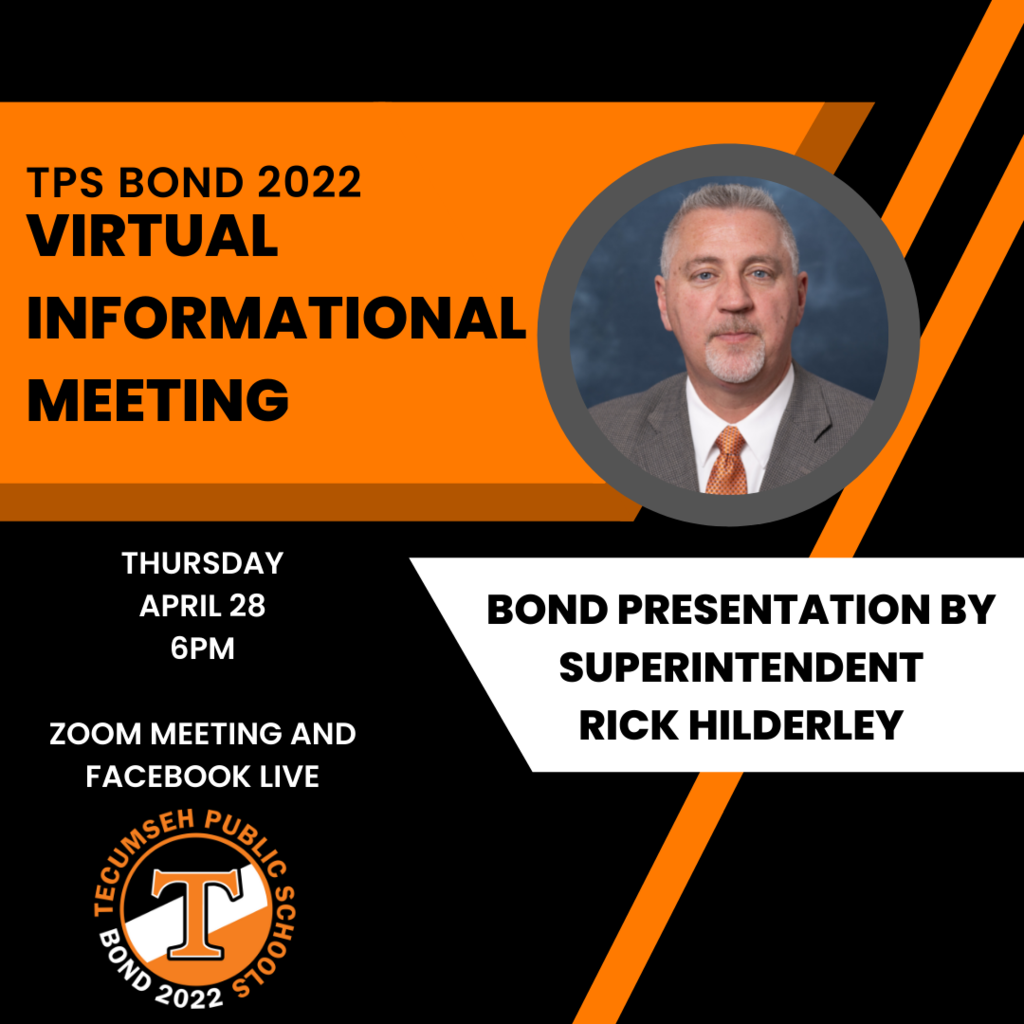 The next 'Snacks with the Supt.' informational meeting regarding the bond proposal is today! Sutton Early Learning Center - 2780 Sutton Road, Adrian, MI - 3pm-4pm A message went out last night via Blackboard with the wrong schedule for the remaining meetings. Please follow the schedule from this post!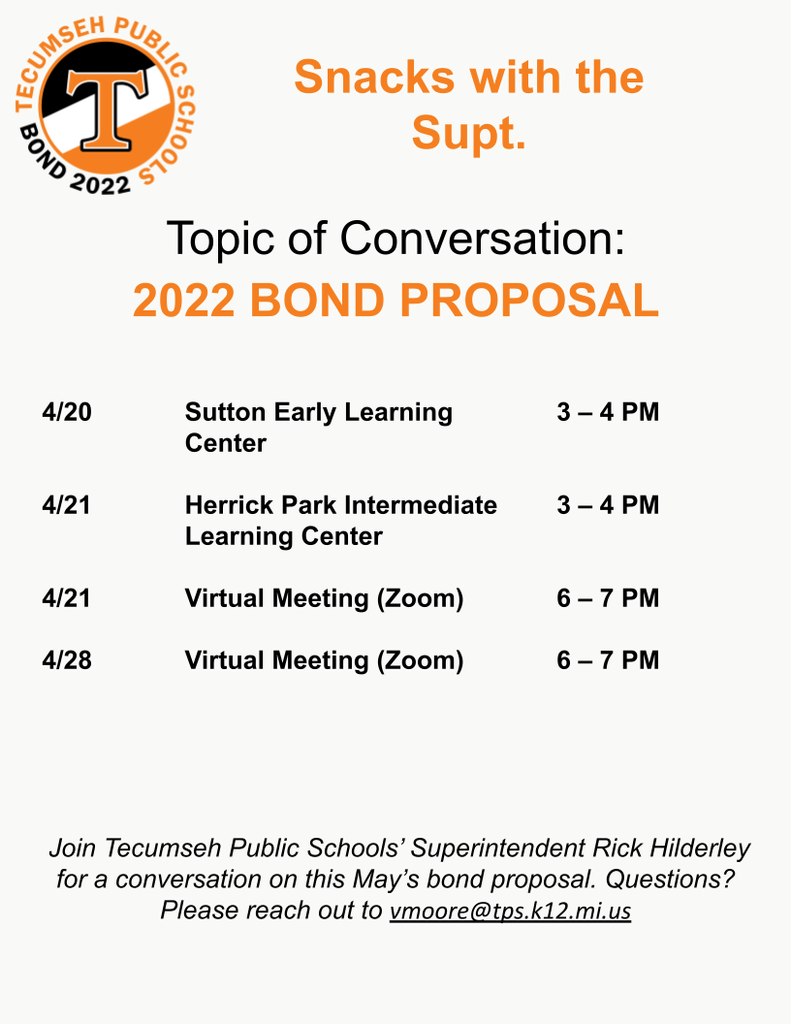 We're entering the home stretch as Election Day on May 3rd is quickly approaching. If you would like a yard sign supporting Tecumseh Public Schools, we have received a fresh delivery of signs courtesy of Maumee Print & Graphics! Stop by any of one of our buildings and head over to the main office and we'll hook you up with one. We'll also have these at the remaining 'Snacks with the Supt.' meetings. #tecumsehpublicschools #greatschoolsgreatcommunities #EveryStudentEveryDay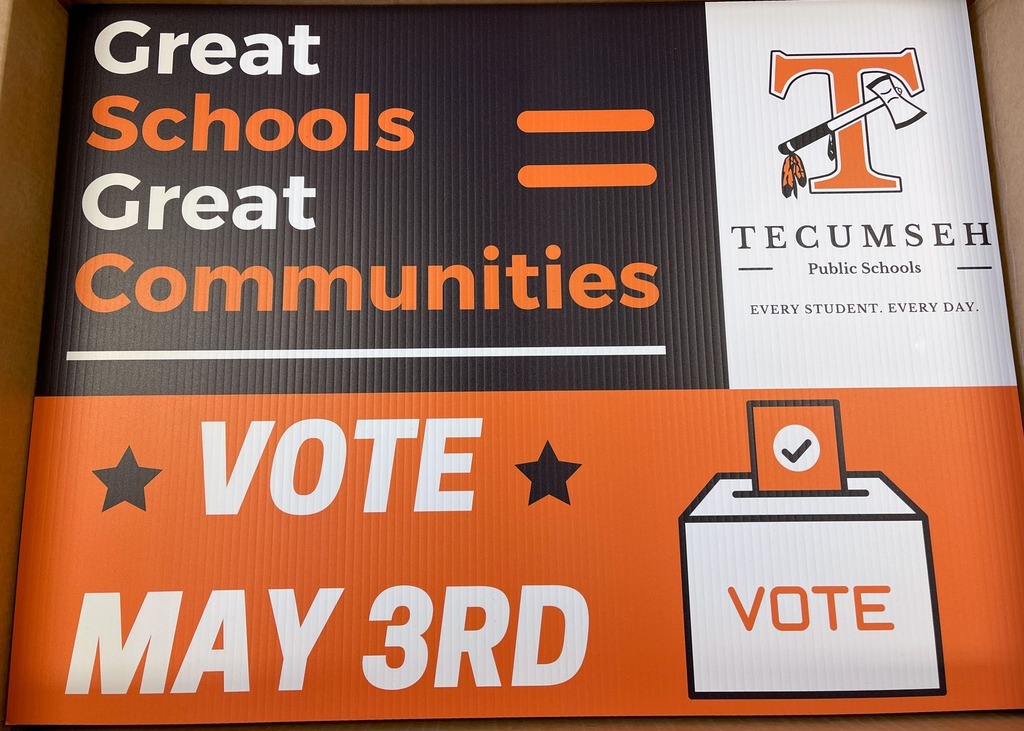 We have more 'Snacks with the Supt.' informational meetings set for this week. Superintendent Rick Hilderley will go over details of Bond 2022 and answer any questions from those in attendance. For more information:
https://www.tps.k12.mi.us/page/2022-bond-information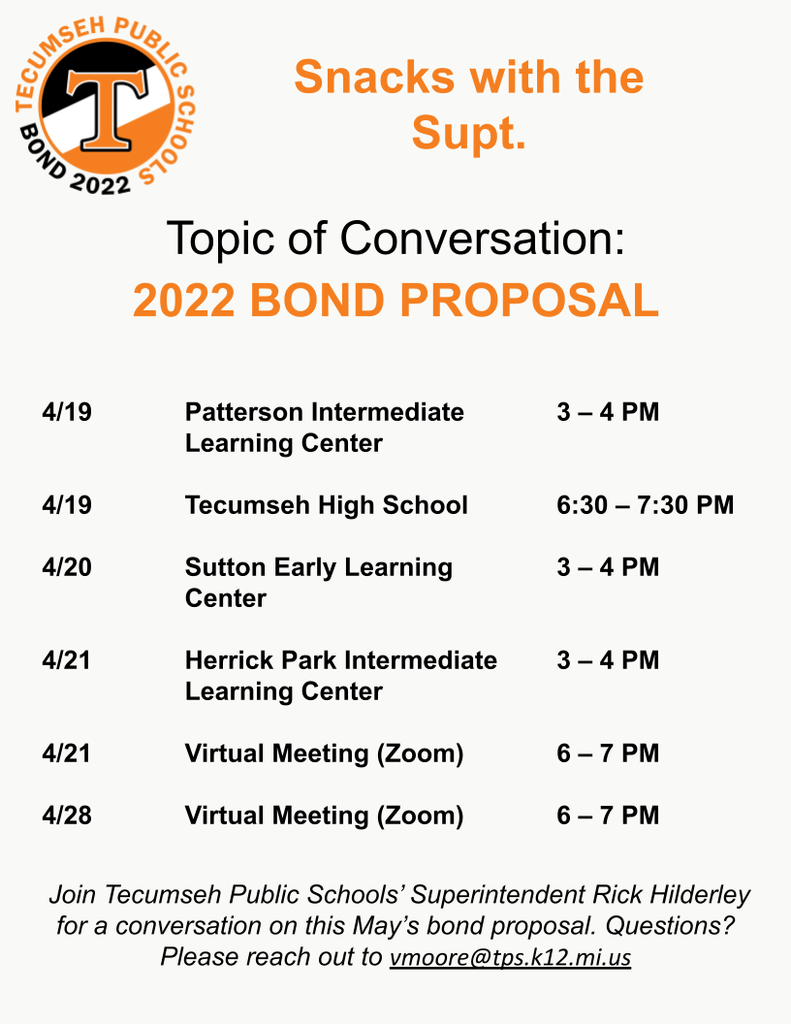 Congratulations to Kate Dahn! The Tecumseh High School Senior, who is a bassoonist, was one of 10 finalists in the Michigan School Band & Orchestra Association Concerto Competition. Kate performed swimmingly during the competition at Central Michigan University over Spring Break. Overall, 108 students were selected from all across the state of Michigan. This comes after their performance at the State Solo & Ensemble Festival. After the first round, Kate was selected as a finalist, which gave her the opportunity to perform in a concert recital with the other finalists for the final round of the competition. Awesome job, Kate!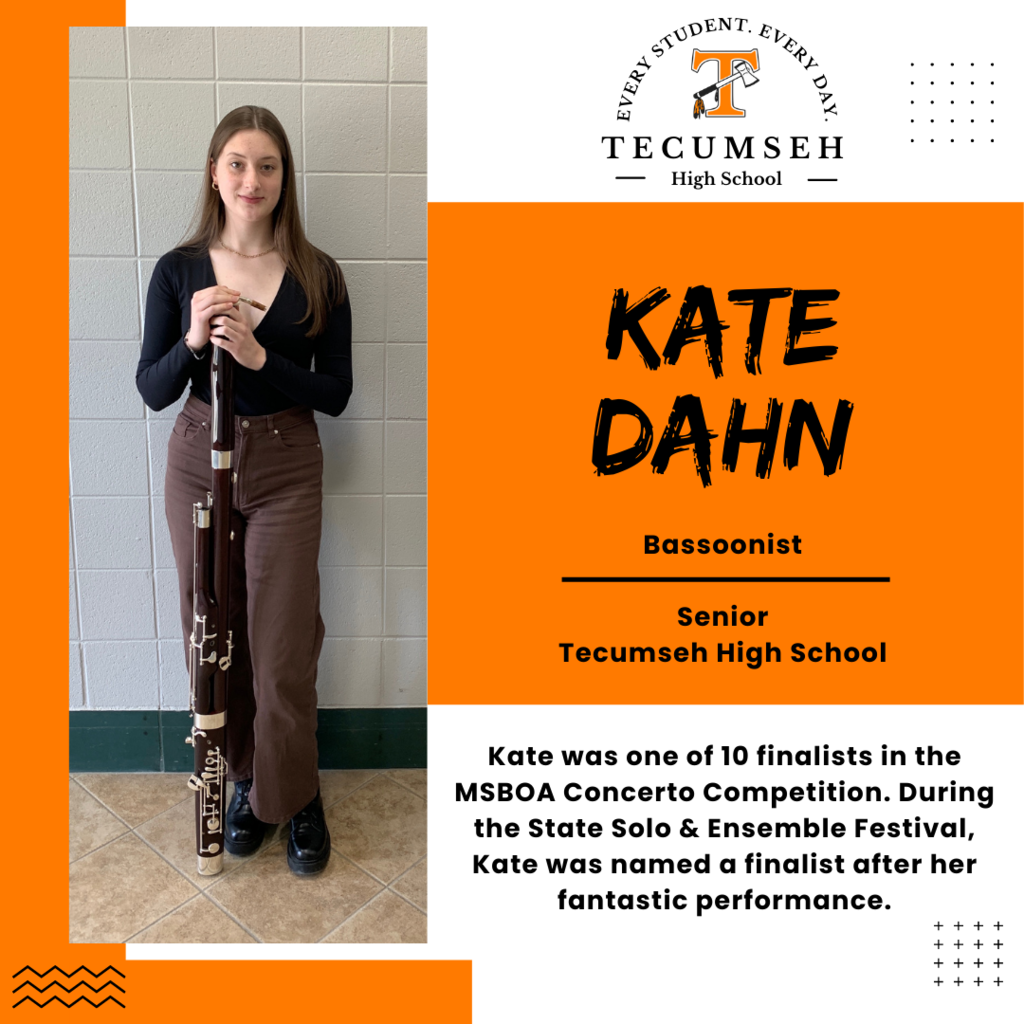 DON'T FORGET! There is NO SCHOOL on Friday, April 15. School will resume on Monday, April 18.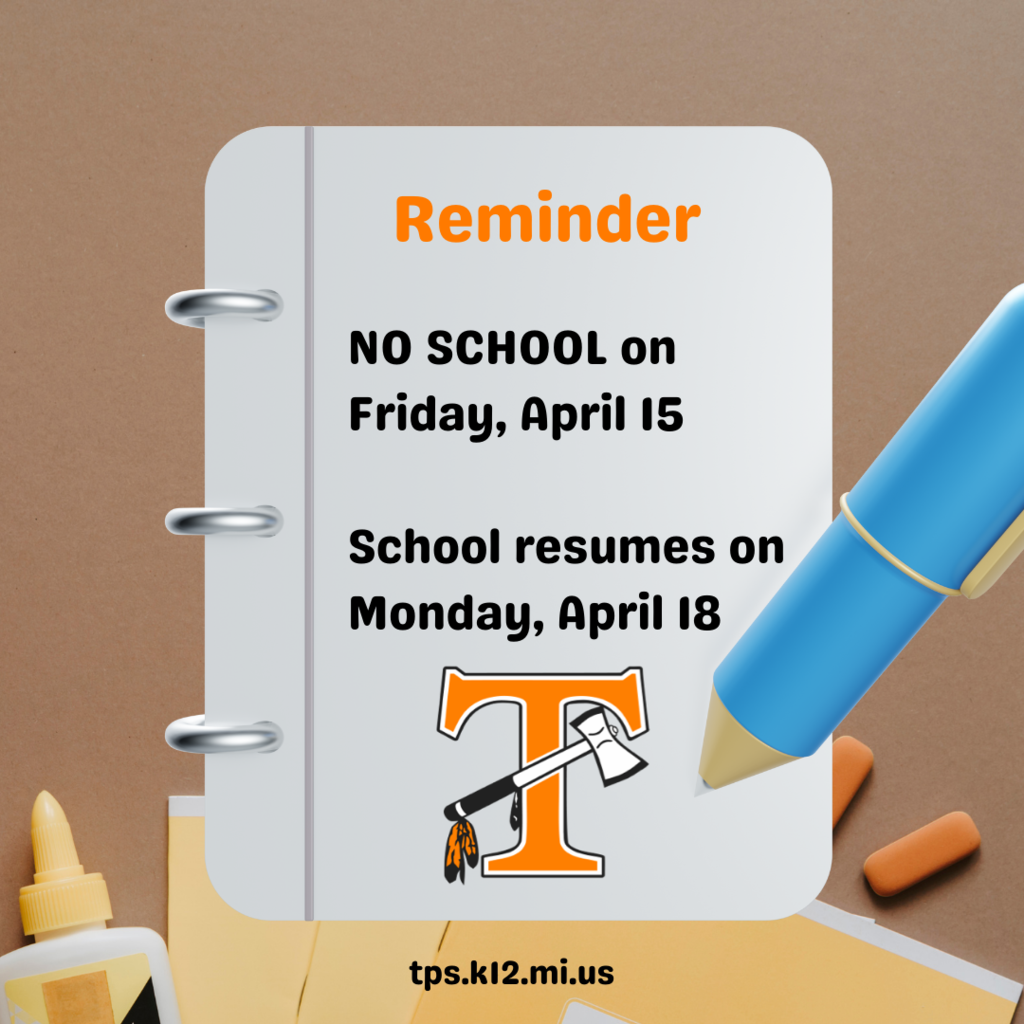 Superintendent Hilderley is leading the way with the first 'Snacks with the Supt.' meeting. This Bond 2022 informational meeting is happening right now at Tecumseh Acres Early Learning Center. If you would like to attend one of these meetings, you have several chances, starting with tonight. We have another meeting at 6pm at Tecumseh Middle School. Bond and Meeting Information:
https://www.tps.k12.mi.us/page/2022-bond-information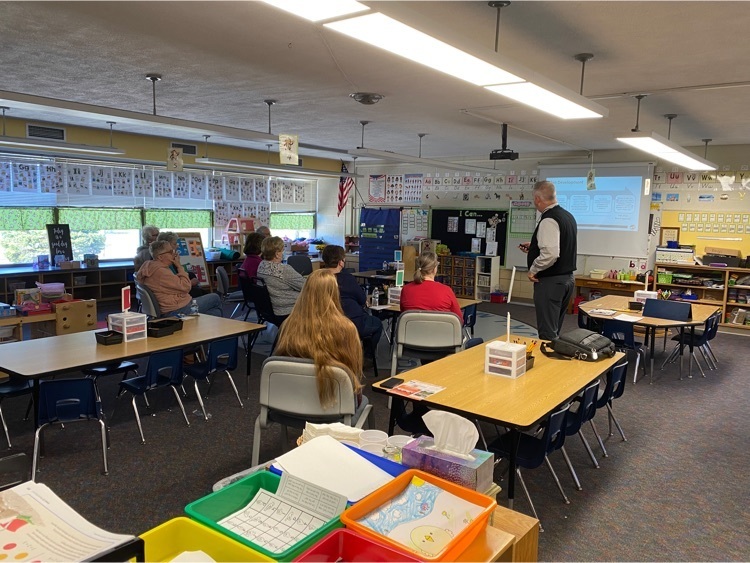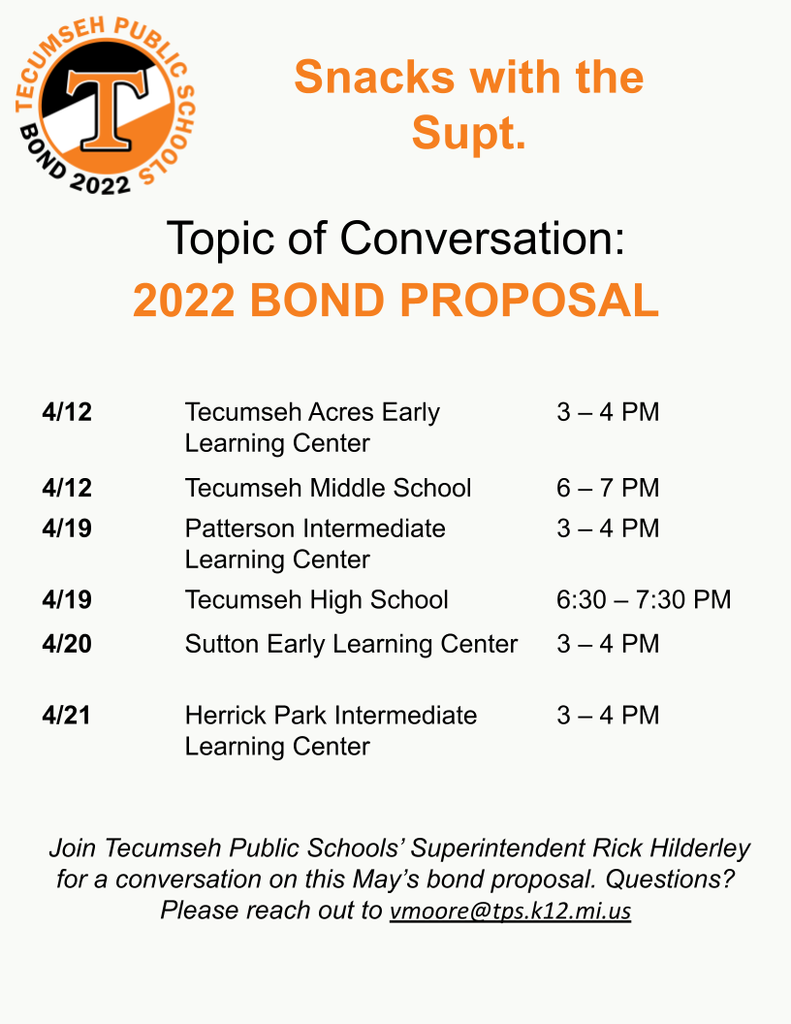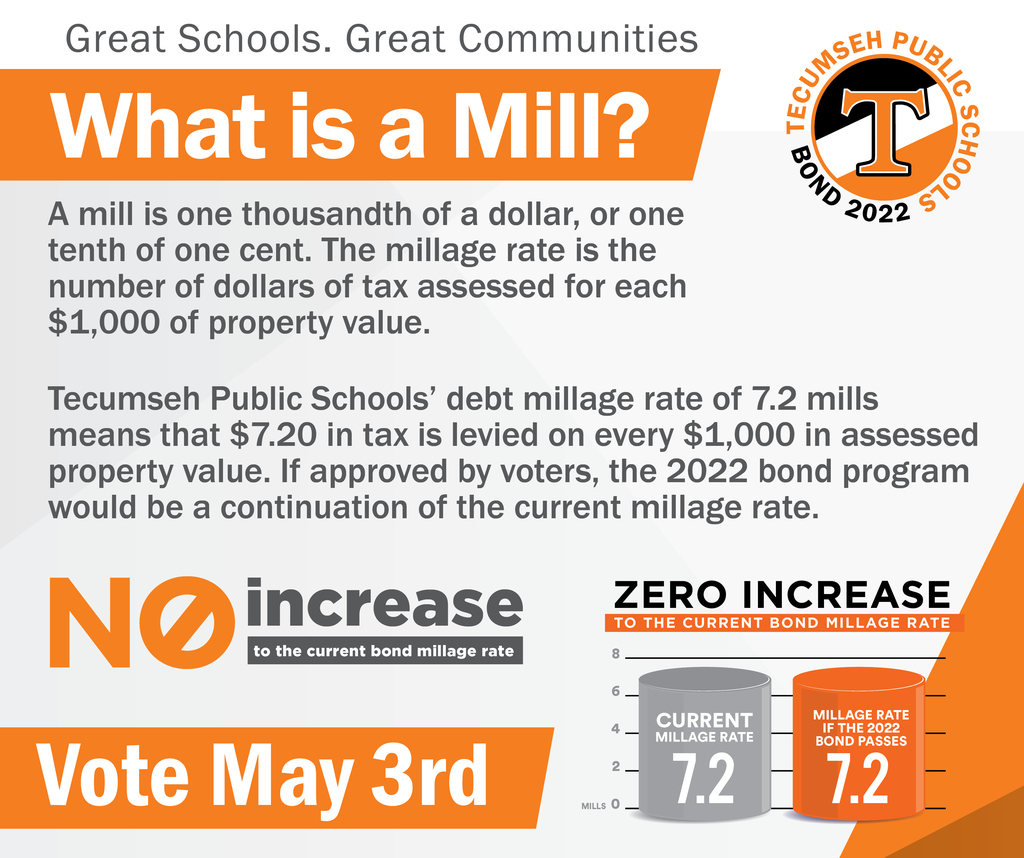 Tecumseh High School Varsity Baseball players made a stop at Patterson Intermediate Learning Center this week for National Reading Month. However, the student athletes didn't just read to our 3rd and 4th graders, they hung out for a bit! The players ate lunch with the students and even went out and had some fun during recess. Thanks for stopping by!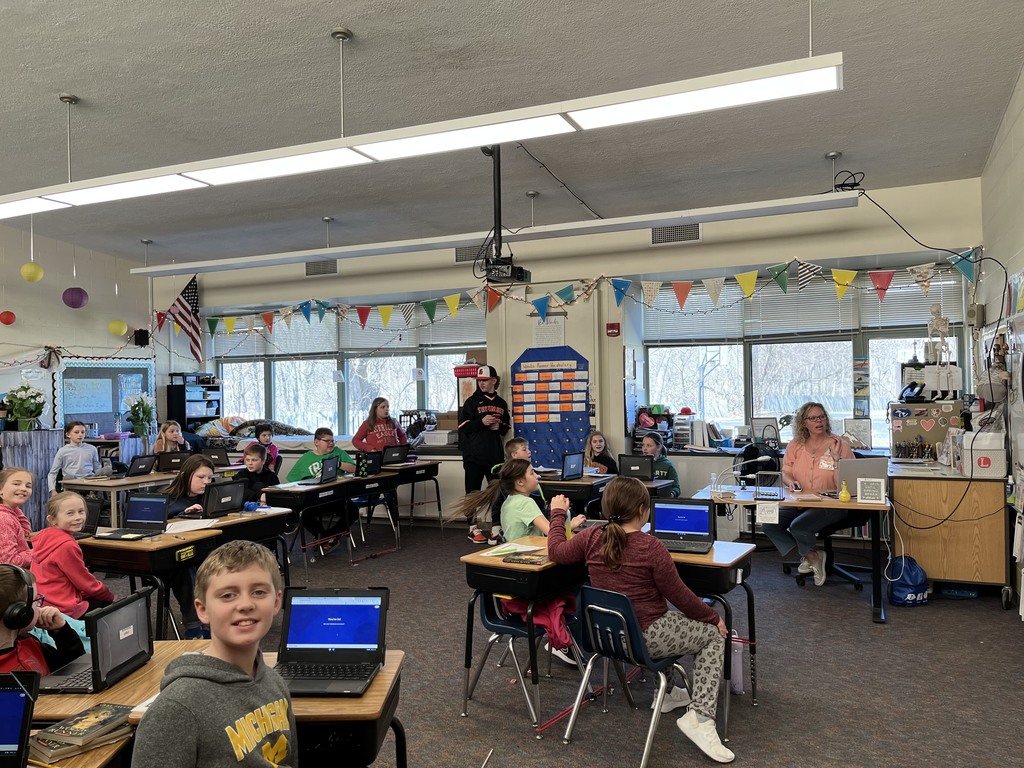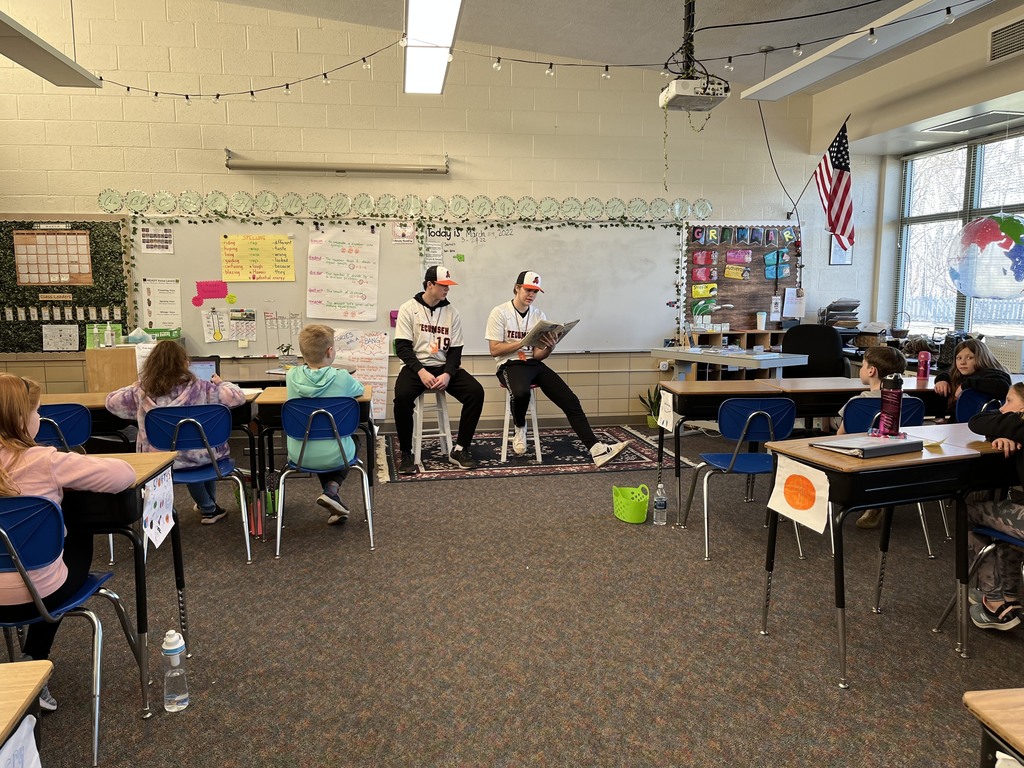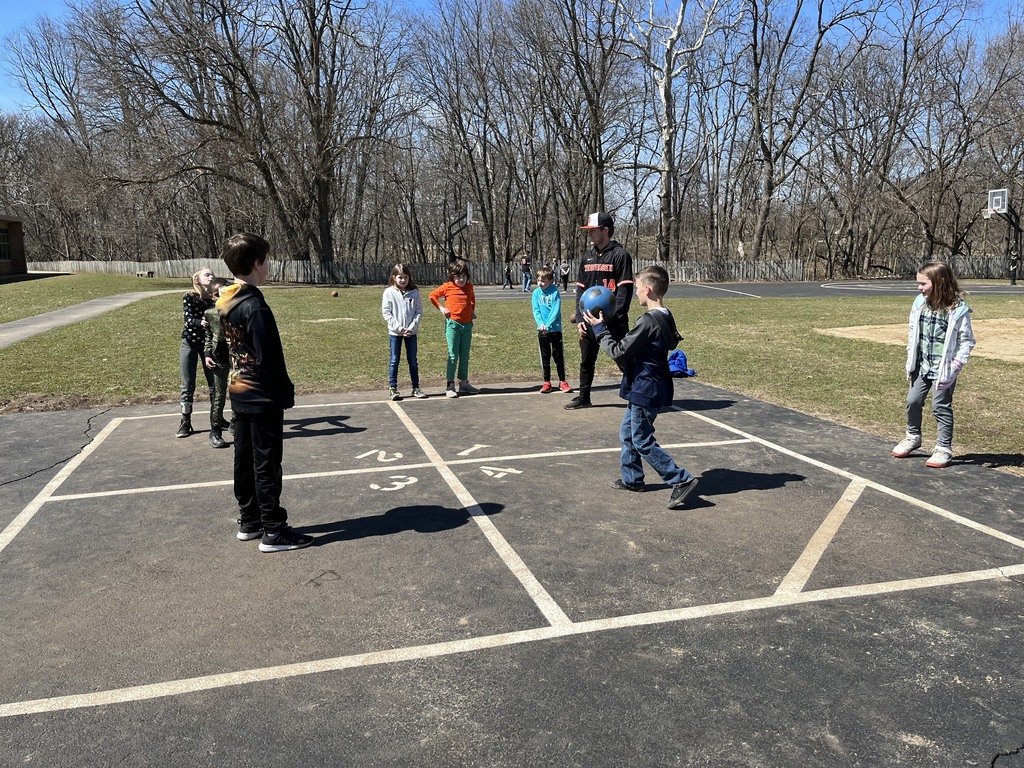 If you're looking to spruce up your lawn, and want to support Tecumseh Public Schools, our Bond 2022 yard signs are now available for pickup. You can grab one of these beauty's at any of our buildings. If you can't get one this week, you'll have to wait until the week of April 11th. The district is on Spring Break next week. Thank you for your support!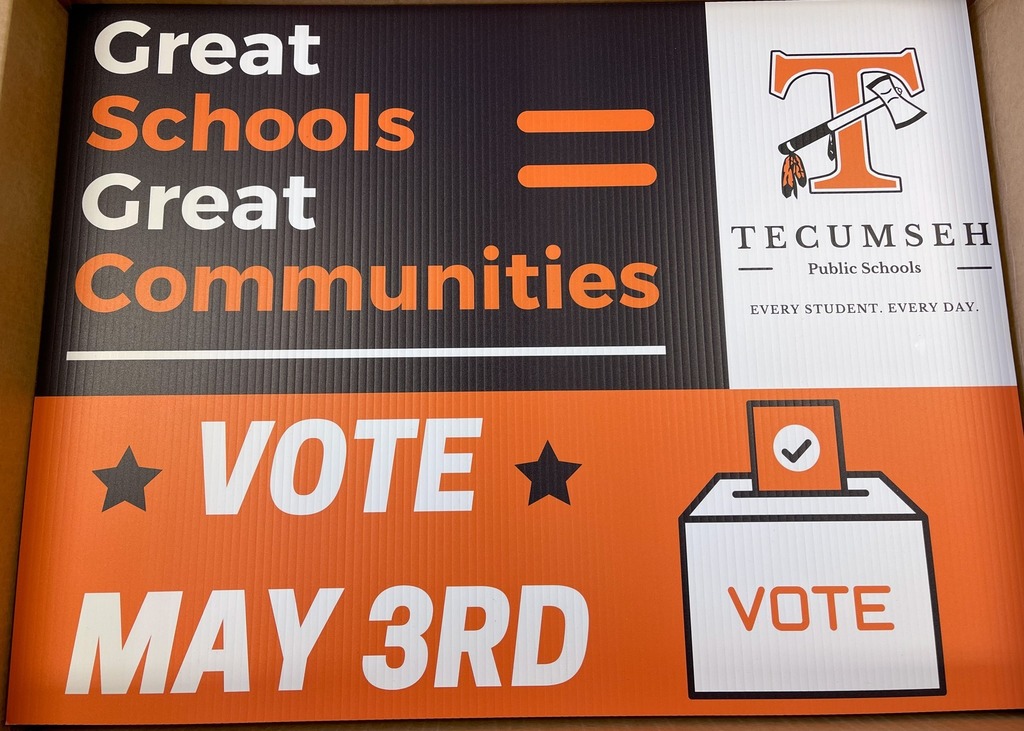 The Michigan School Band & Orchestra Association Spring Honors Festival has two new members joining its ranks! Kate Dahn and Ragina Madziar have been awarded a membership into the MSBOA Spring Honors Festival Band. The Tecumseh High School Symphony Band members are being recognized for their outstanding solo performances at Solo & Ensemble here in Michigan. Additionally, Kate has earned an invitation to the state-wide MSBOA Concerto Competition. Kate is the only bassoonist in the state to receive such an honor! Congratulations, ladies!