DISTANCE LEARNING UPDATE All K-12 students will have a Distance Learning day on Friday, February 18th. Tomorrow is just a scheduled HALF-DAY! Tecumseh Daycare and Tecumseh Preschool are closed on Friday. Don't forget, there's NO SCHOOL on Monday, February 21st because of Presidents' Day. Classes will resume in-person on Tuesday (2/22).

With expected inclement weather on the way, TPS K-12 grades will move to distance learning on Thursday, February 17th. Tecumseh Daycare and Tecumseh Preschool will be CLOSED on Thursday. Decisions about Thursday evening activities will be made tomorrow.

This week we recognize our very hard working school counselors (Deb Laney, Deborah Followell, Jami Cole & Jennifer Morgan) February 7-11, 2022 is 'National School Counseling Week.' This special week honors school counselors for the important role they play in helping students examine their talents, strengths, abilities, and interests. Please join us in thanking our school counselors for everything they do!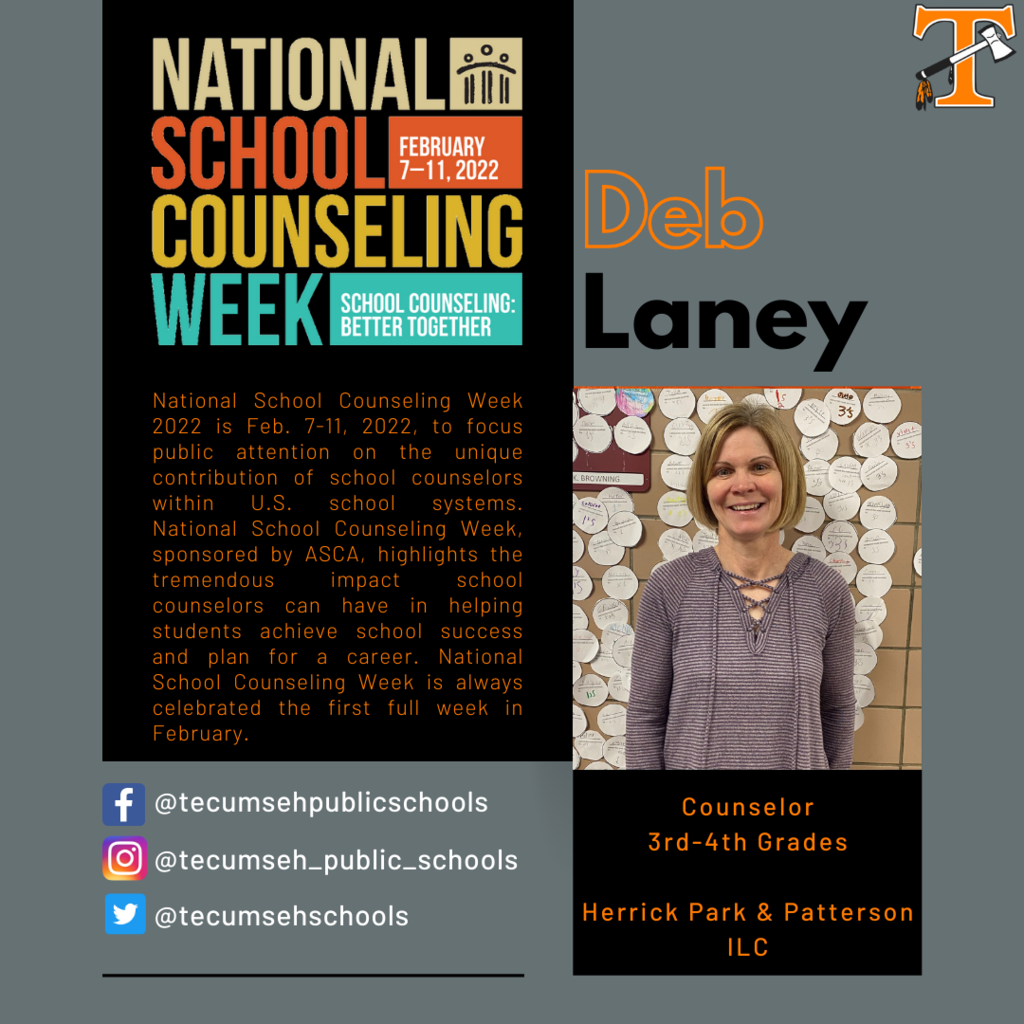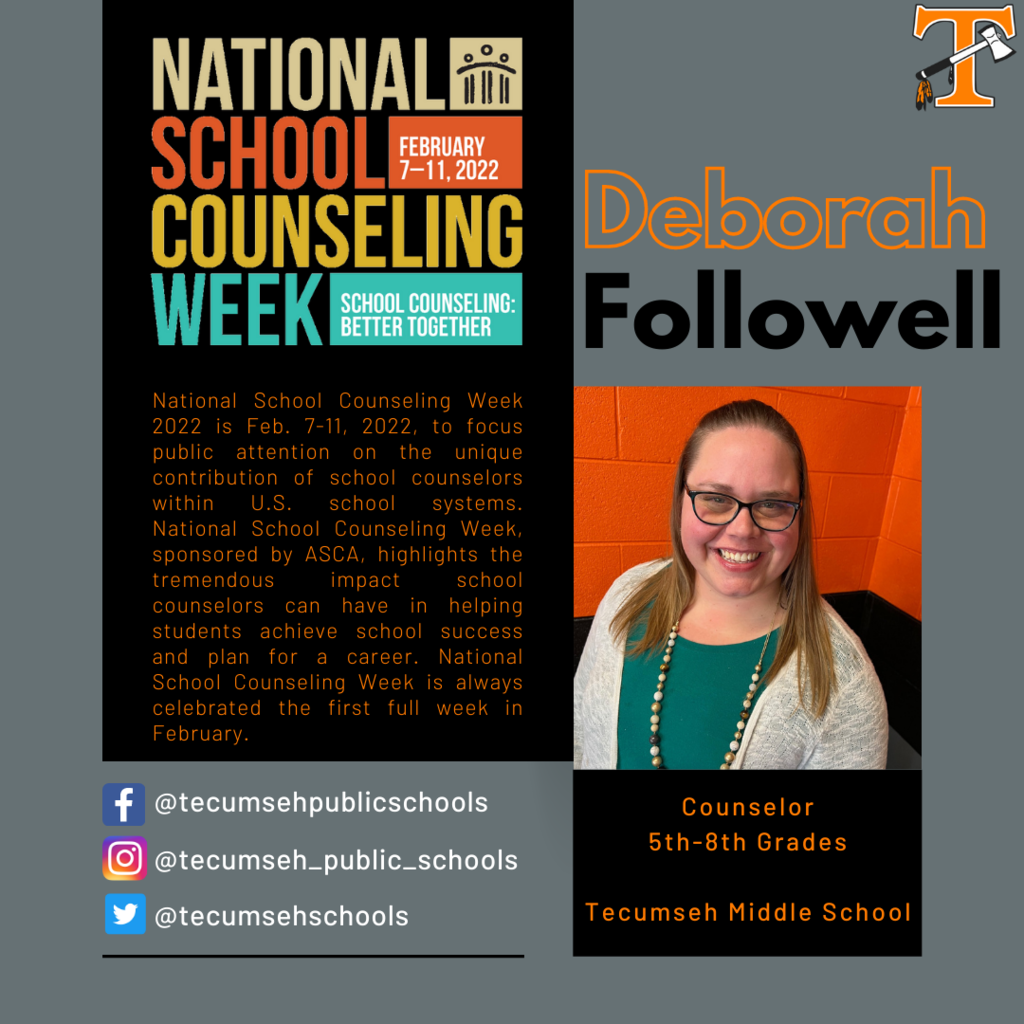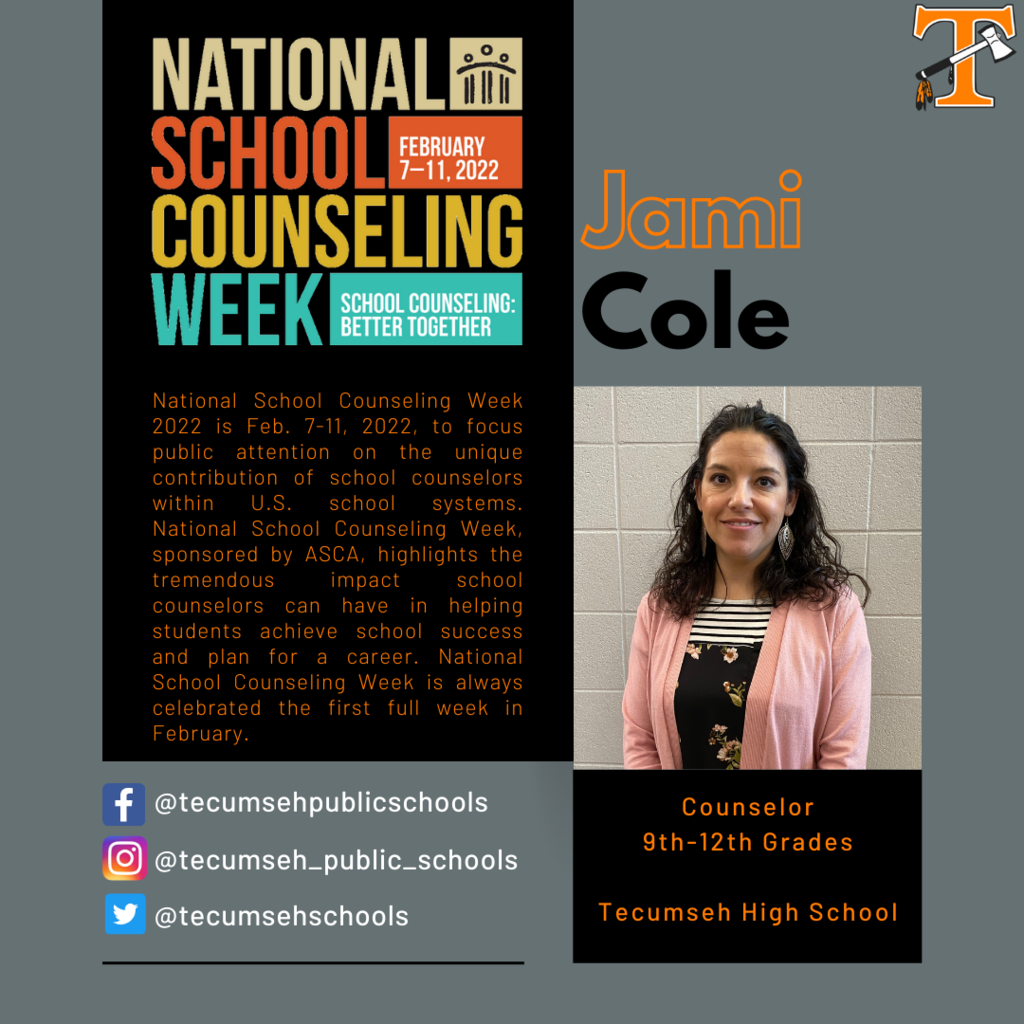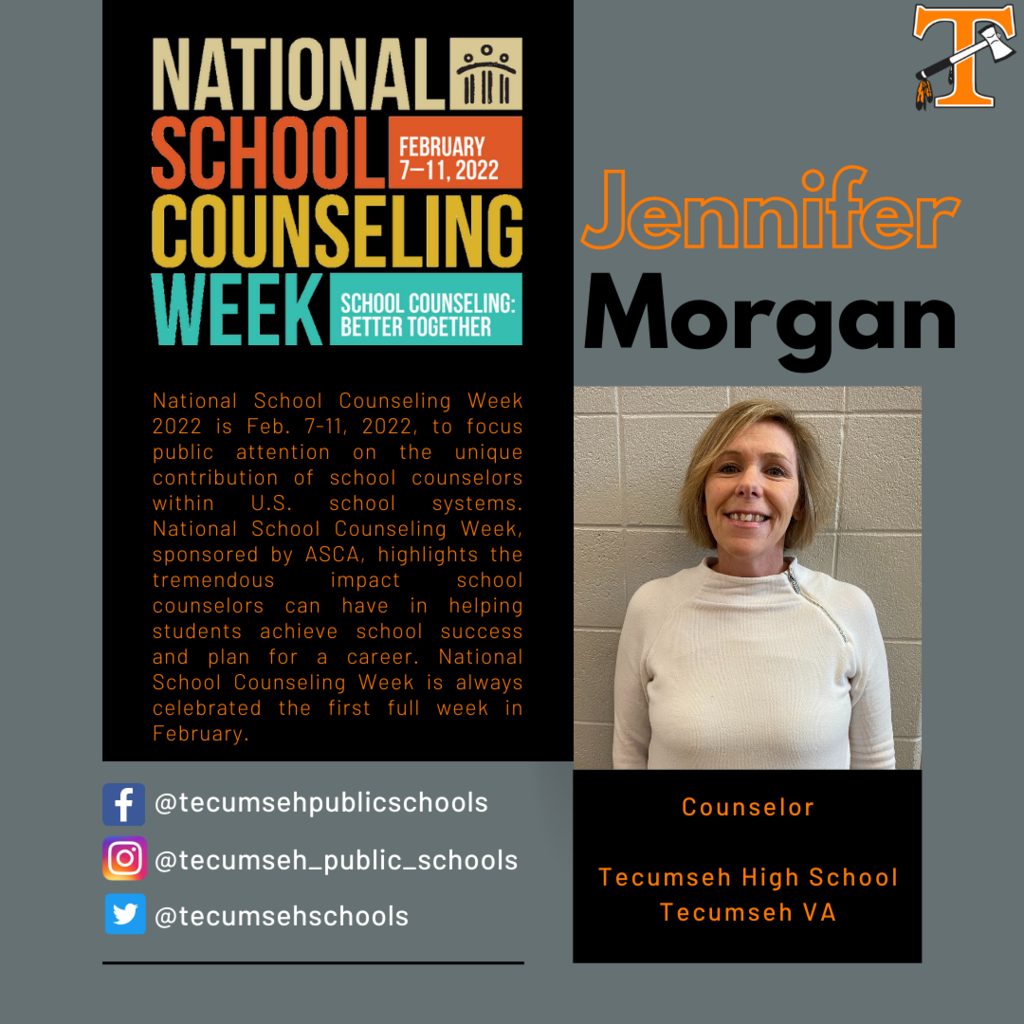 Tecumseh Public Schools will be CLOSED on Wednesday (2/2) and Thursday (2/3). Friday, February 4th will be a Distance Learning day for all K-12 students.

The concession stand at Tecumseh Middle School is looking a little different these days. Kiwanis Club of Tecumseh Key Club members, Allie and Elle, were working concessions the other day and felt the concession stand needed a facelift. Their work has definitely livened up the area a bit more. Tecumseh Middle School Builders Club and Key Club members run the concession stand during every home game. The TMS Builders Club is the largest service organization for middle school students. One of the great things about this club is that it's student run!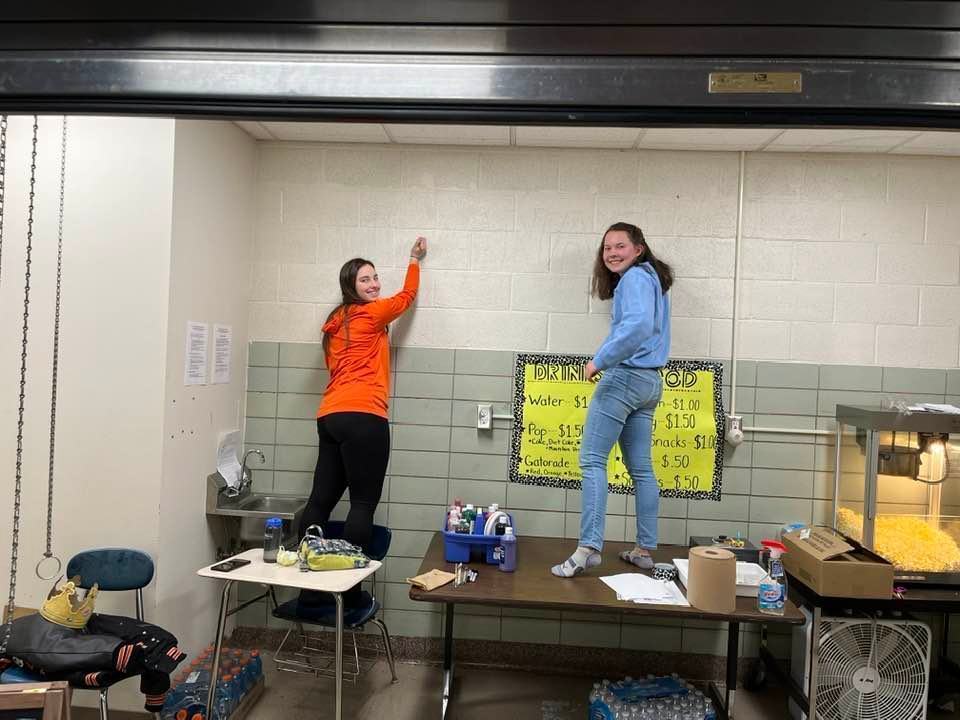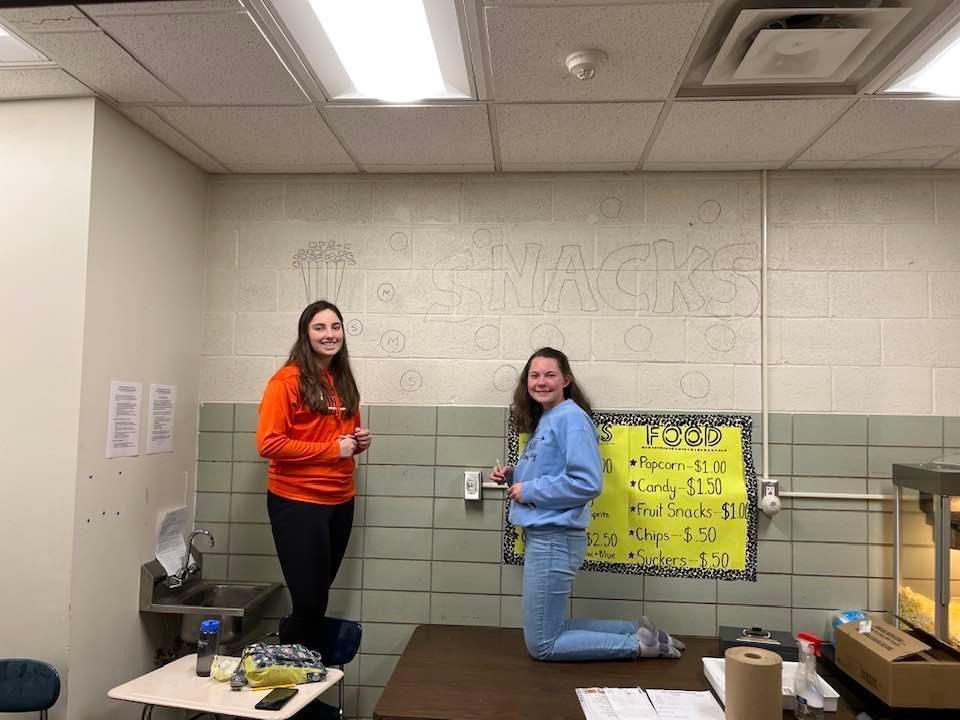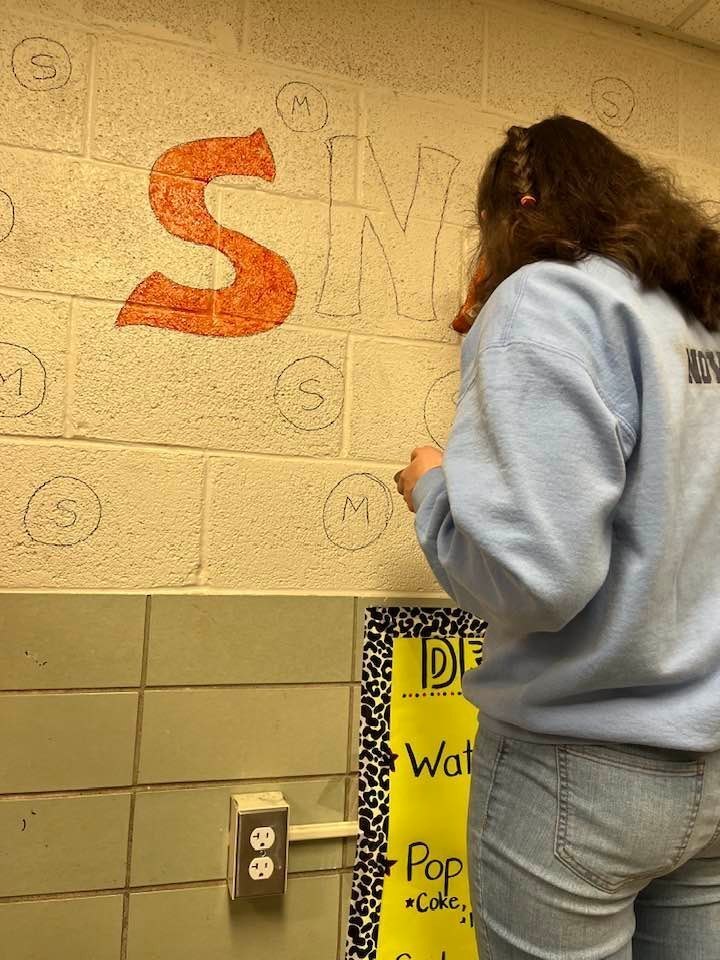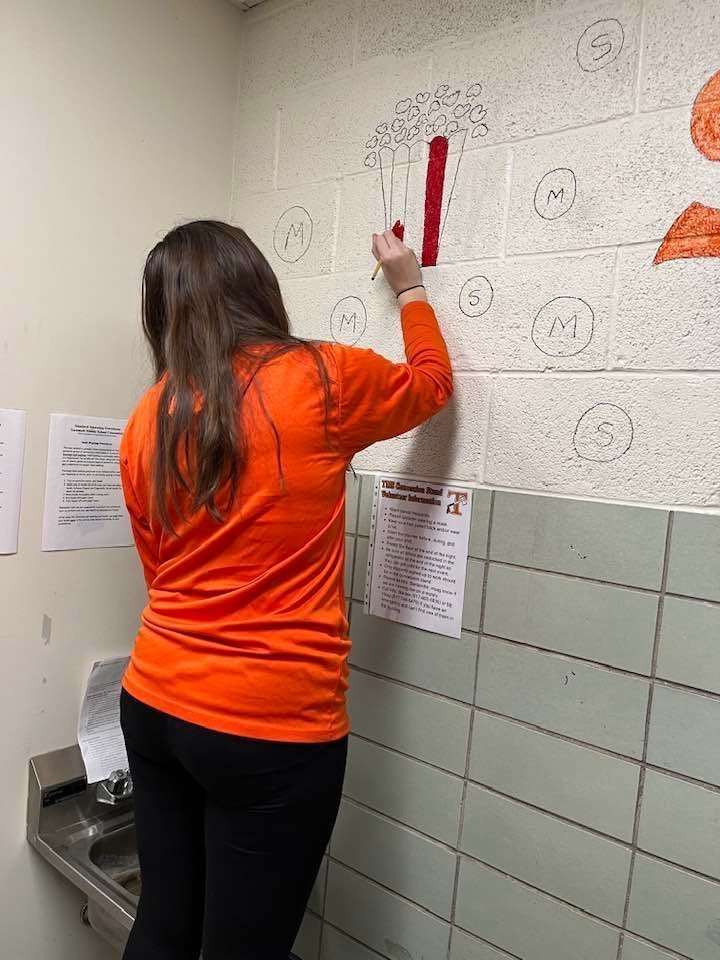 WE'RE HIRING!!! We still have several open positions that we're looking to fill, including one opening for a High School Guidance Counselor and one opening for a Middle School Guidance Counselor. If you're interested in applying or know someone who could be a good fit here at Tecumseh Public Schools, please visit our TPS Human Resources webpage for more information.
https://www.tps.k12.mi.us/page/human-resources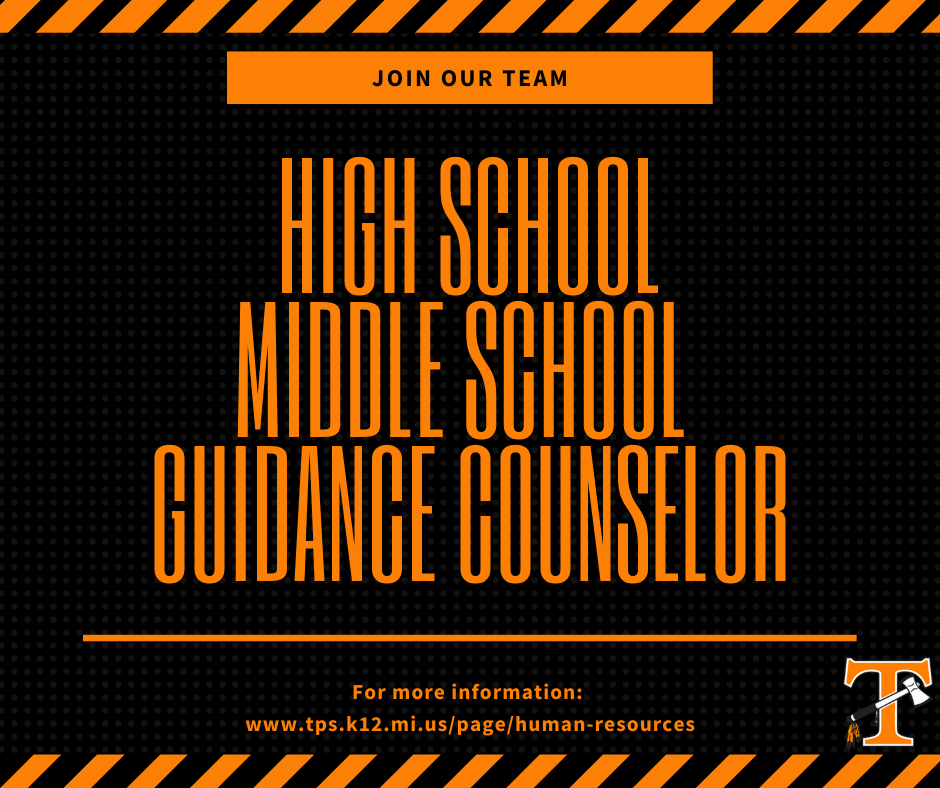 Welcome back, Sgt. Chad Rodgers! Sgt. Rodgers from the Tecumseh Police Department returned to TPS as the district's Student Resource Officer earlier this week. This is Sgt. Rodgers second stint serving Tecumseh Public Schools. He was the SRO for the district from January 2019 until this past spring.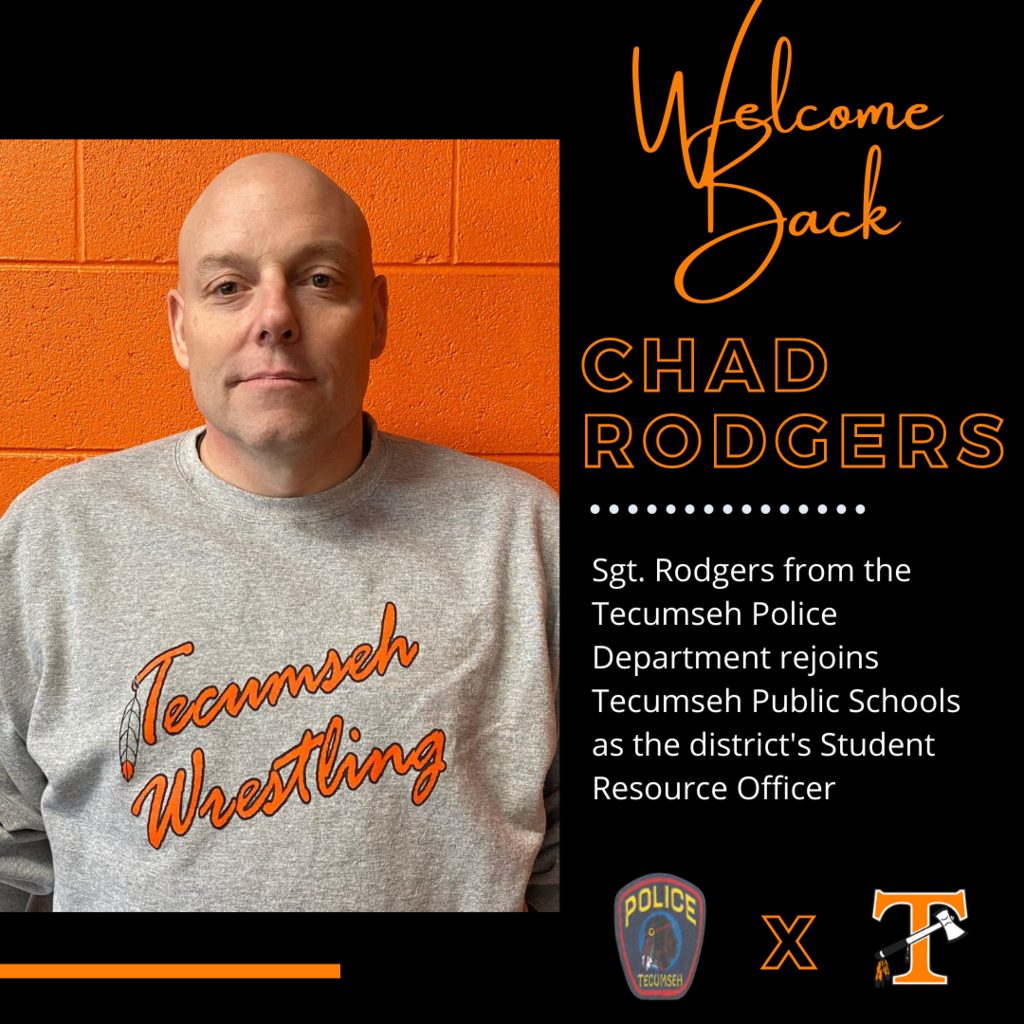 There's NO SCHOOL today (1/3) because of icy roads. We'll see you Tuesday (1/4)!

Merry Christmas and Happy Holidays!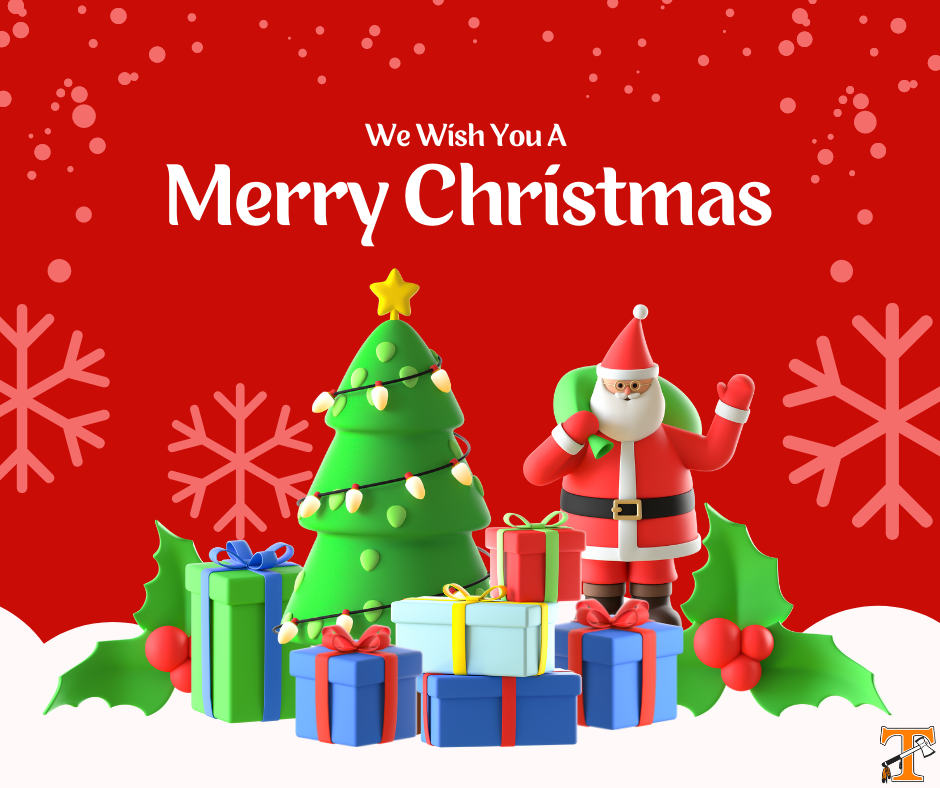 Our 8th graders from Tecumseh Middle School celebrated this morning before the start of Winter Break!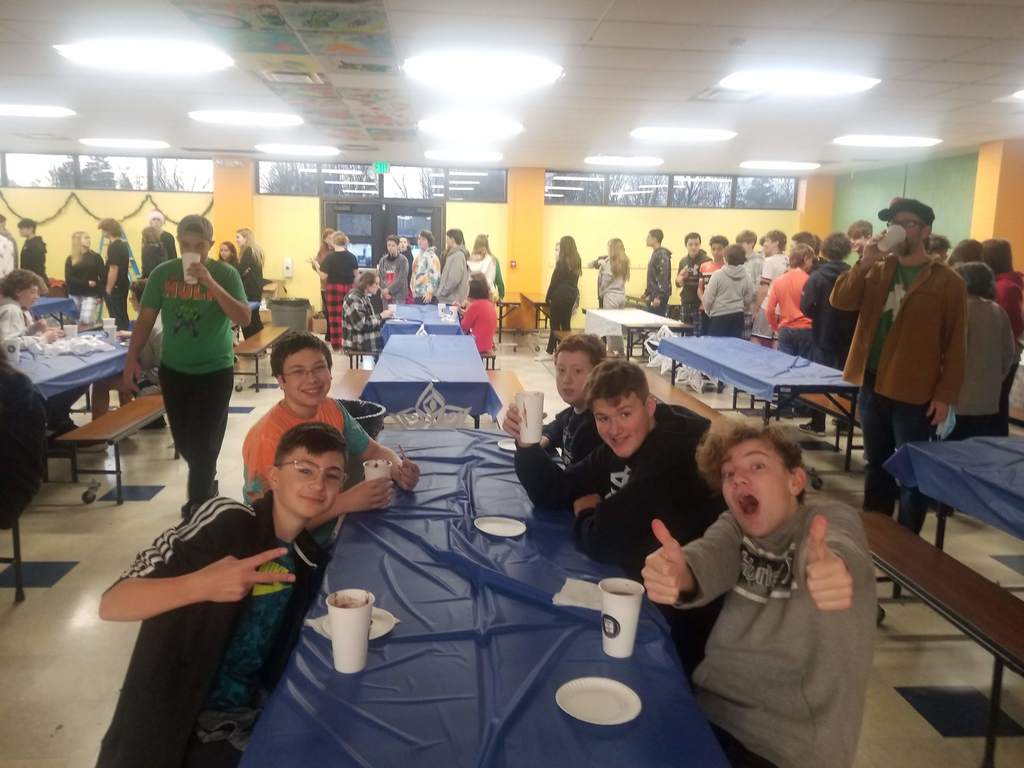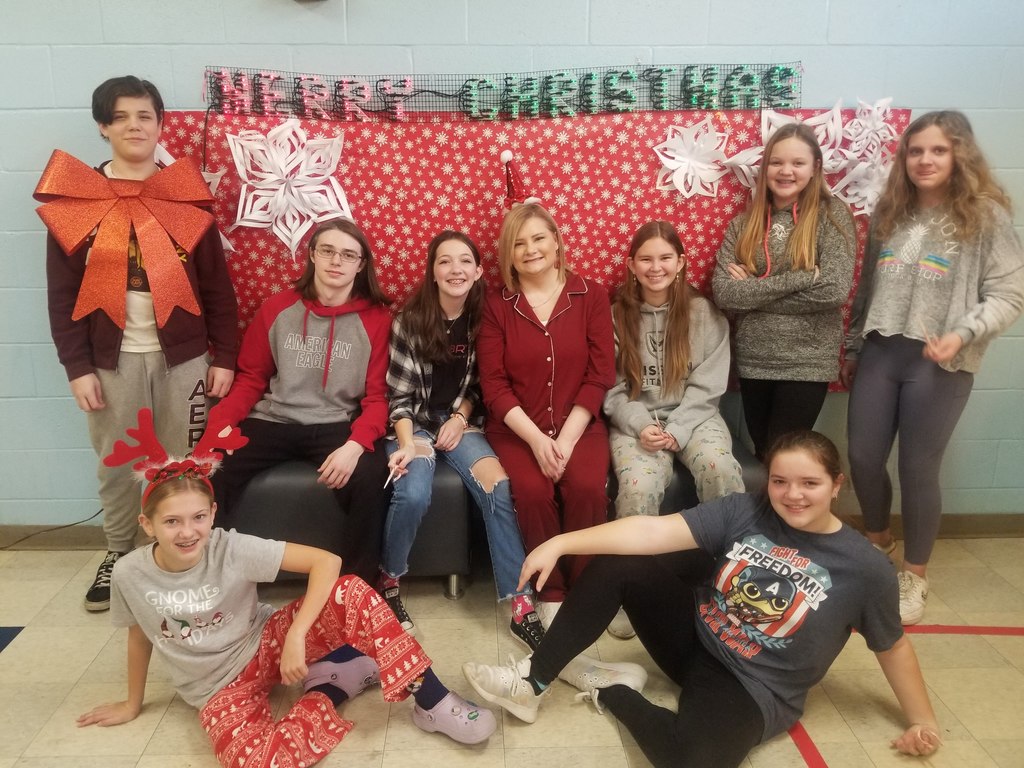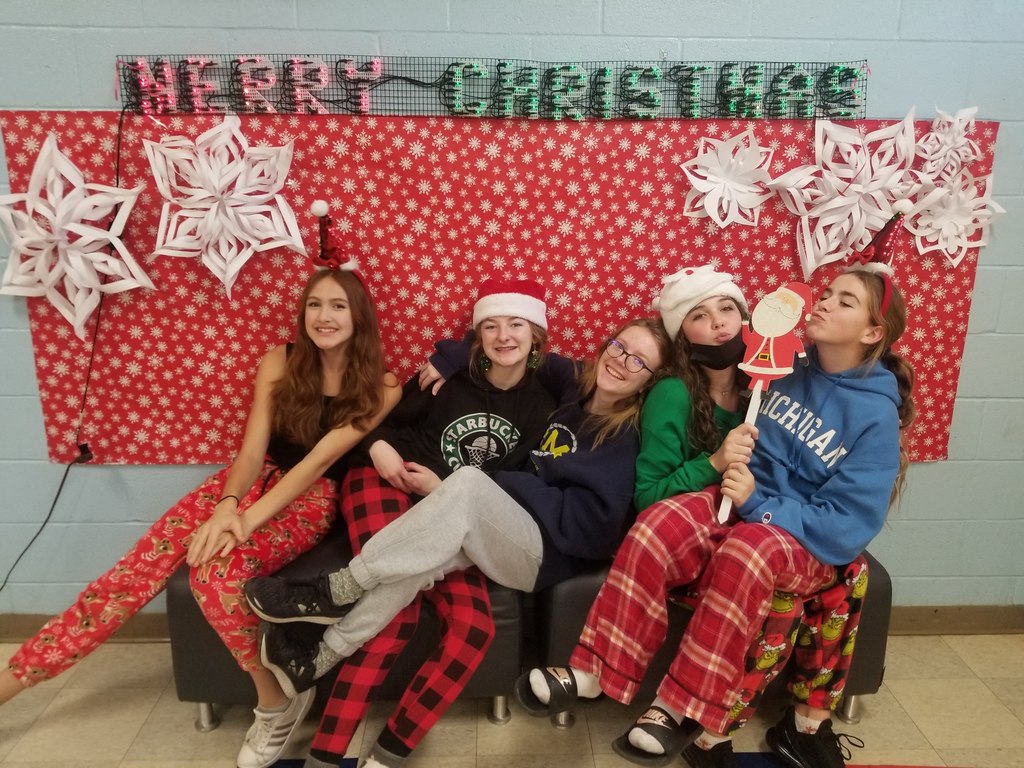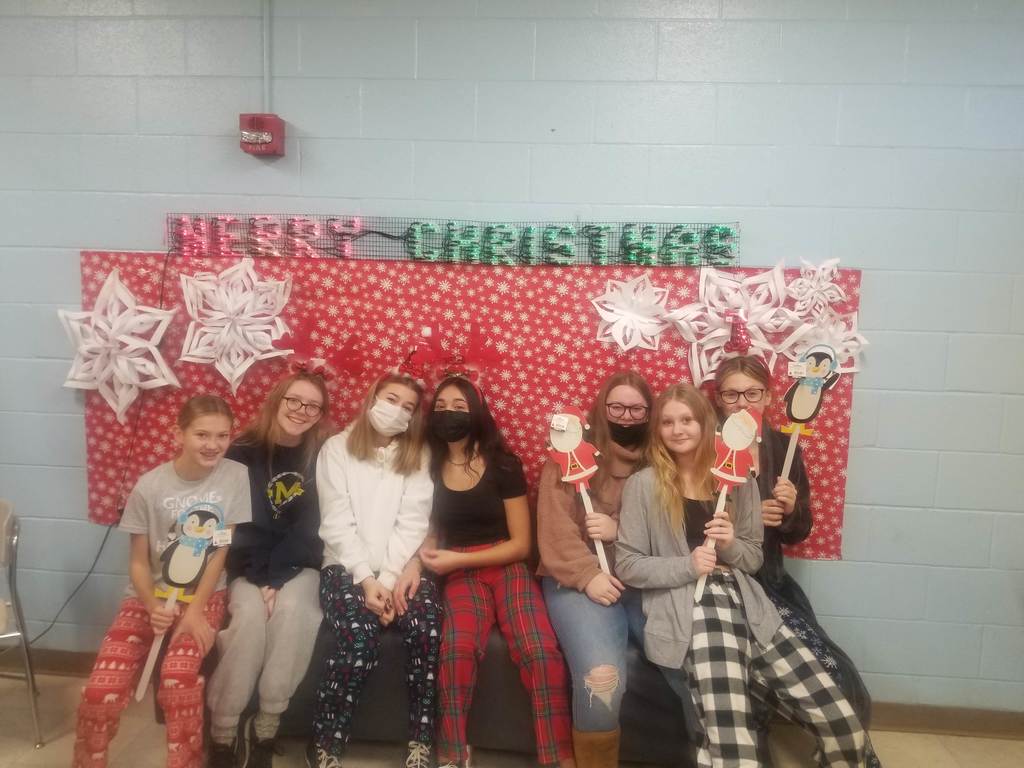 DON'T FORGET! Friday, December 17th - FULL day for students. December 20th-24th - NO SCHOOL (Winter Break). December 27th-31st - NO SCHOOL (Winter Break). Monday, January 3rd - School resumes

The American Red Cross is in urgent need of blood donations. The non-profit organization says they're heading into Christmas with its lowest blood supply in more than a decade at this time of the year. That's because of low blood donor turnout in recent months. Here's the thing, you can help out. Usually there's a blood drive always happening in your area. On Friday, December 10th, Tecumseh High School will be hosting one. The blood drive begins at 9am and will run until 2pm. The blood drive is open to students 17 and older as well as the public. Students who are age 16 may also donate but will need parent/guardian permission. Those forms can be found at the main office of THS. We also ask that you schedule an appointment ahead of time. Just remember, a pint of blood can save three lives! 🏫: Tecumseh High School 📍: 760 Brown Street, Tecumseh, MI 49286 ⌚: 9am-2pm To schedule an appointment ⬇
https://www.redcrossblood.org/

Happy Thanksgiving from Tecumseh Public Schools! Enjoy the long holiday weekend. We'll see you Monday!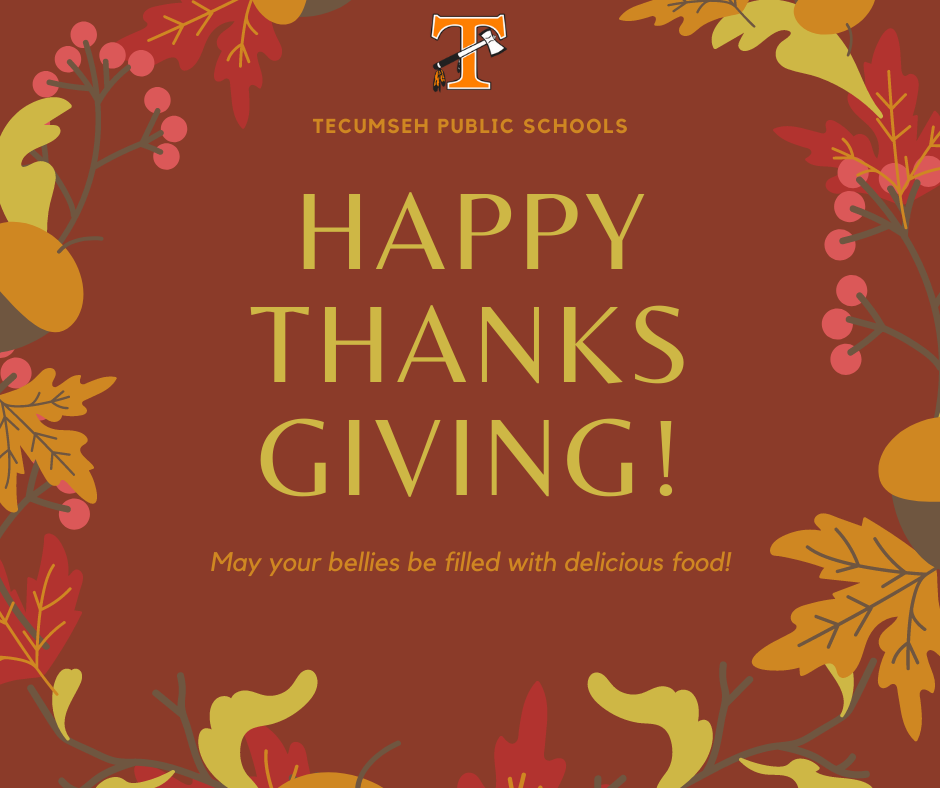 The Board of Education will not be holding its regularly scheduled meeting on Monday, November 22th. The meeting has been moved to Monday, November 29th at 7pm. It is held in the Media Center of Tecumseh High School. With Thanksgiving next week, several members of the board would not have been present for the meeting. The move is being done to ensure quorum. A quorum is the minimum number of members that must be present to hold the BOE meeting. Thank you

THIS WEEK (correcting a previous post, only Y5-4th grade students will have a half-day this week) Monday, November 22nd - Conferences: Y5-4th grade (5pm-8pm) Tuesday, November 23rd - Conferences: Y5-4th grade (1pm-3pm, 5pm-8pm) Tuesday, November 23rd - HALF-DAY FOR Y5-4TH GRADE STUDENTS ONLY!!!! Wednesday-Friday, November 24th-26th - NO SCHOOL FOR ALL STUDENTS (Thanksgiving Holiday Break)

With some snow likely in the forecast, the rush is on to get those pesky leaves out of yards. Luckily, students from Tecumseh Middle School have been helping out some of the elderly residents within city limits with leaf pickup. It's called Rake a Difference. This is something students at TMS have done for over two decades. The past several days, students have either walked or rode a bus to a location and worked together to pick up the leaves. They're not the only ones working. Their teachers are getting in on the action. Everyone is working hard since the ground and leaves are soaking wet from yesterday's rain. Rake a Difference is planned by the Tecumseh Middle School Builders Club. The club is the largest service organization for middle school students. What makes it even better is that the organization is run by our students. It's open to all students at TMS. Great work, everyone!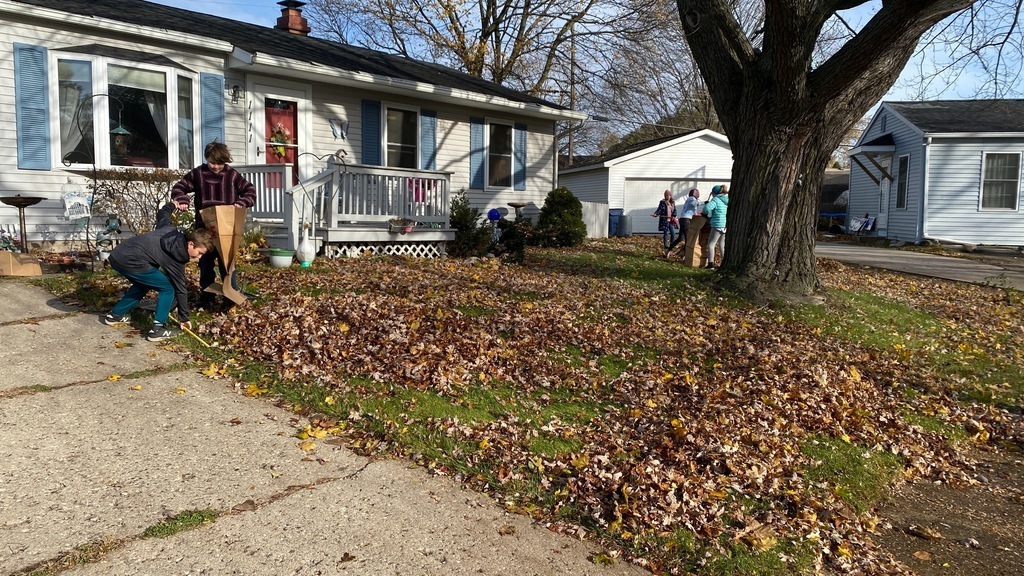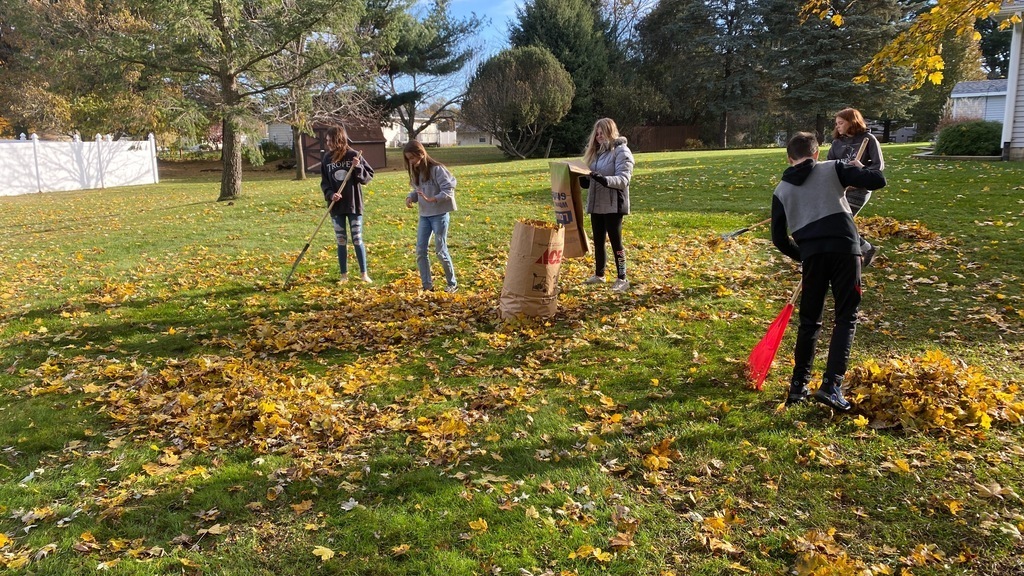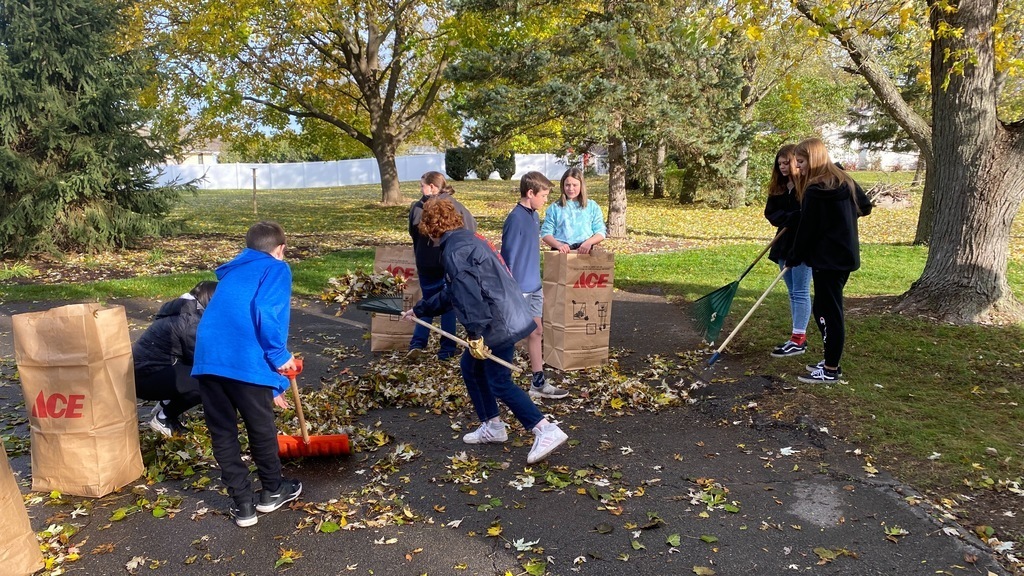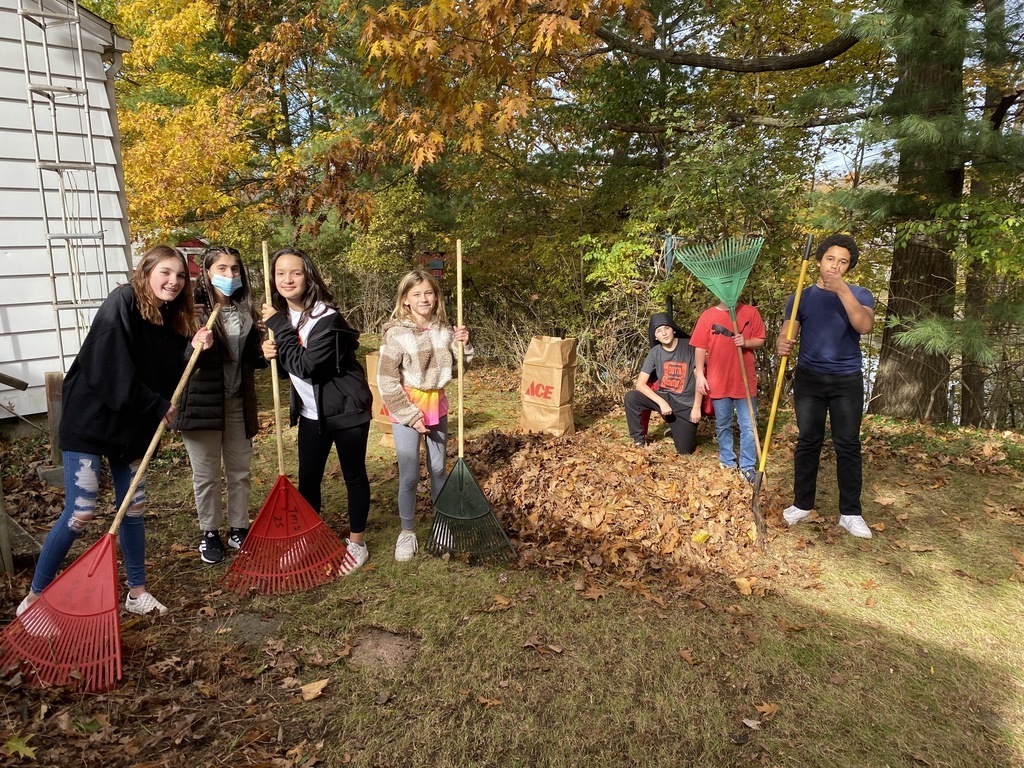 A shoutout to Tecumseh Harley-Davidson Shop and Sunset Ridge BBQ for providing a free meal to our veterans on Thursday (11/11). Our ROTC students were able to help out, serving those who attended. Thank you for having us!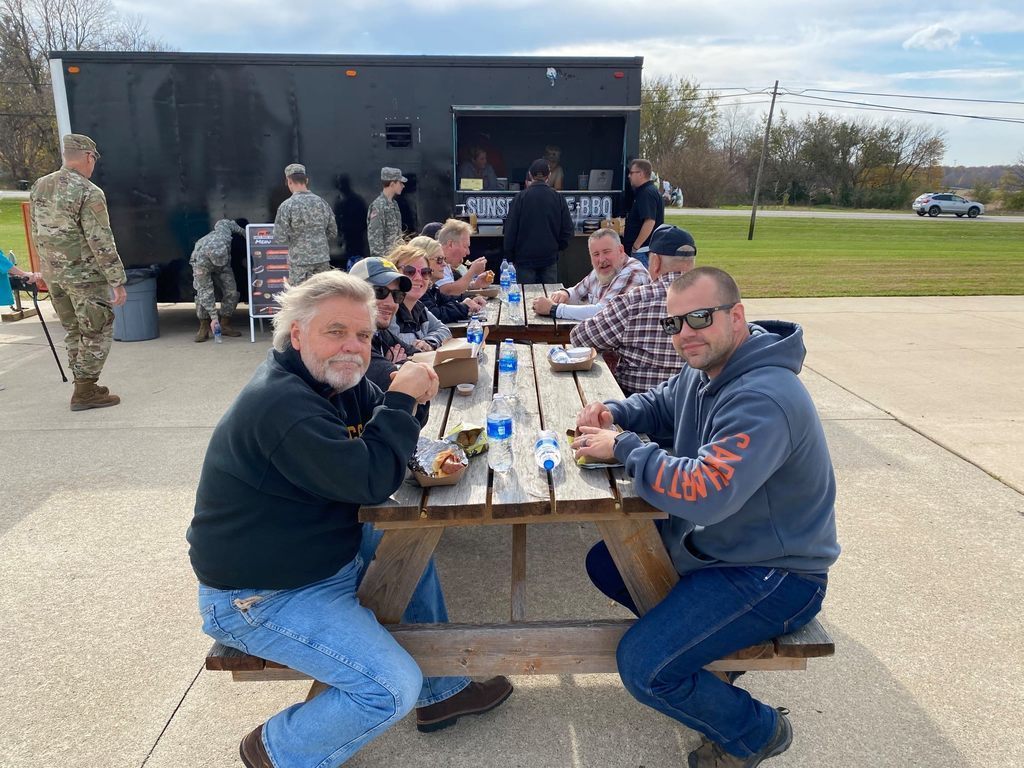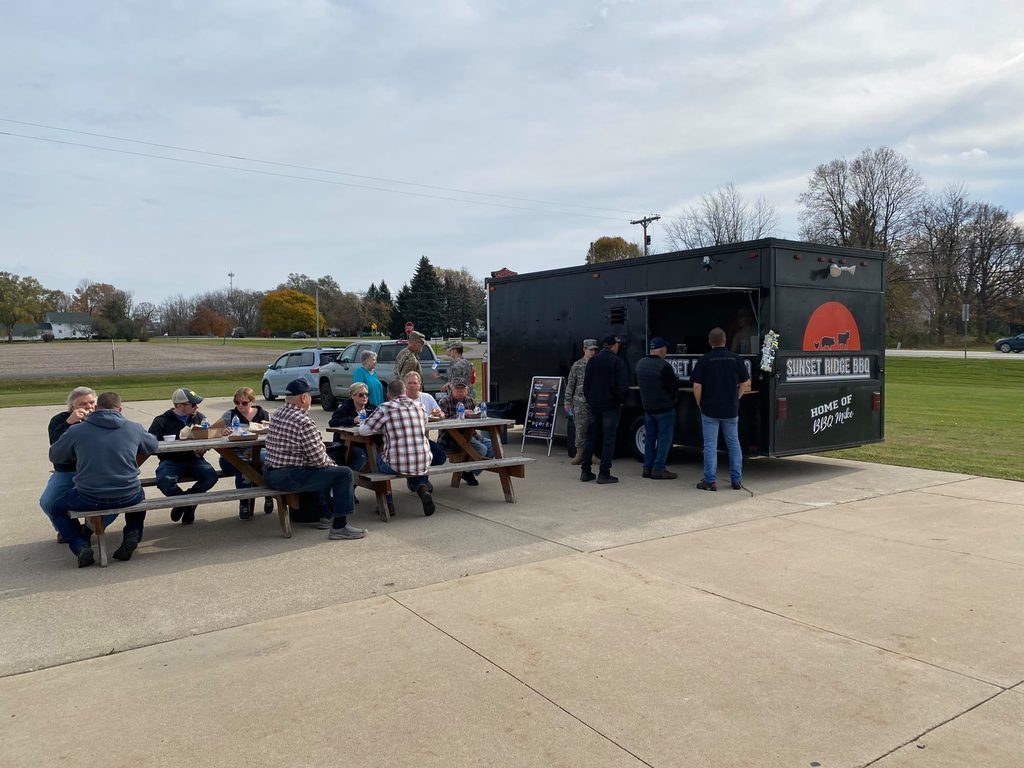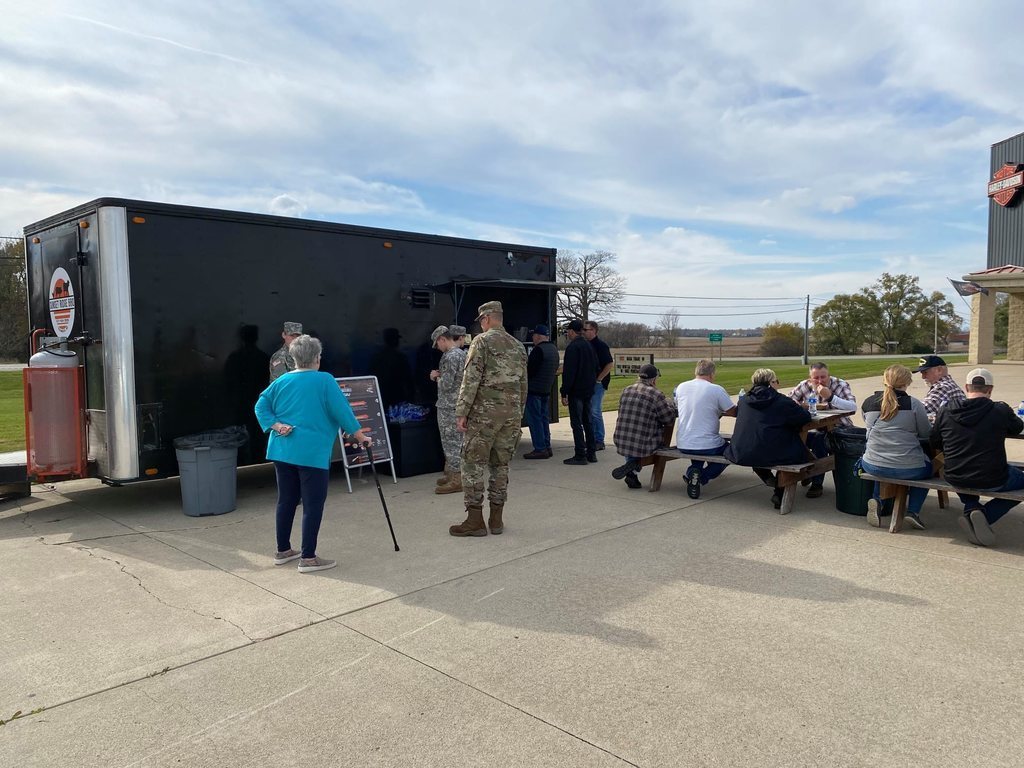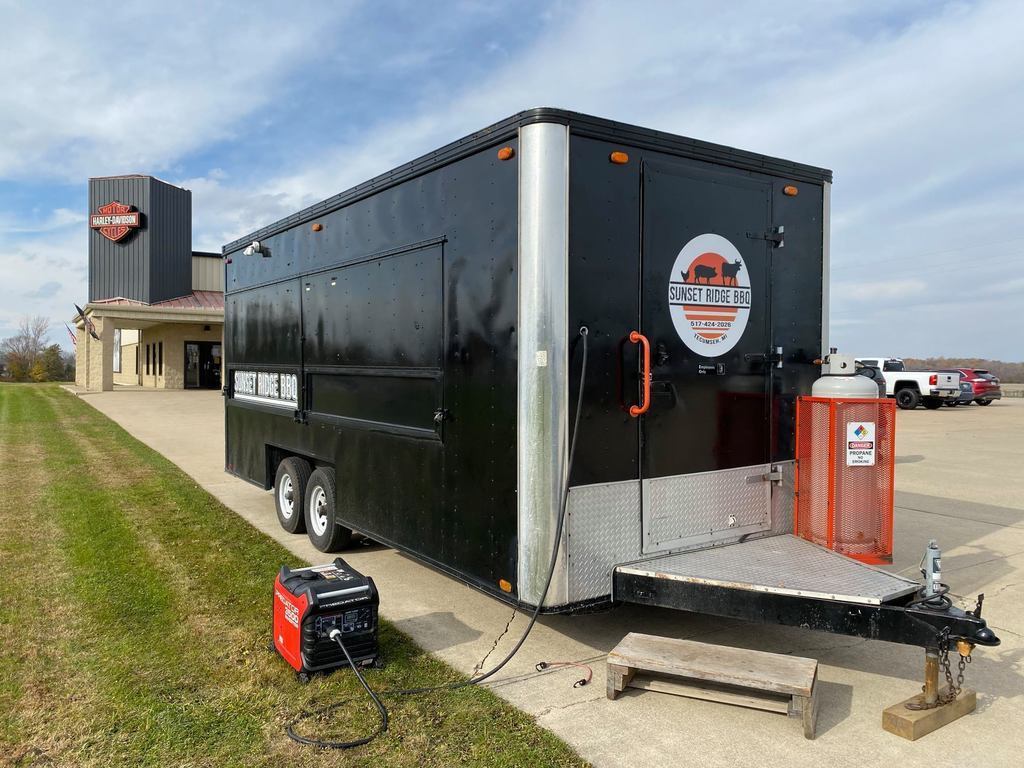 ROTC students from Tecumseh High School took part in the Veterans Day ceremony at Brookside Cemetery on Thursday (11/11). Numerous veterans were there to take in the ceremony and honor those who couldn't make it. We thank you for your service. Members from the American Legion Underwood Orr Post 34, Rep. Bronna Kahle, Lenawee County Sheriff Troy Bevier and Tecumseh Mayor Jack Baker we're on-hand for the ceremony.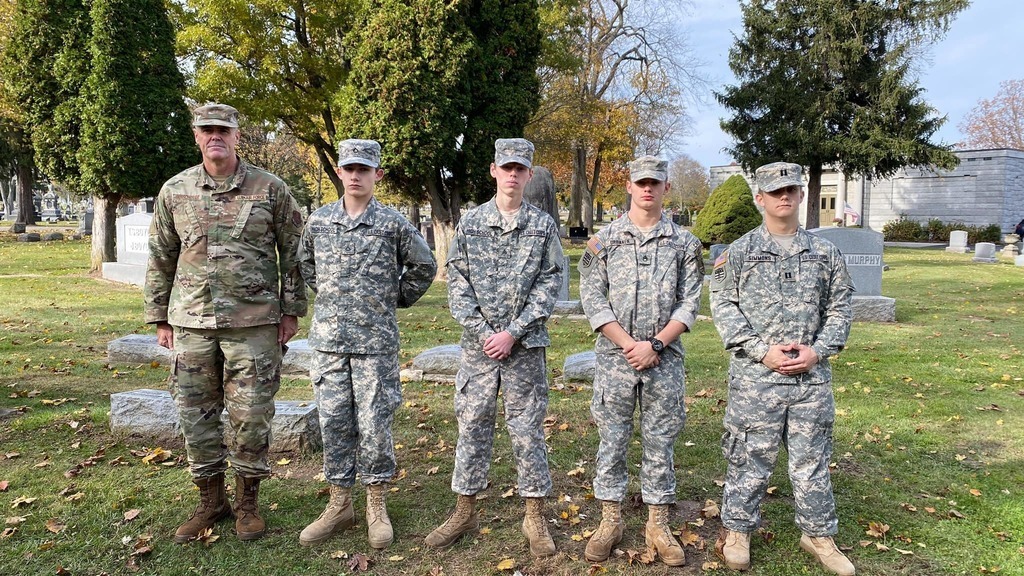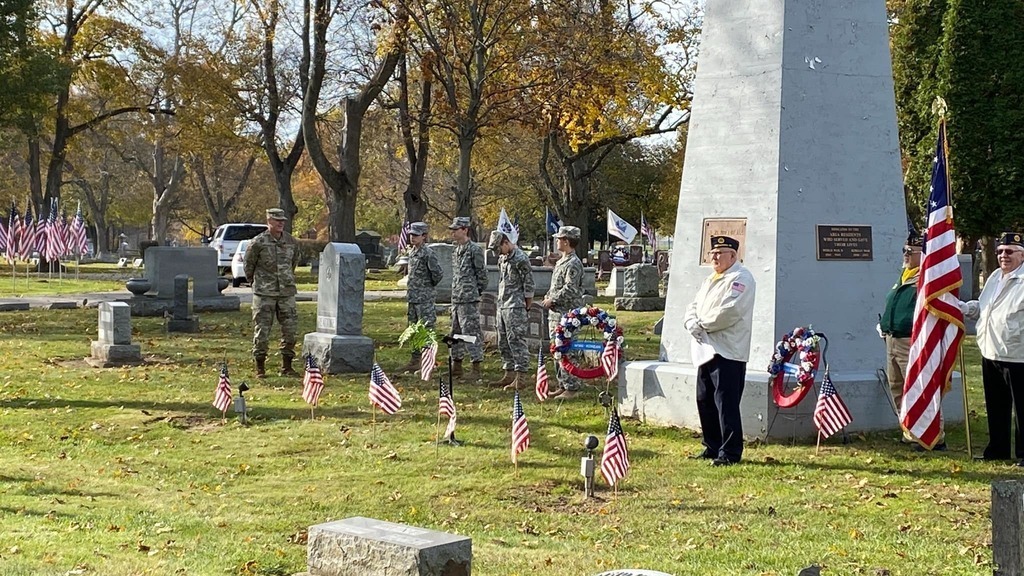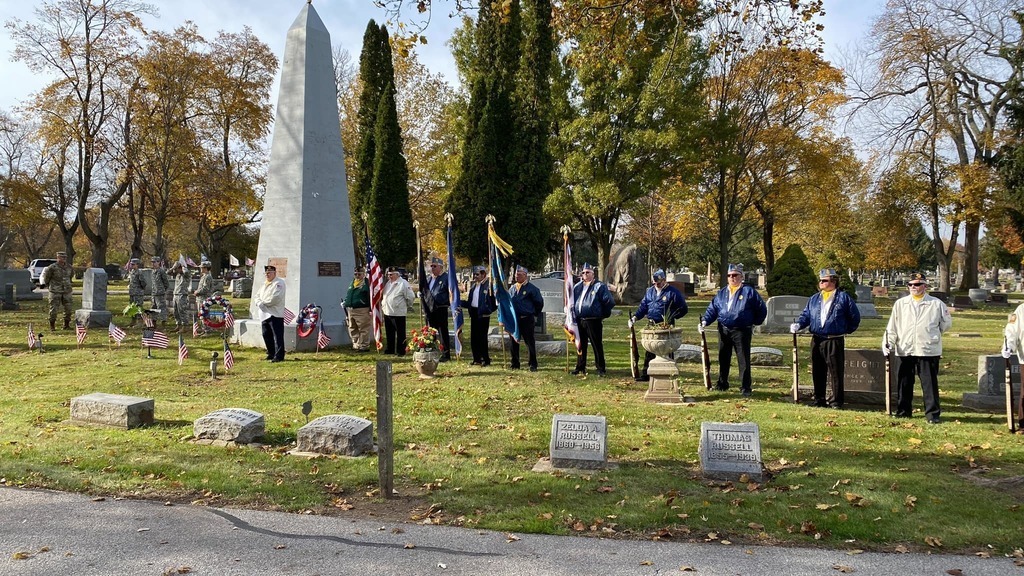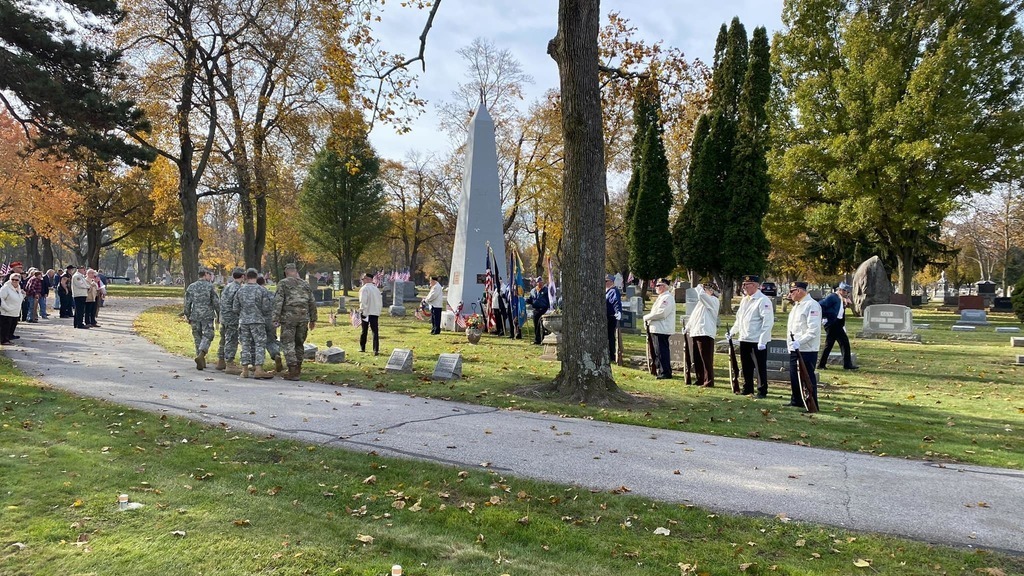 Today, we honor all of the Veterans who graciously served our country. We also want to recognize the Veterans who work for us here at Tecumseh Public Schools. Thank you for your service. Veterans Day honors the men and women from all branches of the military who have served in the U.S. Armed Forces. Originally called Armistice Day, November 11th marks the end of World War I, which occurred on November 11, 1918 at 11:00 a.m. In 1954, the holiday was renamed Veterans Day to pay tribute to the veterans of all wars. It is celebrated every November 11th, and has been a Federal holiday since 1926.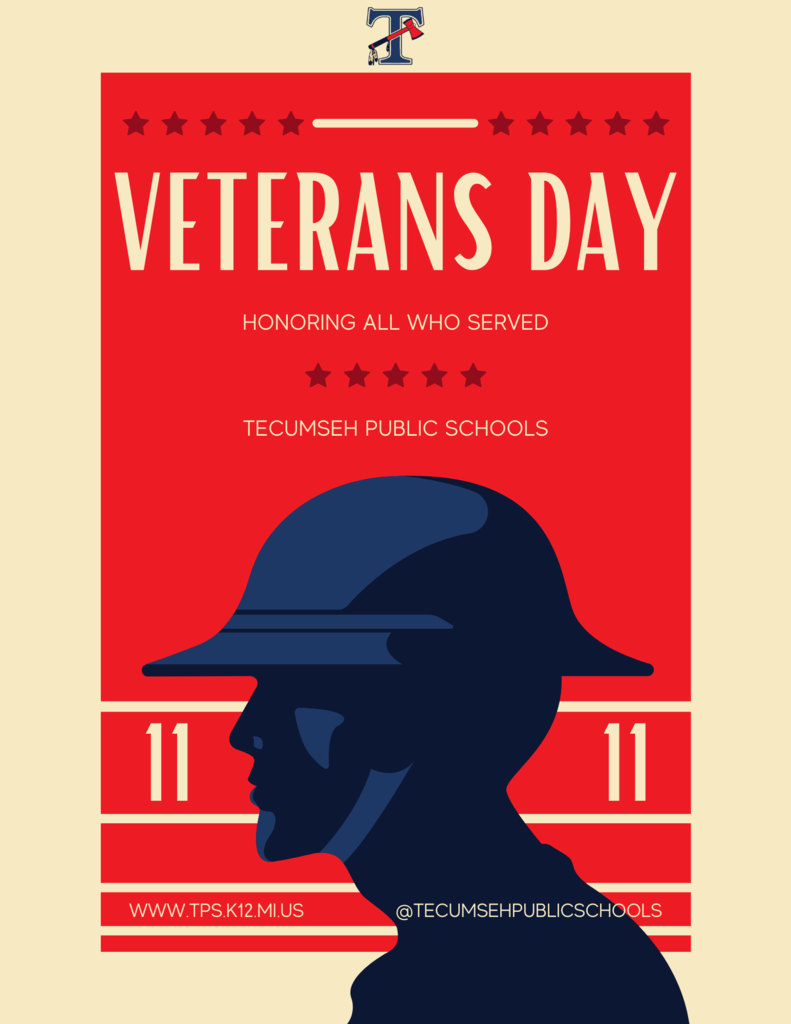 Lately, our middle school students have been learning how to play tennis. There are so many great reasons for kids to get involved in tennis that it is definitely worth teaching in PE at any grade level. Some of the numerous benefits of learning tennis are: • Tennis is fun, especially when kids are successful • Tennis is a great lifetime sport with lots of programs for all ages • Tennis is an aerobic sport, which promotes overall health and wellness • Tennis demands a lot of focus and concentration